Sacred Fools Closes Out Season 21 with World Premiere of AKUMA-SHIN
The Sacred Fools Theater Company is excited to present the World Premiere of the monster drama Akuma-shin by Kenley Smith, directed by Scott Leggett. The final Mainstage show of the company's 21st season opens Friday, March 30 and runs through Saturday, April 28 with performances on Fridays and Saturdays at 8pm, Sundays at 7pm. The show will be performed in the Main Stage Theater of the Broadwater Theater Complex.
In 1956, a giant kaiju (monster) destroys Tokyo and sends seismic waves of fear, anger and ignorance through generations. Facts are questioned, history is alternatively written and modern politics is set against primal religion in this ferociously civilized cautionary tale of two nations coping with their own damaged legacies. Can humanity reckon with the monsters that rise against us, the ones that live within us all?
"When Akuma-shin was selected for Sacred Fools it seemed timely. Unfortunately, a year later it feels even more apt," says director Scott Leggett. "There is a sense of living in an alternate reality right now. As if there's a monster lurking out there. This play is a thrilling and scary exploration of where we are right now as a nation and a people."
Production Team and Cast
Playwright Kenley Smith is a West Virginian by birth but now resides and writes in Nashville, where he directs the brand-new Tennessee Playwrights Studio with his partner and muse, Molly Breen. Other productions include Empires of Eternal Void in Memphis and Devil Sedan in Chicago, Nashville, Omaha and Virginia. He sends thanks to the Great Plains Theatre Conference and Sewanee Writers Conference, where Akuma-shin first scorched the earth. kenleysmith.com, tnplaywrights.org
Director Scott Leggett is currently one of the Artistic Directors at Sacred Fools and is a veteran of many Fools productions both on and off stage. Most recently, he helmed the World Premiere of the award-winning musical Skullduggery: The Musical Prequel to Hamlet. Other productions at Sacred Fools include the stage adaptation of Neverwhere, based on the novel by Neil Gaiman and the stage version of Richard Elfman's cult film Forbidden Zone: Live in the 6th Dimension. As an actor, he has appeared in such shows as Stoneface and Cookie and the Monster, as well as the titular character in the hit Watson plays.
Producer Brian W. Wallis has been producing hit shows with Sacred Fools and other LA theaters since 2008. Highlights include Louis & Keely: Live at the Sahara at the Matrix Theatre, Savin' Up for Saturday Night, the two Watson plays, Stoneface at both Sacred Fools and at The Pasadena Playhouse, and last year's Mr. Burns: a post-electric play. He previously worked with director Scott Leggett in 2016, kicking off Sacred Fools' 20th season together on Skullduggery: The Musical Prequel to Hamlet.
The design and production team for Akuma-shin is staffed mostly by Sacred Fools veterans. Set Design is by Technical Director and former Artistic Director Joe Jordan, Costume Design by Jennifer Christina DeRosa (The Sirens of Titan, Candide), Sound Design by Jaime Robledo (along with extensive directing credits, sound designs include Astro-Boy and the God of Comics, The Behavior of Broadus, Louis and Keely: Live at the Sahara) Lighting Design by Matt Richter (Hit the Wall, Plasticity, Mr. Burns, a post-electric play), Properties Design by Bo Powell (also Asst. Director), with Fight Choreography by Mike Mahaffey (She Kills Monsters, Stoneface, Casa Valentina).
For the video portions of the show, the team includes Animation Video Artist Emily Bolka (projections for Waxworks Theatre Company's original show Crunch), Video Graphics by Curt Bonnem (key art design for Watson and the Dark Art of Harry Houdini,
Bill & Joan, A Kind of Love Story), with Video Editing and Programming by Allison Faith Sulock (Mr. Burns, a post-electric play, Skullduggery, Shakespeare's Last Night Out). The Composer for Akuma-shin is Michael Teoli (Tonya & Nancy: The Rock Opera, CarnEvil and The Werewolves of Hollywood Boulevard).
The cast of Akuma-shin features Libby Baker, Adam Burch, Victor Chi, Corinne Chooey, Tony DeCarlo, Eddie Goines, Amir Levi, Paul Parducci, Stasha Surdyke, Reuben Uy and David Wilcox. The understudy cast consists of Pete Caslavka, Isaac Deakyne, Hennie Hendrawati, Corey Klemow, Rebecca Larsen, Gavin Lee, Sean Liang, K.J. Middlebrooks, Marz Richards, Glenda Suggs and Travis York.
Donate What You Can Performance - Friday, April 6
It's "Pay What You Can" with a twist! Half of all proceeds for this performance will be donated to a local charity. Recent beneficiaries have included ProjectQ, Direct Relief and The Center for Inquiry. The recipient of Akuma-shin's Donate What You Can performance is being finalized and will be listed soon on the show's site page.
Additional Programming at Sacred Fools
Finishing up its acclaimed run in the Broadwater Black Box is the smash The Art Couple by Brendan Hunt, directed by Lauren Van Kurin (see previous press release). Also, Saturday nights during Akuma-shin, the long-running late-night show Serial Killers wraps up its 13th season with its tournament-style playoffs where only one serial can survive. There will also be fresh installments of our ongoing shows Ten Tops and We The People, press releases forthcoming on both. For more information on these and other upcoming performances, please visit www.sacredfools.org.
More Hot Stories For You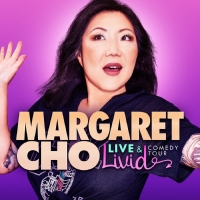 Margaret Cho to Launch LIVE AND LIVID! Tour in 2023

December 5, 2022

Margaret Cho - the five-time Grammy and Emmy nominated comedian/actress has announced she will tour the country with her brand new Live and LIVID! tour. The Live and LIVID! tour will hit theaters across North America with tickets on-sale Friday, December 9.
---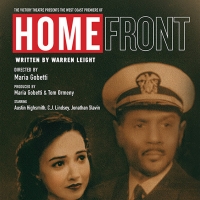 HOME FRONT by Warren Leight to Have West Coast Premiere at Victory Theatre in January

December 5, 2022

This country will break your heart. The Victory Theatre Center will present the West Coast premiere of Home Front by Tony® Award-winning playwright Warren Leight (Side Man). Leight's moving portrait of a post-World War II interracial marriage runs January 13 through February 19 at The Victory Theatre Center in Burbank.
---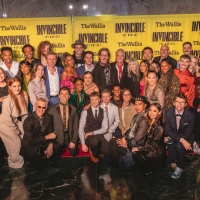 Photos: Go Inside Opening Night of INVINCIBLE - THE MUSICAL World Premiere

December 5, 2022

See photos from opening night of Wallis Annenberg Center for the Performing Arts' WORLD PREMIERE production of INVINCIBLE - THE MUSICAL, featuring the songs of PAT BENATAR & NEIL GIRALDO, running through December 18, 2022, in The Wallis' Bram Goldsmith Theater.
---
Photos: First Look at Khamary Rose, Kay Sibal, Sharon Leal & More in INVINCIBLE - THE MUSICAL World Premiere

December 5, 2022

Get a first look at photos of Wallis Annenberg Center for the Performing Arts' WORLD PREMIERE production of INVINCIBLE - THE MUSICAL, featuring the songs of PAT BENATAR & NEIL GIRALDO, running through December 18, 2022, in The Wallis' Bram Goldsmith Theater.
---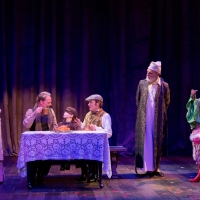 Photos: First Look at Ensemble Theatre Company's A CHRISTMAS CAROL

December 5, 2022

Ensemble Theatre Company (ETC) presents the second show of its 2022-23 Season, an all-new take on the holiday favorite, A CHRISTMAS CAROL, written by Charles Dickens, adapted by Patrick Barlow (The 39 Steps) and directed by Jamie Torcellini. Check out photos here!
---