Review: SWEAT Explores Brutal Realities of Working the Line With Blinders On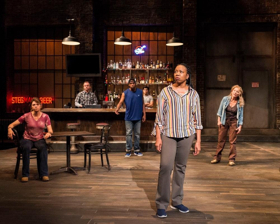 It has often been said that the work-a-day world is made up of blood, sweat and tears. Perhaps that is most true for blue collar workers who find themselves laboring with their hands, especially in factories where those on the line are required to stand for hours on end doing repetitive work with little hope of any real recognition or promotion into management. Such is the case of the characters in Center Theatre Group's production of SWEAT, the 2017 Pulitzer Prize-winning play by Lynn Nottage, now at the Mark Taper Forum through October 7, 2018.
Filled with warm humor, tremendous heart, great personal hardship,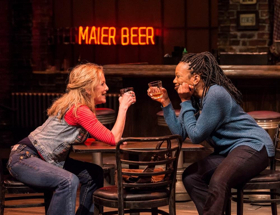 and a tremendously talented cast, SWEAT tells the story of a group of friends who have spent their lives sharing drinks, secrets and laughs while working together on the factory floor at a mill in Reading, Pennsylvania. In fact, generations of local families have been employed there for years, but not much has changed until the economic crisis in 2000 brings layoffs, unexpected promotions and picket lines begin to chip away at their trust of each other.
When you enter the theater, you are immediately immersed into the local blue-collar bar that dominates the scenic design by Christopher Barreca.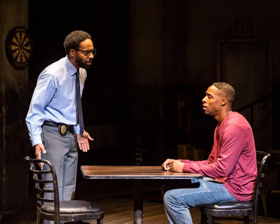 Then as the lights dim, the bar slides back and its two tables transform in bleak meeting rooms as the play begins in 2008 during which we meet Evan (Kevin T. Carroll), a by-the-book Probation Officer who is meeting individually with two young men, deadbeat Jason (Will Hochman) and the more straight-laced Chris (Grantham Coleman), lifelong friends who are being released from prison after their incarceration in 2000 for committing a horrifically violent crime together. From there, the play is told slipping between the two years, allowing us to slowly understand the young men's lives, families, frustrations, and ultimately the nature of that crime and ensuing ramifications of their actions.
First we are taken back to 2000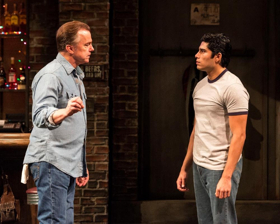 inside the bar run by Stan (Michel O'Keefe), a kind-hearted soul who escaped his earlier life on the factory lines by keeping it open as a place for others to escape the monotony and frustrations in their lives with a few drinks. He has employed Oscar (Peter Mendoza), a young man of Puerto Rican descent raised locally, a hard worker who longs for a better life than just stacking boxes and washing glasses.
Hanging out in the bar are three local women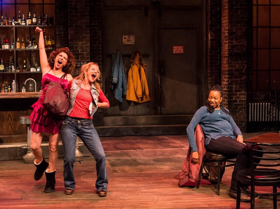 who frequent the bar regularly, celebrating birthdays or just hanging out after working the line all day. Two long-time co-workers and friends Tracey (Mary Mara) and Cynthia (Portia) meet to commiserate their difficult life circumstances, including Cynthia's ongoing financial burdens due to her ex-husband Brucie (John Earl Elks) hitting the skids due to his bad drug habit. The third woman passed out at a table is Tracey's daughter Jessie (Amy Pietz) who often chooses to drown her troubles there. Younger versions of the two incarcerated men then appear, who we learn are Tracey's son Jason and Cynthia's son Chris, seemingly heading in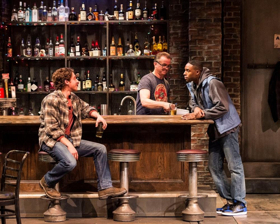 different directions with their lives until financial situations out of their control upend their very existence.
As the year 2000 plays out, each ensuring date displayed via the multimedia projection design by Yee Eun Nam takes us further into the worldwide financial and political problems that took place at the turn of the millennium. Rumors fly that someone from the line is being considered for management, which turns out to be Cynthia, much to Tracey's disappointment believing she would have been the more qualified for the promotion. It is her belief that it is just because Cynthia is black that she got the job, management's attempt to "put on a good face" by bringing a minority into their ranks.
But within months,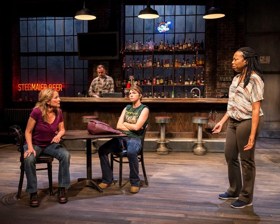 the factory downsizes overnight and management has Cynthia lock out her friends and hundreds of other workers. Friendships are challenged as picket lines are formed, with Tracey angrily accusing Cynthia of turning her back on her friends by keeping their layoffs a secret. Caught between a rock and a hard place, Cynthia finds herself with several difficult decisions to make. Perhaps one of the most emotionally powerful scenes in the play takes place as she mulls over what to do, sharing her predicament with Stan who listens with an ever-open ear and heart from over the bar.
Soon nothing prevents the locals from blaming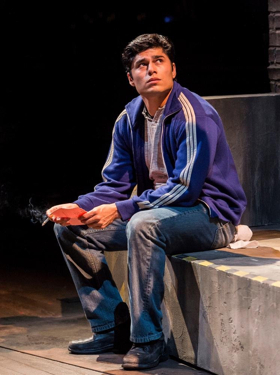 Oscar for their troubles when the economy goes sour later that year. For even though he was born in the same neighborhood and celebrates his life as an American citizen, racial and anti-immigrant prejudice rears its ugly head when, after layoffs of all the regular bar patrons take place, Oscar decides to cross their picket lines to earn more money to help support his large family. And even though it is the only other job he can get, the cost will soon take its toll on the entire town when friends find themselves pitted against each other in a heart-wrenching fight to stay afloat.
Directed by two-time Obie Award-winning director and writer Lisa Peterson with sure-fire momentum that finally explodes in ways you won't see coming, SWEAT brings into focus how brutal life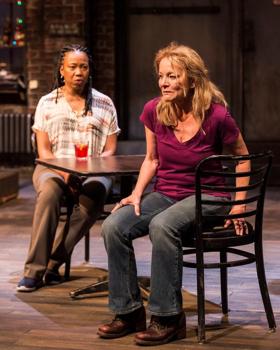 can be due to forces seemingly out of your control. And perhaps in the end, even friends and family are the only ones you can turn to, even if you don't really trust them. And perhaps that is the true meaning of blood, sweat and tears.
SWEAT performances take place daily (except Mondays) through October 7, 2018 at The Mark Taper Forum, located at The Music Center, 135 N. Grand Avenue in Downtown L.A. 90012. Tickets range from $30-$99, available online at CenterTheatreGroup.org, by calling Audience Services at (213) 628-2772, or in person at the Center Theatre Group Box Office (at the Ahmanson Theatre at The Music Center in Downtown Los Angeles).
Photo credit: Craig Schwartz