Review: PTERODACTYLS Ponders the Extinction of a Traditional American Family Due to Self-Indulgence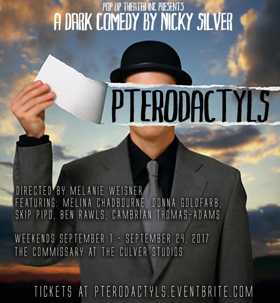 With so many varied locations where plays can be produced in Los Angeles, when I hear about one being done at a location I have never been to will always get my attention. Such was the case of the Pop Up Theater production of the award-winning play, PTERODACTYLS, written by Nicky Silver, produced by Grafton Doyle and directed by Melanie Weisner which is playing through September at The Commissary at The Culver Studios, 9336 Washington Blvd. in Culver City. It's always a treat for me to be able to walk around any of the studios located in my neighborhood, especially when the play's location is in a spot not familiar to me.
The small dining room was an excellent choice to showcase a classic dysfunctional family living an upper-class life as they descended into chaos over the course of one year.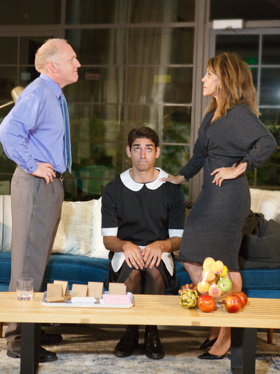 With each of the family members in this dark comedy only really thinking of themselves and their own needs, or living their lives to be sure none of their friends can find fault with anything they do, PTERODACTYLS suggests that our extinction is beginning not with an asteroid or an ice age but rather with a severed connection to the ones closest to us.
Featured in the cast are Melina Chadbourne as Emma, the absent-minded dreamer of a daughter with Donna Goldfarb as her self-centered shopaholic mother Grace, who proclaims she is used to the finer things in life such as Godiva chocolate and prescription drugs, and Skip Pipo who brings the necessary authority figure into the mix as the father Arthur who just may not have the best of intentions toward his lovely daughter.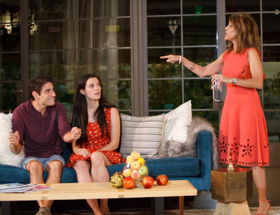 After Emma announces she plans to marry Tommy (Ben Rawls), a good-for-nothing loser in the eyes of her mother since he works as a waiter at the local Salad City diner, the real fun and games begin during wedding planning when Emma's long-gone brother Todd (Cambrian Thomas-Adams) appears to inform his family he has AIDS but is not dying as he has no symptoms. As the play moves forward, it becomes apparent that Todd has returned to wreak havoc on his family in whatever way he can before he leaves this Earth.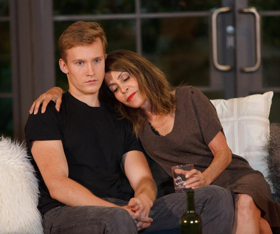 After being offered a more-acceptable job as the replacement for the family's maid Flo, Tommy dons her traditional maid's dress to perform his duties, most of which involve catering to Grace's every whim. Rawls always lets us remember this is not a role he ever wanted to play, but Todd's arrival throws Tommy into a tail spin, opening his eyes to a world of sexuality he has never experienced before. And with Emma claiming to be a virgin and not wanting to try anything until their wedding night, Tommy's attempts to resist Todd's advances until his overwhelming ability to talk anyone into anything leads to the disruption of the wedding.
And I can tell you that Thomas-Adams manages to manipulate every one of the other characters to bow to his every whim with his brilliantly intimate force of line delivery. It's no wonder his mother Grace keeps telling him they are so much alike!
As an internationally acclaimed professional poker player, director Melanie Weisner certainly understands the necessity of taking a gamble now and then. I am not sure this was a wise move on her part to decide on this play as it is a bit too talky and the characters too self-centered to really make you care about what happens to them in the long run. But Weisner cast the show remarkably well with each of the 5 actors perfect in all aspects of their roles. Her choice of location allowed for entrances and exits via an upstage outdoor patio glass door into what must be a very lovely and expensive home with a fully-stocked and often-visited bar.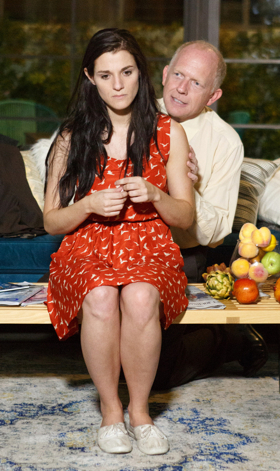 The play harkens back to the era of classic films, making the location at a studio where many of those movies were made a very appropriate location choice. Surely the ghosts in the room felt right at home with the play's style of presentation. But somehow, I think the overall effect was a strange one with many unanswered questions about what really is going on between the family members behind closed doors. Certainly, audience members were chatting about just such things during intermission and well after the performance. All I can tell you it is such a strange play about what happens between members of a totally dysfunctional family each living in their own separate reality, performed by a remarkable cast of actors.
PTERODACTYLS runs through Sunday, September 24 at The Commissary at The Culver Studios, 9336 Washington Blvd. in Culver City with performances on Fridays & Saturdays at 8:00pm; Sundays at 2pm. Ticket prices are $25.00 for all performances, available online at thepopuptheater.org and pterodactyls.eventbrite.com. Enter Culver Studios via Gate 2 on Ince, then follow directions to on-site parking and performance space.
Related Articles View More Los Angeles

Stories

Shows