Red Hen Press Brings FACETS OF FATHERHOOD to The Broad Stage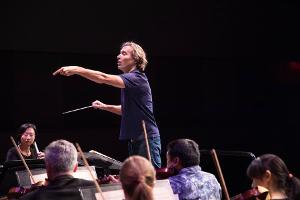 The Broad Stage continues its collaboration with Red Hen Press for the second event of the 2019-2020 season, Red Hen Press: Facets of Fatherhood, on Sunday, January 26 at 2:00pm in The Edye at The Broad Stage. The afternoon will feature performance and poetry with Carlo Ponti, Edoardo Ponti and the Los Angeles Virtuosi Orchestra.
Brothers and artists Carlo Ponti and Edoardo Ponti will collaborate for an unforgettable afternoon of orchestral music and poetry, featuring readings by Edoardo Ponti excerpted from his poetry collection Letters from a Young Father, which will reveal themes associated with one of the greatest journeys of all: Fatherhood; illustrated by musical works performed by the Los Angeles Virtuosi Orchestra under conductor Carlo Ponti. The Broad Stage and
Red Hen Press
have a history of bringing music, poetry and performance together in The Edye. Last season, Red Hen Press events featured GRAMMY Award winners
Hila Plitmann
and
Eric Whitacre
, as well as California Poet Laureate
Dana Gioia
, Brendan Constantine, and t'ai freedom ford. The Edye at The Broad Stage also hosted the Los Angeles premiere of
Samuel Beckett
's Imagination Dead Imagine, set to music composed by
Michael Roth
. Tickets are now on sale at
www.thebroadstage.org
or by calling 310.434.3200. About the Artists Maestro
Carlo Ponti
is known for taking audiences of all ages on musical journeys of unique interpretive depth and has been the recipient of numerous awards for his contributions to the advancement of young musical talent and has conducted leading orchestras around the globe. Maestro Ponti was associate conductor of the
Russian National Orchestra
from 2000 to 2018; served as music director of the
San Bernardino Symphony
from 2001 to 2013; and in 2013 founded the Los Angeles Virtuosi Orchestra (LAV), an ensemble emphasizing music's educational value of which he currently is the music and artistic director. LAV is currently performing its'
fifth concert season (2019/2020)
in Los Angeles, California. Ponti's work and performances have been featured on ABC, CBS, NBC/Universal, NPR, PBS, ORF, Spectrum, KTLA, Fox News,
Leonard Lopate
, Dennis Miller, Symphony Magazine, Classical KUSC, the Associated Press, American Public Media's Performance Today and America's Music Festivals.
Edoardo Ponti
is a film director and published author. "Letters from a Young Father," published by Red Hen Press, is Edoardo Ponti's first book of poetry. Fluent in English, French and Italian, the writer and director recently adapted and directed a screen adaptation of
Romain Gary
's famous novel "The Life Ahead." The film, starring
Sophia Loren
, will be released worldwide in the fall of 2020. In 2014, Ponti directed a masterful film adaptation of
Jean Cocteau
's play Human Voice. The film had its World Premiere at the Cannes Film Festival and its US premiere at the 2014 Tribeca Film Festival. In 2013, he directed the film "The Nightshift Belongs To The Stars," starring Nastassja Kinski, Enrico LoVerso and
Julian Sands
. The film was short listed for an Academy Award in the "Best Live Action Short" category and won "Best Live Action Short" at the 2013 Tribeca Film Festival and won the prestigious Italian Film Critics prize "Nastro d'Argento." Ponti's feature film debut, "Between Strangers" starred an ensemble cast that includes
Mira Sorvino
, Deborah Kara Unger, Gerard Depardieu,
Pete Postlethwaite
and
Malcolm McDowell
. The film premiered at the Toronto International Film Festival garnering five Genie Nominations and one win. The
Los Angeles Virtuosi Orchestra
(LAV) is a dynamic ensemble devoted to the advocacy and support of music education and formed on the core belief that an orchestra is a unique educational resource. LAV's mission is to serve as a catalyst in supporting music education through collaborative partnerships with the community, schools, agencies, and other arts organizations, and by allocating 100% of net income from performances to support and develop the study of music.