Profiles in History's Carrie Fisher and Debbie Reynolds Auction Grosses Over 2 Million Dollars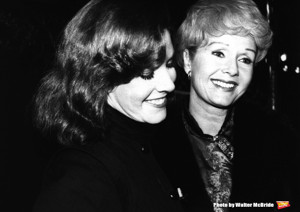 Profiles in History has just announced the results of their Carrie Fisher and Debbie Reynolds Personal Property Auction. The auction was held October 7th, 8th and 9th in Los Angeles. The sale grossed over two million dollars.
The auction had items for collectors but also items for fans who want to own something special that belonged to Carrie or Debbie. Many of the smaller items sold for amounts far exceeding their estimates, like Carrie Fisher's personal "Princess Leia" LEGO-style mini figure that sold for $3,520 (pictured left), Carrie Fisher's
SIGNED
box of (30) unopened original 1st series Star Wars trading cards that sold for $3,520 and her George Lucas
SIGNED
"Jawas" Christmas card that sold for $3,300 (pictured below). For all the results from the auction, please visit
www.profilesinhistory.com
. Audrey Hepburn's signature Givenchy-designed white organza gown worn in Sabrina sold for $204,000. Carrie Fisher's "Princess Leia" personal hand-annotated shooting script from Star Wars: Episode V - The
EMPIRE
Strikes Back sold for $51,000. All About Eve "Aged in Wood" hand-painted theater marquee poster sold for $48,000. Mae West's fur-lined gown worn in Every Day's a Holiday sold for $48,000 "The Rat Pack" nightclub performance tuxedos worn by Frank Sinatra, Dean Martin, Sammy Davis, Jr., Peter Lawford and Joey Bishop sold for $44,800. Francis Ford Coppola American Zoetrope Mitchell Technovision R205 camera used to film Apocalypse Now sold for $44,800. Joseph Cotton Underwood No. 5 typewriter used in Citizen Kane sold for $27,000. Singin' in the Rain half-sheet poster
SIGNED
by Debbie Reynolds, Gene Kelly & Donald O'Connor sold for $11,400. Carrie Fisher's lifesize "Princess Leia" statue in classic British telephone box sold for $10,800. Carrie Fisher's personal on-set director's chair from Star Wars: Episode VI - Return of the Jedi sold for $10,240. Star Wars: Episode IV - A New Hope first printing Style A 1-sheet poster
SIGNED
by George Lucas and Carrie Fisher sold for $6,400. Before the auction began, the Debbie Reynolds Dance Studio sold for $6.1 million ABOUT PROFILES IN HISTORY
Founded in 1985 by Joseph Maddalena, Profiles in History is the world's largest auctioneer & dealer of original Hollywood Memorabilia, historical autographs, letters, documents, vintage
SIGNED
photographs and manuscripts. Born into a family of antiques dealers in Rhode Island, Joseph "Joe" Maddalena learned early on how to turn his passion of collecting historical autographs into a career. Upon graduation from Pepperdine, Joe pursued his passion to become a full-time dealer of historical documents, and opened his first office in 1985. Profiles in History has held some of the most prestigious and successful auctions of Hollywood memorabilia and own virtually every Guinness Book record for prices of original screen-used memorabilia. Highlights from their previous auctions include the "Cowardly Lion" costume from The Wizard of Oz for $805,000; Steve McQueen's "Michael Delaney" racing suit from Le Mans for $960,000; From the history-making Debbie Reynolds Auction in June 2011, Profiles in History sold the Marilyn Monroe "Subway" Dress from The Seven Year Itch for $5.52M and the Audrey Hepburn Ascot Dress from My Fair Lady for $4.44M. In February 2012, Profiles in History arranged the sale of a pair of Judy Garland screen-used Ruby Slippers from The Wizard of Oz to the Academy of Motion Picture Arts & Sciences. In June 2017, at his Hollywood Auction 89, Joe sold the Gary Cannavo collection of Battlestar Galactica spaceships for 1.8 million dollars, the Saturday Night Fever dance floor for 1.2 million and an R2D2 for 2.76 million. In addition, Joe Maddalena was the star of Hollywood Treasure, which aired on Syfy. Hollywood Treasure took viewers into the fascinating world of showbiz and pop culture memorabilia.
Photo Credit: Walter McBride / WM Photos
Related Articles View More Los Angeles

Stories

Shows