Photo Flash: Rose Marie Guests at The Magic Castle's 'Legend Series'
The Magic Castle is on a roll, after the successful launch of their "Legend Series" last month with Phyllis Diller, as they proudly introduced Rose Marie as the second featured artist in the series.
The series, produced by Matt Patton and hosted by B. Harlan Boll, took the patrons on a tour of one of entertainment's longest and most fascinating careers. Beginning at age 3 and billed as Baby Rose Marie, she starred in several of the earliest talking films, beginning with a 1929 short, Baby Rose Marie, the Child Wonder, which was screened in theaters before feature films such as "The Jazz Singer." In 1946, when Las Vegas opened its first big-time casino hotel, The Flamingo, Rose Marie was hired by Benjamin "Bugsy" Siegel as one of its headliners, making her the First Lady of Las Vegas to then star on Broadway opposite Phil Silvers in the musical, Top Banana.
Although, Rose Marie had reached national fame by this time, she became a household name for her comic performance as Sally Rogers in the TV classic, The Dick Van Dyke Show. "I got a call from the office of Danny Thomas and I figured I was going to do a guest spot on his show, but then they told me they wanted me for The Dick Van Dyke Show ... I said 'What's a Dick Van Dyke?'" remarked Rose Marie. "I was just booked. No audition. Just told when to report to work." She wasnt idle long before she got another call about The Doris Day Show. "Again, they called and said would you like to work with Doris Day and I said yeah if shed would be willing to work with me. They told me that she had requested me. I said your kidding," and adding "Doris is one of the most professional and wonderful women in the world to work with. We still keep in touch." Rose Marie is the only original member of the hit game show Hollywood Squares to have worked on all of its reincarnations and with all of its hosts, with the possible exception of Bruce Vilanch, who although uncredited for the early years, was also associated with the program in the beginning.
Between moments of hysterical laughter, the audience listened to stories of how as a child star on NBC Radio, they had to send her out on tour because "...no one could believe a child had a voice like that," as Rose Marie explained "People said, that's not a child. It's gotta be a 45 year old midget." Eyes widened in the room when Mr. Boll asked how it was that she had come to call Capone, the greatest gangster of all time, Uncle Al?" Rose Marie laughed and shared the story of how terrified her father was when they told him he had a visitor at the stage door and found Capone waiting for him. "He told my father that he and the guys wanted to meet me and to bring me by for dinner the next night. My father tried to explain that I had shows to do, but Capone told him not to worry and that they they would get me back in time, so the next night we went," adding "When we arrived I was ushered into a huge dinning room with a long table that sat 20 or so and Capone gave me a ring saying 'Wear this when your on stage and call me Uncle Al ... I said OK." She explained that "The Boys" were always very good to her, but that it had nothing to do with her being hired for Las Vegas to open the Flamingo. She recalled "Everyone who was anyone in Hollywood was there for the first two nights. The room was filled to capacity. And then on the third night, Jimmy Durante and I played to nine people. There was only one flight a day to Vegas at the time and most people didnt even know where it was on the map." She remembered meeting Bugsy's girlfriend, Virginia Hill, who commented that he was a little heavy, to which Rose Marie responded "I'm five months pregnant," Miss Hill said, "Oh, then you look great."
Recently, Rose Marie was appropriately inducted into the Smithsonian Institutes's first permanent Entertainment Exhibit as one of the top 9 Leading Ladies of Stage and Screen along side friends and colleagues, Carol Channing, Phyllis Diller, Tippi Hedren, Florence Henderson, Angela Lansbury, June Lockhart, Julie Newmar, and Esther Williams.
The Legend Series is held in the Magic Castle's Inner Circle, where Cabaret at the Castle highlights performers such as Carol Channing, Jason Graae, Natalie Toro and will soon feature Ilene Graff, Rachel York and Florence Henderson. The, until recently, rarely used space has been virtually unknown to even many of the Castle members. It houses a eclectic collection including WC Field's trick pool table, Marionettes from The Sound of Music, Edgar Bergen's Ventriloquists dummies, Walt Disney's original miniature of the Haunted Mansion, the original automaton Madam Carnak that Johnny Carson (who was an amateur magician and Magic Castle member) based his famous character, and the Hello Dolly! bar from Jerry Herman's hit musical.
Photo Credit: Brian Putnam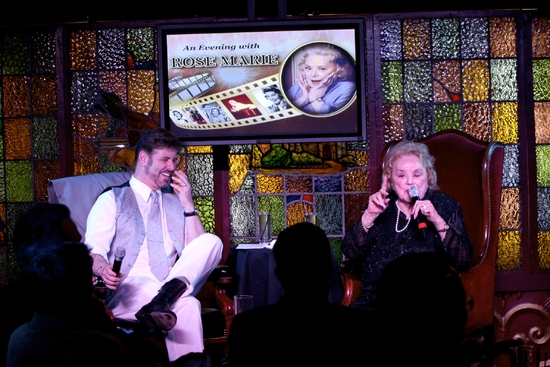 B. Harlan Boll and Rose Marie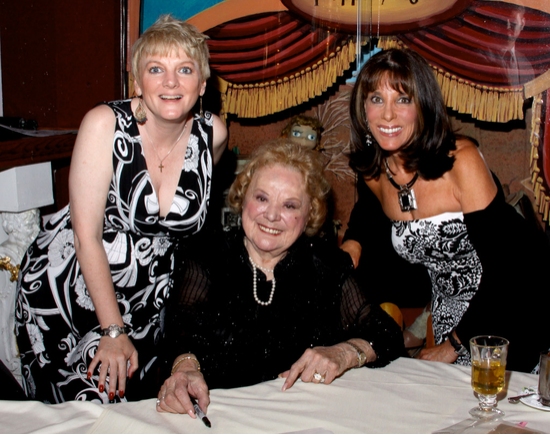 Alison Arngrim and Kate Linder with Rose Marie

Rose Marie with her daughter Noopy Rodriguez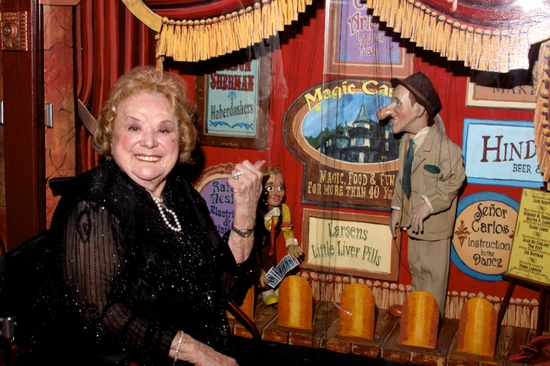 Rose Marie with the Jimmy Durante Marionette from Sound of Music

B. Harlan Boll and Matt Patton with Rose Marie

The Magic Castle at night