Photo Flash: First Look at Moonlight Stage's YOUNG FRANKENSTEIN
Moonlight Stage Productions' 33rd summer season continues with the Broadway hit YOUNG FRANKENSTEIN, presented professionally for the first time in Southern California, with performances now through September 7. YOUNG FRANKENSTEIN, based on the hilarious 1974 film by Mel Brooks and Gene Wilder that spoofed the horror film genre, opened on Broadway in 2007 and toured the U.S. in 2009. BroadwayWorld has a first look at the cast in action below!
YOUNG FRANKENSTEIN is the second of Mel Brooks' hit movies, after The Producers (2001), that he has adapted for the Broadway stage. Although the plot is mostly the same as the film's, some scenes have been expanded to musical numbers, with many gags added or updated. Victor Frankenstein's grandson, Frederick, has become a skilled neurosurgeon and teacher and has cut most ties with his family name due to his grandfather's experiments, When he inherits the castle where all his grandfather's experiments were done, he decides to visit, and finds and reads through his grandfather's book about his theories and experiments. Deciding they might actually work, and assisted by Igor and Inga, an attractive lab assistant, he succeeds in bringing a body back to life, but there's a problem: the wrong brain was transplanted. The creature soon escapes, and (hilarious) havoc ensues.
Jessica Bernard (Elizabeth Benning) returns to Moonlight after appearing last summer as Vivienne in Legally Blondeand the Beggar Woman in Sweeney Todd. Her recent credits include My Fair Lady alongside Jonathan Pryce, Michael York, and Cloris Leachman. She has appeared in 1776, Bonnie & Clyde, Guys and Dolls, CATS, Thoroughly Modern Millie, and The Music Man. Jessica has performed at Hong Kong Disneyland and on the high seas as a singer for Holland America's Showroom at Sea.
Larry Raben (Dr. Frederick Frankenstein) is making his Moonlight debut. His first Mel Brooks musical was playing Leo Bloom in The Producers on Broadway and in Las Vegas. His favorite roles include Patrick in The Andrews Brothers(Musical Theatre West-Ovation Award) and Robert In Boeing Boeing (Norris Theatre & Coyote StageWorks). He has appeared as Lt. Frank Cioffi in Curtains (Music Theatre of Wichita), Hysterium in A Funny Thing Happened on the Way to the Forum (Reprise!), Forbidden Broadway (MTW-Ovation Nomination), Ensign Pulver in Mr. Roberts (Old Globe Theatre), Felix in The Odd Couple (Norris), I Love You, You're Perfect, Now Change (Off Broadway and Coronet Theatre), Sparky inForever Plaid (original Off-Broadway and Old Globe company-L.A. Drama Critics Award), Ross in Bright Ideas (Laguna Playhouse), Jerry/Daphne in Sugar (Gateway Playhouse), Cornelius Hackl in Hello, Dolly! (Pittsburgh Civic Light Opera), andPlaid Tidings (Spreckels Theatre). He can currently be seen as Sparky in Forever Plaid-The Movie on DVD. He is also the author of a recently published children's book, Ibby Makes A Wish, available at Amazon.com.
Randall S. Hickman (The Monster) has been a San Diego resident for more than 20 years. His Moonlight roles include Captain Hook in Peter Pan; Moonface Martin in Anything Goes; John Adams in 1776; Joe Hardy in Damn Yankees; Lancelot in Camelot; and Edna Turnblad in Hairspray, a role for which he won the San Diego Critics' Choice award. Along with partner Douglas Davis he owns and operates two live theaters in downtown Vista, the Broadway and the Off-Broadway. Both produce shows year-round and in 2007, 2008, and 2012 the Broadway Theater received the San Diego A-List Award for Best Theatre in San Diego.
Doug Davis (Inspector Kemp/The Hermit) returns to Moonlight, having made his first appearance here in 1989 in Hello, Dolly! as Cornelius Hackl. In 2004, Doug and partner Randall opened The Broadway Theatre; in 2007 their second theatre, the Off-Broadway, opened, to awards and accolades.
Tracy Lore (Frau Blücher) has performed in New York and on national tour in Peter Pan starring Cathy Rigby (Mrs. Darling). For Moonlight she has performed in Anything Goes (Reno); Hairspray (Velma); Crazy for You (Irene); Guys and Dolls (Adelaide); and Me & My Girl (Jacqueline); at Musical Theatre West she has been seen in Hairspray (Velma-Ovation nomination), The Wedding Singer (Angie), The Producers (Hold Me Touch Me), All Shook Up (Sandra-Ovation nomination),The Full Monty (Vicki), Me & My Girl (Jacqueline), and The Will Rogers Follies (Betty). She has also performed in The Drowsy Chaperone (Drowsy), Once Upon A Mattress (Queen Aggravain-Ovation nomination), 42nd Street (Dorothy Brock),Carousel (Mrs. Mullin), the American premiere of Betty Blue Eyes (Joyce), The Drowsy Chaperone (Drowsy), A Little Night Music (Mrs. Segstrom), Cinderella (Queen), Boeing Boeing (Berthe-Desert Theatre League Award), Thoroughly Modern Millie (Meers), Proposals (Annie), and Noises Off (Dotty).
Noelle Marion (Inga) was last seen at Moonlight as Audrey in Leading Ladies. Her other regional performances include Patsy West, Girl Crazy (Musical Theatre Guild); Penny Pingleton, Hairspray (Tuacahn); Lady Larken, Once Upon a Mattress(Cabrillo Music Theatre); Lily St. Regis, Annie w/Sally Struthers (Cabrillo Music Theatre); Niki Harris, Curtains (Performance Riverside); and Rita, White Christmas (The Norris).
Jamie Torcellini (Igor): Moonlight audiences may remember Jamie as Bill Snibson in Me & My Girl. Earlier this year, he directed the Moonlight AVO production of Life Could Be A Dream. His Broadway credits include CATS (Mr. Mistoffelees),Little Johnny Jones (standby to Donny Osmond), Me & My Girl (standby for Jim Dale), Jerome Robbins' Broadway, Man of La Mancha (Barber), Beauty and the Beast (LeFou), and the original company of Billy Elliott. Regionally and on tour, Jamie has starred in George M!, Little Shop of Horrors, La Cage Aux Folles, Fiddler on the Roof, Crazy For You, How To Succeed in Business Without Really Trying, Where's Charley?, Jerome Robbins' Broadway, The Mystery of Irma Vep(Ovation nomination), more than 15 productions of Me & My Girl, and Pseudolous in A Funny Thing Happened on the Way to the Forum. He has been seen and heard on television and film in Law and Order, ER, Mrs.Santa Claus, The Jamie Foxx Show, and Disney's Tarzan, Pocahontas, and Aladdin.
Single tickets are priced $15 to $50 and include price levels for student rush, military, senior, and family discounts. To purchase tickets or for more information, call (760) 724-2110 or visit moonlightstage.com.
Photo Credit: Ken Jacques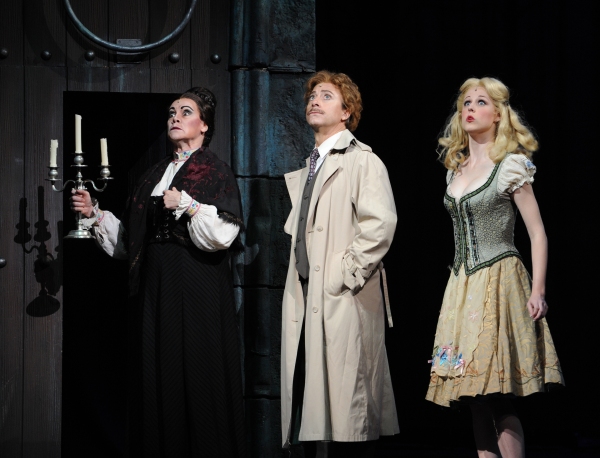 Tracy Lore as Frau Blücher, Larry Raben as Dr. Frederick von Frankenstein, and Noelle Marion as Inga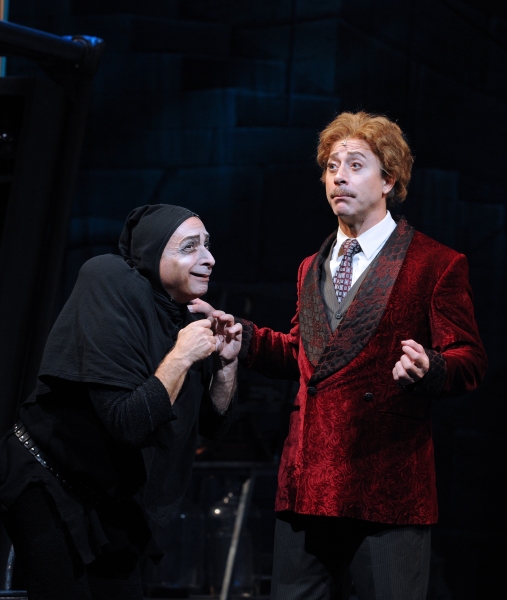 Jamie Torcellini as Igor and Larry Raben as Dr. Frederick von Frankenstein

Tracy Lore as Frau Blücher and Jessica Bernard as Elizabeth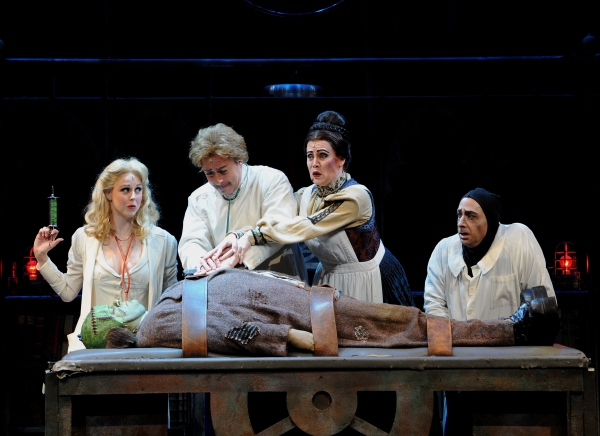 Noelle Marion is Inga, Larry Raben as Dr. Frederick von Frankenstein, Tracy Lore as Frau Blücher, Jamie Torcellini as Igor, and Randall Hickman as The Monster

Tracy Lore as Frau Blücher, Larry Raben as Dr. Frederick von Frankenstein, Noelle Marion as Inga, and Randall Hickman as The Monster

Larry Raben as Dr. Frederick von Frankenstein and Randall Hickman as The Monster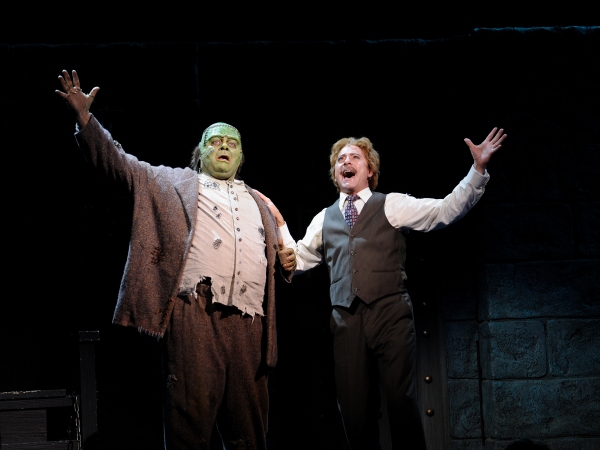 Randall Hickman as The Monster and Larry Raben as Dr. Frederick von Frankenstein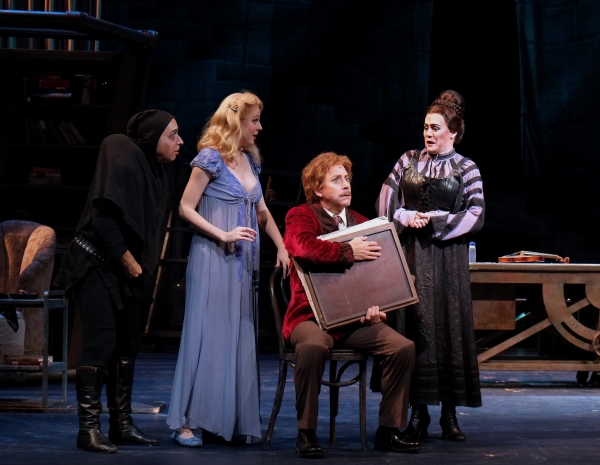 Jamie Torcellini as Igor, Noelle Marion as Inga, Larry Raben as Dr. Frederick von Frankenstein, and Tracy Lore as Frau Blücher

Jamie Torcellini as Igor, Noelle Marion as Inga, Larry Raben as Dr. Frederick von Frankenstein, and Tracy Lore as Frau Blücher

Doug Davis as The Hermit and Randall Hickman as The Monster

Cast of YOUNG FRANKENSTEIN