Photos: Channing, Fleming, et al. Keep the Spirit Alive
Margaret O'Brien, Rhonda Fleming and Carol Channing were on hand to greet and thank WWII Veterans in Los Angeles on August 14th in true Hollywood Canteen style as thousands across the nation gathered in over 200 cities to Keep the Spirit of '45 Alive! The grassroots campaign was created to promote a national day of remembrance for greatest generation.  Also in attendance were Kelly Stewart on behalf of her father, WWII Veteran Jimmy Stewart and actress and USO performer Kate Linder of The Young & the Restless, who had been one of the artists to attend the first event launch announcing the plans for this event and the resolution going through Congress at the time. Two very special guest were Bea Cohen, who at 101 shared memories of the WWII Experience and that day in in 1945 and WWII Veteran Harry Kullijian, who reiterated that "You've all heard that there were no atheists in fox holes, but there also weren't any skin colors, religions or political parties. You knew you were Americans and that was all you needed to know."
Ms. O'Brien remarked "For countless reasons, all of America shall forever be indebted to the services provided by our armed forces and those on the home front during the most turbulent time in history.  In memory of their gallant efforts that forever changed our world and our nation, I am working to help with the efforts of securing a national day of remembrance. I wish all of you who served in the Spirit of '45 all of God's blessings. Much love always!"
Ms. Fleming added, "Having had the tremendous opportunity during World War II of touring, entertaining and visiting with our troops in the United States and abroad who served our great country, it gives me immense pleasure and heartfelt gratitude to know that on the 65th Anniversary of the end of the war they will be forever remembered for their sacrifice and commitment to America and to the American people with a national day of remembrance. I'm honored to pay tribute to their legacy and I salute the men and women who have served and continue to serve our great country in keeping the "Spirit of '45" alive. May God bless our United States of America!"
Ms. Channing wrapped the event with "My dear husband, Harry, and many others like him went to war so that their children could have liberty to study math, philosophy, geography, science, architecture, commerce and agriculture in order that future generations could study painting, poetry, dance, and music that could then enhance and improve upon the knowledge their fathers had previously gained. Armed with these tools, they can reach beyond even their grand fathers dreams for them. The veterans of WWII achieved the goal of protecting these rights for today's and future generations and should always be remembered for doing so."
There was also a special message from Ernest Borgnine, read by organizer Warren Hegg saying "I want to send my enthusiastic best wishes to everyone involved with Spirit of '45 Day I was proud to have worked with Edith Shain who was on the receiving end of the "kiss seen round the world" at the end of World War II. She was a wonderful lady and worked tirelessly to make sure America remembers the men and women who fought for America in WWII. Thanks for keeping her dream of a national day of remembrance for our generation alive."
Among the August 14 Events, Times Square was perhaps the most active revealing a statue depicting the recently departed nurse Edith Shane and the iconic image of her kiss with a sailor on that very day near by, as communities nationwide Commemorate 65th Anniversary of End of World War II a Success. Thousands of Americans, including veterans of World War II, the men who fought and the women who served on the war front and the home front, gathered in Times Square and in communities across the nation on Saturday, August 14, to celebrate what is perhaps the Greatest Day of the Greatest Generation, the day the war ended and the peace began. These events marked the 65th Anniversary of the end of the war, and were part of a nationwide movement called Keep the Spirit of '45 Alive!, a nonprofit grassroots initiative to establish a day of national remembrance and renewal on the second Sunday of every August to honor the men and women of the WWII generation.
A Congressional Resolution endorsing the idea of a "National Spirit of '45 Day" passed the House of Representatives July 26, and passed the Senate on August 5.
 "What the Greatest Generation did was unprecedented in history," said Warren Hegg, Keep the Spirit of '45 National Supervisor.  "After defeating the greatest evil the world has ever known, these young Americans put down the guns, retooled the factories and began a new crusade to create a better future for their children and their children's children by helping both their allies and their former foes get back on their feet.  Their example of courage, self-sacrifice and national unity must be preserved to inspire future generations, especially at time when America, and the world, are again facing historic challenges.  We are so excited that people took time on August 14 to say 'Thank you!' to these folks before they all pass away into history."
Events included an official kick off ceremony in Times Square in front of a 26-foot sculpture depicting the world-famous kiss between an unnamed sailor and nurse Edith Shain on August 14, 1945.  Hundreds of couples flocked to Times Square to participate in the Kiss-In.  Edith had passionately campaigned for a "National Spirit of '45 Day" until her death this summer at age 91.  "Spirit of '45" events were held at museums, memorials, military cemeteries, public parks, veteran homes, senior living communities and other locations to build public awareness and rally support for a permanent national day.  Youth were invited to help record the first-hand memories of seniors who remember August 14, 1945, so that they can be archived in a "Class of '45" Yearbook. Commemorative announcements were made during all Major League Baseball games and included a message from former New York Yankees great Jerry Coleman, one of the 1,500 professional baseball players who put down their bats and gloves to serve in WWII.  Coleman, who was the Voice of the San Diego Padres for 30 years, flew 120 combat missions as a Marine pilot in both WWII and Korea and earned two Distinguished Flying Crosses.  Screen legends Carol Channing, Rhonda Fleming and Margaret O'Brien hosted a special event for WWII veterans and their families in Los Angeles, featuring several entertainment stars who served during the war.  At 7 pm EDT and moving West across he country, thousands of buglers played "Taps" to honor the 400,000 who lost their lives in WWII and the millions of members of the Greatest Generation who have since passed away.   Support for Keep the Spirit of '45 Alive! was provided by Vitas Innovative Hospice Care and a coalition of partners that includes the History Channel, U-Haul and Brookdale Senior Living.


Emilio Ramirez, Naval Sea Cadet, Ronald Reagan Division; and Tyler Kalmick, Navy League Cadet, Ronald Reagan Division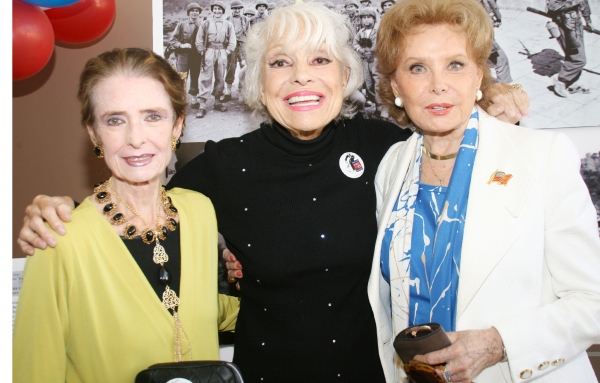 Margaret O'Brien, Carol Channing and Rhonda Fleming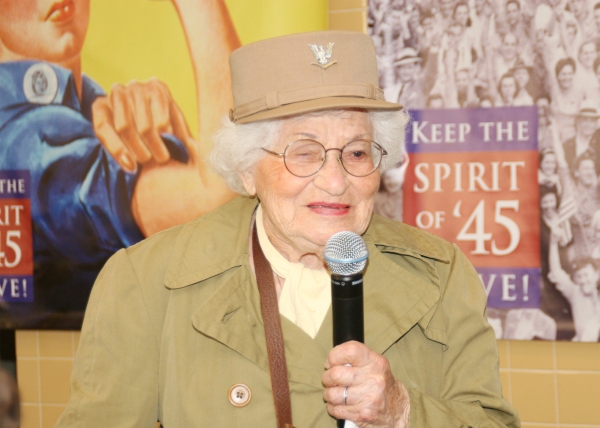 WWII Veteran Bea Cohen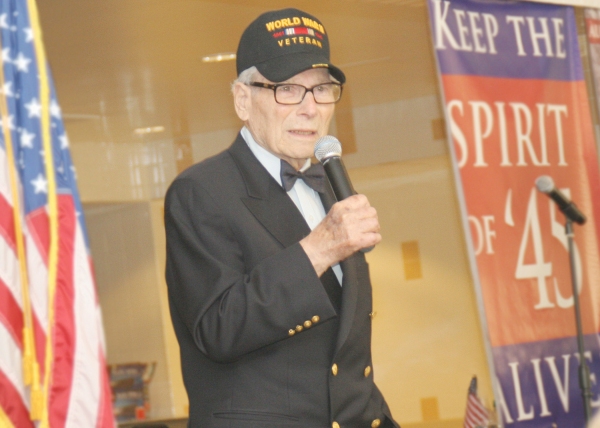 WWII Veteran Harry Kullijian

Veterans Class of 1945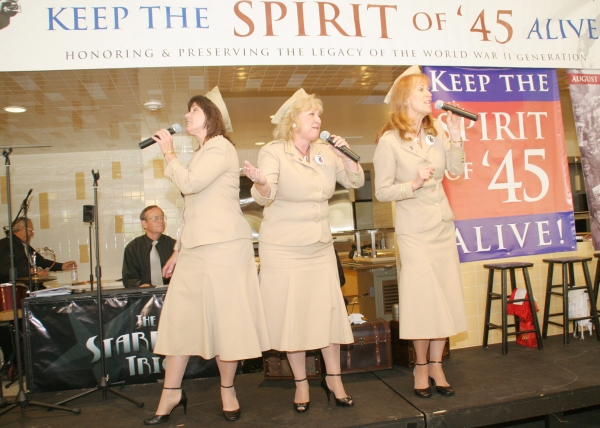 The Stardust Trio (Janna O'Bryant, Marilyn Cluff and Renne Starr)

 Harry Kullijian; World War II Veteran Darol Wayne Carlson;  Rhonda Flemming; Carol Channing, World War II Veteran Bea Cohen; Lt. Commander Ernest Cowell;  Kate Linder;  Margaret O'Brien

Phot Credit: Tanya Pham