Photos: Betty White and More at RAISE ME UP's Opening at Santa Monica Playhouse
The Santa Monica Playhouse presents the World Premiere of local playwright Lisa Phillips Visca's Raise Me Up. Raise Me Up is a true story set in post war America in the 1950's, about a "moonstruck" couple's forbidden love, the hilarity and drama from their deeply passionate Italian-Greek families, and how they spent their last day on Earth together. Below, BroadwayWorld has photos from opening night, including celebrity attendee Betty White and more!
RAISE ME UP is Lisa Phillips Visca (Sophia; Turning Thirty & More than a Pretty Face; Climax)'s joyful and touching tribute to her parents, Louis and Daphne Padula, capturing their eternal passion and the surreal ending to their classic love story.
Directed by Playhouse Co-Artistic Director Chris DeCarlo (Arnold Schulman's Sleeping Ugly; Jerry Mayer's Aspirin & Elephants; Alan Ross's ElizaBeth Shakespeare), the show features (in alphabetical order):
Marla Adams (The Young and the Restless; The President's Man; Jerry Mayer's You Haven't Changed A Bit and Other Lies); John Del Regno (Born on the 4th of July; Another 48 Hours; Joan of Arcadia; Without a Trace); Serena Dolinsky (Moliere's The Fools; Arnold Schulman's Sleeping Ugly; Moonlight Madness; Love in Bloom); Ben Feuer (All God's Creatures; The Rest of My Life; A New Game; Murder by the Book; Of Mice and Men); Mitch Lerner (Forty Days and Nights; Super Cyclone; How to Deal; The Big Douche Chill; Women and Men and Women); Michael Marinaccio (Li'l Tokyo Reporter; Boulevard Zen; The Online Gamer; Tony 'n' Tina's Wedding); Lenora May (Confessions of a Shopaholic; Jerry Mayer's Black and Bluestein; Knifepoint; Mistresses on ABC); Stuart Pankin (Not Necessarily the News; Fatal Attraction; The Artist; Desperate Housewives; Tartuffe; Sly Fox); Evelyn Rudie (Audition: The Musical; Funny, You Don't Look Like A Grandmother; Author! Author! - an evening with Sholom Aleichem); Joey Shea (One Life to Live; The Practice; My Sexiest Mistakes; As The World Turns); and Understudies Catherine Urbanek, Anne Davanni.
Costume Design by Ashley Hayes (The Clown Prince - LA WEEKLY Award; Dolls: Not Your Usual Love Story - Ovation Award nomination; Ionesco's The Bald Soprano); Lighting Design by James Cooper (Stephen King and Robert B Parker's RAGE; Jerry Mayer's Almost Perfect; Todd Susman's Locked and Loaded); Sound Design by The Attic Room (Diane Samuel's Kindertransport; Backstreet; Jerry Mayer's A Love Affair); Production Stage Manager George J Vennes III (John Pielmeyer's Impassioned Embraces; Lily Tomlin and Jane Wagner present Carlie and Doni; A Carlin Home Companion); and Associate Producer Lisa Phillips Visca.
The production runs Fridays and Saturdays at 8pm, Sunday early-bird matinee at 3:00pm; March 23 through May 19, 2013. Admisson: $25 general admission; $22.50 students, teachers, seniors and members of the military; $17.50 for groups of 8 or more; $15 for under 12's. For reservations, visit http://SantaMonicaPlayhouse.com or call The Playhouse Box Office at 1-310-394-9779 ext 1. For Group Sales, call 1-310-394-9779 ext 2.
Santa Monica Playhouse Main Stage is located at 1211 4th Street, Santa Monica, Calif. By public transportation: take the Santa Monica Blue Bus or the LA Metro Rapid #720 and exit at 4th and Wilshire.
Photo Credit: Berkeley Sanjay



Santa Monica Playhouse co-Founder, Actor Eric Braeden (The Young and the Restless,) Actress Marla Adams, Actress Evelyn Rudie

Santa Monica Playhouse Artistic Directors Evelyn Rudie (Playhouse 90s Eloise) & Chris DeCarlo (Director Raise Me Up)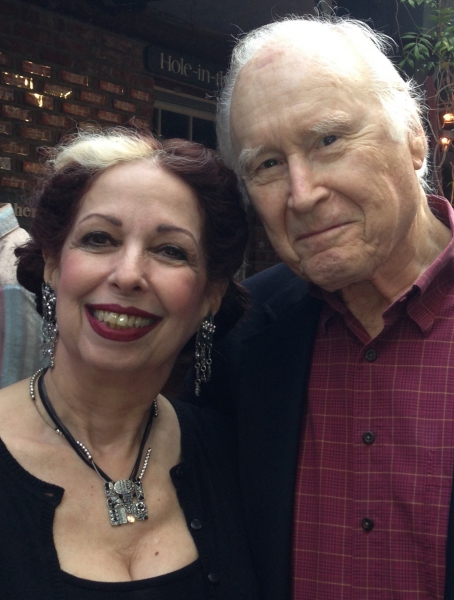 Evelyn Rudie with Actor George Coe

Eric & Dale Braeden, Marla Adams, Evelyn Rudie, Emmy-winning writers and producers of The Young and The Restless Sally Sussman and Tony Morina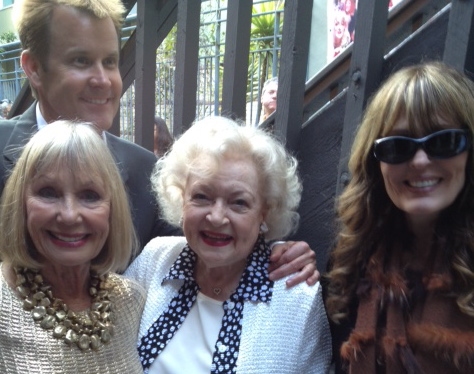 Marla Adams, Actress Betty White, Playwright Lisa Phillips Visca