Photos: Meet the Cast of LOS Otros in LA - Michelle Pawk & More!
The world premiere of the musical "Los Otros" begins previews on Wednesday, May 23 at 8 p.m. at the Center Theatre Group/Mark Taper Forum. With book and lyrics by Ellen Fitzhugh and music by Michael John LaChiusa, "Los Otros" opens on June 3, 2012. Performances continue through July 1. Tony Award-winner Michele Pawk has been cast to play the role of Woman and Julio Monge will play the role of Man.
Directed by multiple Tony Award-nominee Graciela Daniele, "Los Otros," with its distinctly Californian stories that span several decades, was commissioned by Center Theatre Group. Check out the first shots of the company in reheaarsal below!
The first act depicts three defining moments in the life of a Southern California woman, all of them involving chance encounters with Mexican immigrants. The second act introduces us to a Mexican- American man, first as a 12-year-old picking plums in a Central Valley orchard during WWII and finally as a 75-year-old whose mind is failing him. Ultimately, a surprising connection is revealed that accents the myriad gifts and devotions that have shaped these two peoples' lives.
Tickets and information are available at www.CenterTheatreGroup.org, the Center Theatre Group box office located at the Ahmanson Theatre, or by calling (213) 628-2772.
Photo Credit:
Craig Schwartz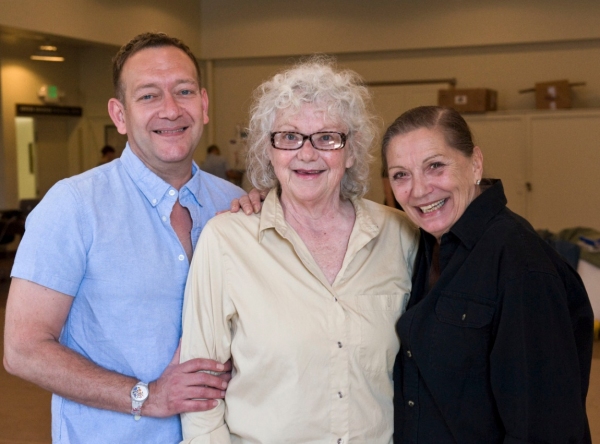 Michael John LaChiusa, Ellen Fitzhugh and Graciela Daniele