Performances of A RAISIN IN THE SUN Added at A Noise Within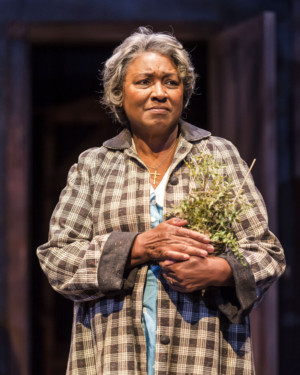 A Noise Within (ANW) presents A Raisin in the Sun by Lorraine Hansberry, directed by Gregg T. Daniel, the sixth production of its 26th season performing February 25 to April 8 (Press Opening March 3). Now added - three performances - Wednesday, March 14 at 7:30 pm, Wednesday March 29 at 7:30 pm, and Sunday, April 8 at 7 pm.
In pre-civil rights America, an unexpected windfall offers a life-changing option for the Youngers, an African-American family living in a cramped Chicago apartment. They struggle with competing dreams and racial intolerance in
Lorraine Hansberry
's seminal work. Director
Gregg T. Daniel
said, "I am in awe of the sheer courage, imagination, and intelligence it took to write Raisin-how the mind of a 29-year-old 'Negro' playwright was driven to confront issues of Pan Africanism, feminism, and economic, gender and racial equality in such an eloquent and powerful manner." He continues, "Here we are, six decades later, and the play still speaks to us because it appears that intolerance, bigotry, and racial prejudice has once again found a hideous, contemporary voice in the American consciousness." ANW co-producing Artistic Director
Julia Rodriguez-Elliott
said, "A Raisin in the Sun was the breakout hit of our 2016 Resident Artist reading festival; we are excited to offer a full production of one of the greatest plays of the 20th century, with Gregg at the helm."
Geoff Elliott
continues: "All season we've explored the theme of 'Entertaining Courage.' Raisin explores courage, the power of hope, the limits of personal agency, and the stressors of our environment that push us towards action." A Raisin in the Sun runs from February 25-April 8. Thursday March 15, A Noise Within hosts The Charles Reese Experience and Pasadena City College/ Jackie Robinson Humanities and Arts Lecture Series presents, in conjunction with the A Noise Within Symposium Series: Mamie Hansberry, a pre-performance conversation with Mamie Hansberry, sister of the late Lorraine, from 6pm-7pm. A Raisin in the Sun runs in rotating repertory with Shakespeare's Henry V (February 4-April 6, 2018), and will be followed by
Michael Frayn
's Noises Off (April 21-May 20). Tickets for A Raisin in the Sun and all the spring 2018 productions start at $25, are available online at
www.anoisewithin.org
and by phone by calling
626-356-3121
. A Noise Within is located on the corner of Foothill Boulevard and Sierra Madre Villa Avenue at
3352 East Foothill Blvd., Pasadena, CA 91107
, just north of the Madre Street exit off the 210. Operating in a state-of-the-
Art Theatre
complex in East Pasadena, A Noise Within annually produces seven mainstage productions. It is a cultural and artistic mainstay in the San Gabriel Valley, and is the largest employer of local Equity Actors in Los Angeles County. The cast of Raisin in the Sun includes
Ben Cain
* as
Walter Lee
Younger,
Toya Turner
* as
Ruth Younger
, Amir Abdullah* as Joseph Asagai, Rosney Mauger as Bobo/Moving Man,
Bert Emmett
* as Karl Linder,
Keith Walker
as George Murchison,
Saundra McClain
* as Lena Younger,
Sarah Hollis
* as Beneatha Younger, and Sam Christian as Travis Younger. *denotes a member of
Actors' Equity
Association Directed by
Gregg T. Daniel
§, Scenic Design by Stephanie Kerley Schwartz†, Costume Design by
Garry Lennon
†, Lighting Design by Stacy McKenney Norr†, Sound Design by
Jeff Gardner
†, Wig/Make-Up Design by April Metcalf, and Choreography by Joyce Guy. Stage Manager is Gabrielle J. Bruno*, Assistant Stage Manager is Canelle Irmas, the Assistant Director is Samantha Kofford, and the Assistant Costume Designer is Matthew Kesner. Fight Consultant is Kenneth R. Merckx, Jr. and Dialect Coach is Lauren Murphy Yeoman.
§The Director is a member of the Stage Directors and Choreographers Society, a national theatrical labor union.
†Designer is represented by United Scenic Artists Local USA-829 of the IATSE THE LEGACY OF A RAISIN IN THE SUN According to American Theatre magazine, Raisin is one of the ten most produced plays of this current theater season. When the play debuted in New York in 1959 - the first play written by a black woman to be produced on Broadway, as well as the first with a black director (
Lloyd Richards
) - Hansberry herself noted that the play introduced details of black life to the overwhelmingly white Broadway audiences. At the same time, director Richards observed that it was the first play to which large numbers of black people were drawn. The work is notable for its insightful and sensitive depiction of an African American family at a time when the impact of "Jim Crow" laws and the 'Separate but Equal' doctrine were soon to be repudiated in the United States. At that time thousands of formerly disenfranchised blacks were hoping to grasp a piece of the American Dream. The title comes from the poem "Harlem" by
Langston Hughes
(What happens to a dream deferred? Does it dry up like a raisin in the sun? ... maybe it just sags like a heavy load. Or does it explode?").
Spike Lee
said, "A Raisin in the Sun was a revelation to me. It's still fresh. It is still relevant.
Lorraine Hansberry
was a visionary." In The New York Times,
Frank Rich
said that A Raisin in the Sun "changed American theater forever."
Hilton Als
, in The New Yorker said, "
Lorraine Hansberry
was an integrationist - she knew the toll the struggle could take. Walter is a deeply political, lonely figure. Hansberry's radicalism lay in giving a man like him language and making him go the course."
Ben Brantley
of the 2004 Broadway revival in The New York Times, "Raisin was remarkably prescient in identifying issues that would continue to shape African-American life: black men's struggles for self-assertion in households dominated by strong women; the movement to separate African from American identities; Christianity as both an oppressive and redemptive power; the restlessness of women imprisoned by domesticity -- all these elements come into play in Hansberry's drama. And that's before you get to the plot pivot in which the Younger family plans to move into a white neighborhood." ABOUT A RAISIN IN THE SUN AND
Lorraine Hansberry
A Raisin in the Sun debuted on Broadway in 1959. With a cast in which all but one minor character is African-American, A Raisin in the Sun was considered a risky investment, and it took over a year for producer Philip Rose to raise enough money to launch it. There was disagreement with how it should be played, with focus on the mother or focus on the son. When the play hit New York,
Sidney Poitier
played it with the focus on the son and found not only his calling, but an audience enthralled. After touring to positive reviews, the play premiered on Broadway at the
Ethel Barrymore
Theatre on March 11, 1959. It transferred to the Belasco Theatre on October 19, 1959, and closed on June 25, 1960, after 530 total performances. ABOUT
Lorraine Hansberry
Lorraine Hansberry
was born on the South Side of Chicago on May 19, 1930. Her father founded Lake Street Bank, one of the first banks for blacks in Chicago, and ran a successful real estate business. Her uncle was William Leo Hansberry, a scholar of African studies at Howard University in Washington, D.C. Many prominent African American social and political leaders visited the Hansberry household during Lorraine's childhood including sociology professor W.E.B. DuBois, poet
Langston Hughes
, actor and political activist
Paul Robeson
, musician
Duke Ellington
, and Olympic gold medalist Jesse Owens. Despite their middle-class status, the Hansberrys were subject to segregation. When she was 8 years old, Hansberry's family deliberately attempted to move into a restricted neighborhood. Restrictive covenants, in which white property owners agreed not to sell to blacks, created a ghetto known as the "Black Belt" on Chicago's South Side. Carl Hansberry, with the help of Harry H. Pace, president of the Supreme Liberty Life Insurance Company and several white realtors, secretly bought property at
413 E. 60th Street
and
6140 S. Rhodes Avenue
. The family was threatened by a white mob, which threw a brick through a window, narrowly missing Lorraine. The state Supreme Court of Illinois upheld the legality of the restrictive covenant and forced the family to leave the house. The case was then taken to the United States Supreme Court, which reversed the decision on a legal technicality. Although the case did not argue that racially restrict covenants were unlawful, it marked the beginning of their end. Hansberry moved to New York in 1950 to begin her career as a writer. She wrote for
Paul Robeson
's Freedom, a progressive publication, which put her in contact with other literary and political mentors such as W.E.B. DuBois and Freedom editor Louis Burnham. During a protest against racial discrimination at New York University, she met
Robert Nemiroff
, a Jewish writer who shared her political views. They married on June 20, 1953 at the Hansberrys' home in Chicago. In 1956, her husband and
Burt D'Lugoff
wrote the hit song, "Cindy, Oh Cindy." Its profits allowed Hansberry to quit working and devote herself to writing. She then began a play she called The Crystal Stair, from
Langston Hughes
' poem "Mother to Son." She later retitled it A Raisin in the Sun from Hughes' poem, "Harlem: A Dream Deferred." For A Raisin in the Sun, Hansberry drew upon the lives of the working-class black people who rented from her father and who went to school with her on Chicago's South Side. She used members of her family as inspiration for her characters. Hansberry noted similarities between Nannie Hansberry and Mama Younger and between Carl Hansberry and Big Walter.
Walter Lee
, Jr. and Ruth are composites of Hansberry's brothers, their wives and her sister, Mamie. In an interview, Hansberry laughingly said "Beneatha is me, eight years ago." Although Hansberry and Nemiroff divorced before her death, he remained dedicated to her work. As literary executor, he edited and published her three unfinished plays: Les Blancs, The Drinking Gourd and What Use Are Flowers? He also collected Hansberry's unpublished writings, speeches and journal entries and presented them in the autobiographical montage To Be Young, Gifted and Black. The title is taken from a speech given by Hansberry in May 1964 to winners of a United Negro Fund writing competition: "...though it be thrilling and marvelous thing to be merely young and gifted in such times, it is doubly so, doubly dynamic, to be young, gifted and black!" Her second play, The Sign in Sidney Brustein's Window, about a Jewish intellectual, ran on Broadway for 101 performances. It closed on January 12, 1965, the day Hansberry died of cancer at age 35. The Sign in Sidney Brustein's Window will be presented a part of the Words Within staged reading series on Monday, March 12 @ 7pm. Directed by Resident Artist
Carolyn Ratteray
. Free reservations can be made at
www.anoisewithin.org
. MORE ABOUT ANW'S PRODUCTION
Gregg T. Daniel
(Director, A Raisin in the Sun) makes his ANW debut with Raisin. He recently directed the West Coast premieres of Tearrance Arvelle Chisolm's Br'er Cotton for Lower Depth Theatre Ensemble,
Lorraine Hansberry
's Les Blancs for Rogue Machine theatre (Ovation-nominated, Best Director), and Home by Samm
Art Williams
for the International City Theatre (ICT). With Rogue Machine, Gregg directed the L.A. premiere of Honky by Greg Kalleres (nominated Best Director, Comedy). He is a recipient of the 2016 NAACP Best Director award for the International City Theatre's production of Fences by
August Wilson
(nominated for L.A. Drama Critics Circle, Ovation, and StageScene LA awards.) Other work includes a revival of
Alice Childress
' Wedding Band: A Love/Hate Story in Black and White for the Antaeus Company (Winner Stage Raw Award-Best Revival, Best Ensemble). Additional L.A. credits include
Lee Blessing
's Cobb,
Eric Simonson
's Lombardi,
Frank McGuinness
' Someone Who'll Watch Over Me (Broadway World nomination, Best Director), and
Tom Stoppard
's translation of Heroes for Group Repertory Theatre. For Lower Depth Theatre Ensemble, he's directed the West Coast premiere of
Kwame Kwei-Armah
's Elmina's Kitchen (Winner-NAACP's Best Ensemble). Regionally, he has directed the New Jersey premiere of Katori's Hall's The Mountain Top and
Matthew Lopez
's The Whipping Man for Cape May Stage. Gregg is a Founding Member/Artistic Director of Lower Depth Theatre Ensemble (Lower-Depth.com). He is an accomplished actor with over 100 appearances in television and film roles. He is married to actress
Veralyn Jones
. Symposium, Conversations, Pay What You Can, Sunday Rush
The run of A Raisin in the Sun includes post-performance Conversations with the artists on Friday March 16 at 8pm, Sunday March 25th at 2pm and Friday March 30 at 8pm and Pay What You Can performances on Thursday, March 1 at 7:30 pm and Thursday, March 14 at 7:30pm. Sunday Rush dates are March 11 at 7pm, March 25 at 7pm, and April 8 at 7pm (walk up as available). ENTERTAINING COURAGE - HENRY V Shakespeare's Henry V plays in rotating repertory with A Raisin in the Sun in spring 2018, and the season closes with a revival of one of ANW's most
Popular Productions
, Noises Off by
Michael Frayn
. With the exception of Noises Off and A Christmas Carol, all of the season's plays make their A Noise Within debut. This season's theme is Entertaining Courage. "Regardless of where you fall on the political spectrum, we're certainly living in challenging, unprecedented times," says
Geoff Elliott
, "It seems like many people are trying to figure out what the path forward looks like. While we certainly don't have answers, we thought we'd face that national angst and fear head on by embracing courage and hope." ABOUT A NOISE WITHIN A Noise Within, which celebrated its 25th Anniversary last season, was called "an oasis for those who love classic stories" by The Los Angeles Times, and is a leading regional producer based in Pasadena, CA. ANW's award-winning resident company practices a rotating repertory model at their state-of-the-art, 283-seat performing space. This venue, established in 2011, has allowed ANW to expand its audience, surpassing its previous box office, subscription, and attendance records each year. In addition to producing world-class performances of classical theatre, the organization runs robust education programs committed to inspiring diverse audiences of all ages. Helmed by Producing Artistic Directors
Geoff Elliott
and
Julia Rodriguez-Elliott
, who hold MFAs from San Francisco's American Conservatory Theatre, A Noise Within truly delivers CLASSIC THEATRE, MODERN MAGIC.
http://www.anoisewithin.org
.
More Hot Stories For You