BWW Review: WOOD BOY DOG FISH, a Rogue Retelling of a Fairy Tale Gone Wrong

Puppets and monsters and freaks, oh my. Shoreside has an abundance of them in WOOD BOY DOG FISH and they don't play well together at all.
This fictional seaside town, home to the terrifying Dogfish Adventure Ride, is a miserable place. Populated with morally repugnant characters and a darkness that seeps into your very soul, it sets the stage for a somber night out at the usually sunny Garry Marshall Theatre.
The story is a spin on Pinocchio but it in no way resembles the Disney fairy tale most people are familiar with so don't bring the kiddos or you'll likely scare the bejesus out of them. In playwright Chelsea Sutton's adaptation, growing up - or in Wood Boy's case, becoming real - is a painful journey in which wisdom comes at great expense.
First presented by Rogue Artists Ensemble in 2015 at the Bootleg Theater, this revised version of the show draws from Carlo Collodi's original serial titled The Adventures of Pinocchio, a much harsher and violent telling. Director Sean T. Cawelti and the Rogues have exaggerated the grit and grime, expanded their signature theatrical elements, and added an immersive pre-show carnival that takes over the lobby and spills out into the courtyard. Those looking to satisfy their hedonistic tendencies will find a good measure of deliciously cheap fun inside the gates.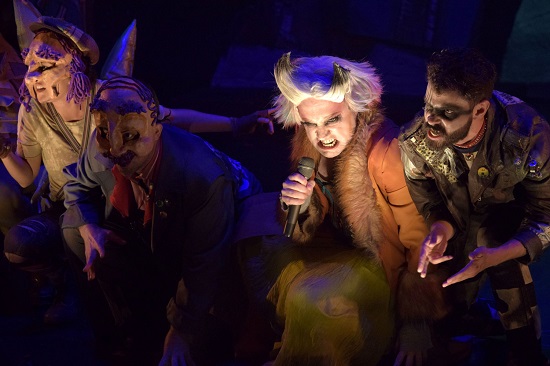 Morality temptations aside, the show is a pretty spectacular combination of stagecraft and over-the-top theatrics that create an impressive, if at times overwhelming, experience. It's a mood piece with a message and it is right in the Rogues' wheelhouse.
I didn't see the original production so I can't speak to the specifics of what has changed but an audience member seated near me said everything is similar, just more elaborate. What I can attest to is the fact that you'll spend most of the time on sensory overload.
Despite the amazing visuals, the extra padding doesn't always sustain the modest storyline. Wood Boy's journey unfolds episodically, with each sequence contributing to the whole, yet many of the scenes go on too long. Once the point has been established and the audience wowed by the effects, it's time to move on or the forward motion of the story suffers.
A repetitious "Welcome to Dogfish" opening song could easily be cut in half, and Wood Boy's traveling scenes, likely created in the company's improvisatory development process, would benefit from a stronger edit.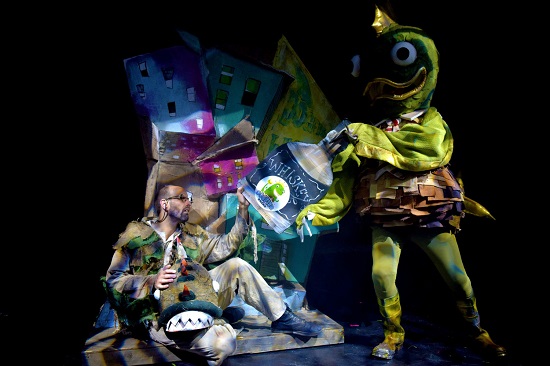 At the center of the story is a drunken, demoralized Geppetto (Ben Messmer) whose puppet creation comes to life with a kick and a shout. The wooden boy is an astonishingly lifelike creation, voiced by Rudy Martinez and manipulated by three skillful puppeteers, including Martinez, Mark Royston, and Sarah Kay Peters. Impertinent, annoying, and fooled by his own ignorance and greed, his eventual comeuppance leads to a tender homecoming and a hard-won transformation. In this moment, slick and dirty storytelling gives way to a heartfelt illustration of the redemptive power of love.
Watch the proscenium arch above the stage in Act II for a prompt to put on your 3-D glasses so you don't miss the fantastic chase sequence through the Dogfish Ride.
WOOD BOY DOG FISH
May 12 - June 24, 2018
Rogue Artists Ensemble @ Garry Marshall Theatre
4252 W. Riverside Drive, Burbank, CA 91505
Tickets: (818) 955-8101 or GarryMarshallTheatre.org
For more about Rogue Artists Ensemble, visit RogueArtists.org
Rated PG-13: includes mature content, not intended for young audiences
Photo credit: Chelsea Sutton