Review: WHAT A TREAT, THE CURRENT NORRIS THEATRE'S 42ND STREET REVIVAL!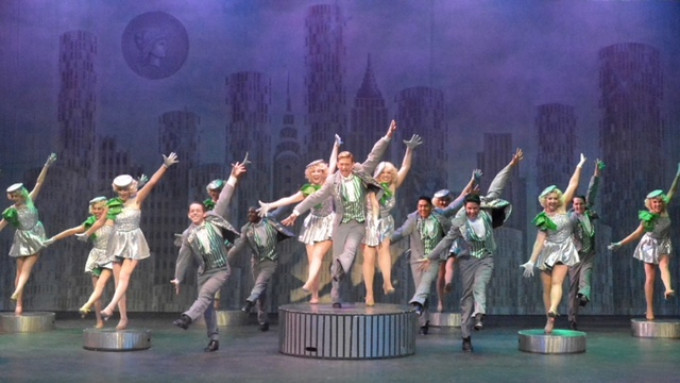 Having seen 42nd Street when it first opened on Broadway, and seeing this version all these years later, was refreshing and really made me happy that tap is still one of the most enjoyable forms of entertainment to watch or do.
To see it with the original choreography, the very discernible style of Gower Champion; not only was it "on the money," but the fact that I remembered so much of the choreography just by watching the show many times in the past, was encouraging in an elderly sort of way...
It is also nice to see how well The Norris Theatre is doing, and the quality of productions performed there. Twenty-nine years ago, I was in a wonderful production of BELLS ARE RINGING, starring Nancy Dussault, in the Theatre's 4th official Season. Great to see Excellence continue!
Outstanding re-creation of Mr. Champion's choreography by Christine Negherbon, and, as she has played the lead (Peggy Sawyer) numerous times herself, on tour in the U. S. and abroad, it's in her bones to also direct with accurate attention to the finest detail.
The show opens on an audition in progress for a Julian Marsh (played ingeniously and with much aplomb, by Kevin Bailey) brand new Broadway Production and much reminiscent to me, of Jerry Orbach's rendition of a great Broadway Musical Producer.
It is the quintessential story of a girl from Allentown, Pa., who gets to see her dream come true on the Big White Way. It is everything you love about musical productions: tap en mass, galore; convincing and upbeat performances, energy abounding, and all the glitz and glamour, the struggles and setbacks associated with makin' it to the top!
Luck would have it that Peggy, (masterfully performed by Ashley Ruth Jones) although late for the audition, literally "bumps" into the Producer as she stumbles on stage... a faux pas, but ending up catching the Veteran Showman's eye,
and ultimately stepping in for the leading lady and adding just the right amount of genuine talent and pizazz, saving the cast from losing their jobs, and getting rave reviews and the makings of a solid Broadway hit!
The cast is strong and well-suited to their roles. Austin Miller is an eager Billy Lawlor, able to hold his own on stage and off. He's exuberantly wooing Peggy in the song "I'm Young and Healthy" and taps up a storm in the all-out production numbers. Another standout performance is by Sandy Bainum, playing the leading lady, Dorothy Brock, in a well-measured balance of Broadway Diva and Older and Wiser Veteran Star passing the baton along to the up and coming.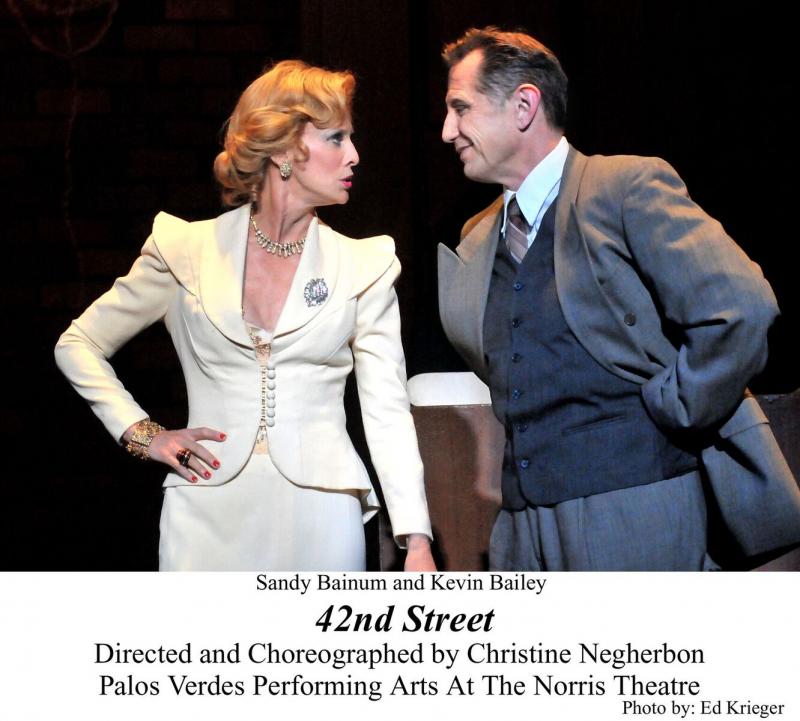 Ms. Bainum was in the original David Merrick production, as Anytime Annie, and proves she is well-rounded and versatile and has had a long-lasting career. Bernadette Bentley is perky and sassy as Anytime Annie, providing the counterpoint to Peggy's "newbie" status.
All of the production numbers are flashy, joyous and fill the stage with such high energy, and even though the tempos are bright, their tapping is very clean and precise. There are delightful songs and dances, such as the "Shadow Waltz," "Go Into Your Dance," "Dames," "You're In the Money," "Lullaby of Broadway," and the title song, belted out and delivered by our fabulous Julian Marsh, the Dream of a Show Producer, wrapping it up neatly, with a bang!
Wonderful sets, costuming and that extra touch of light-hearted musical comedy we still long for.
Their run is through May 13th, so don't "Shuffle off to Buffalo," flap-ball-change your way to Palos Verdes to see a classic Broadway Musical!
Photos by Ed Kreiger