BWW Review: VOTE! THE MUSICAL - Mixed, The Final Count
VOTE! THE MUSICAL/written by Ryann Ferguson/composed by Steven Jamail/directed by Jan-Michael Del Mundo/The Actors Workout Studio/thru June 25, 2017
Above the Curve Theatre mounts a sturdy workshop production of VOTE! THE MUSICAL with loads of potential. Ryann Ferguson writes about the crazy antics in a high school class election. With director Jan-Michael Del Mundo allowing lots of mugging, double-takes and going for the laugh; Anthony Marquez (nicely underplaying laid-
back skater/skier dude Mike) and Angela Cole (fetchingly limning a flirty Muffin) run away with the show's best scenes. Their seduction duet "D Gates" registers Hot! and their reprise of "Everyone Has a dream" arouses in the most ambitious sense.
Some strong voices in this cast of eleven receive solo opportunities to shine: Nicole DaCosta as Nikki, the student nobody notices in "Diva President;" Brittney S. Wheeler as teacher Ms. Fowler in "Hands of a Surgeon;" Carrie Daniel as head cheerleader Angelica in "Be Aggressive;" and Erica Brauer as Trish with her revitalized confidence in "Villain's Girl." Brauer effectively duos with Adam Fauth as the stop-at-nothing Mark in "Time Doesn't Solve Problems." Fauth scores in his slo-mo physical comedy bit of being punched in the face by Cole.
Vanessa Lorenzo and Jillian Forster's initially clever choreography receives synchronized execution from the attractive cast in the cheerleaders' "Be Aggressive" (with Keegan Winfield's sharp dancer's moves especially drawing focus) and from the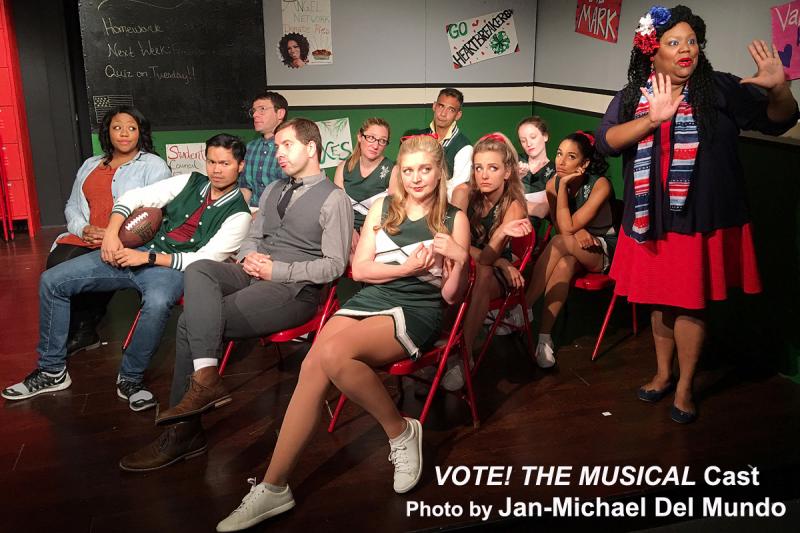 villains in "Villain's Girl."
Others giving able support include: Mark Labella, John Corrigan and Bonnie Doyle.
I'm sure none of the performers are actually high school age, but when utilizing the Beverly Hills 90210 casting concept, the illusion can only work if everyone playing students resemble the same age, and not look older or as old as the only teacher character. Anxious to see the polishing tweaks to this diamond in the rough.