BWW Review: A TRIO OF CREATIVE SPRING PERFORMANCES, UNIQUELY STRUCTURED TO ENHANCE THE MAGNIFICENT GROUNDS AT THE BRAND at THE BRAND LIBRARY & ARTS CENTER, GLENDALE, CA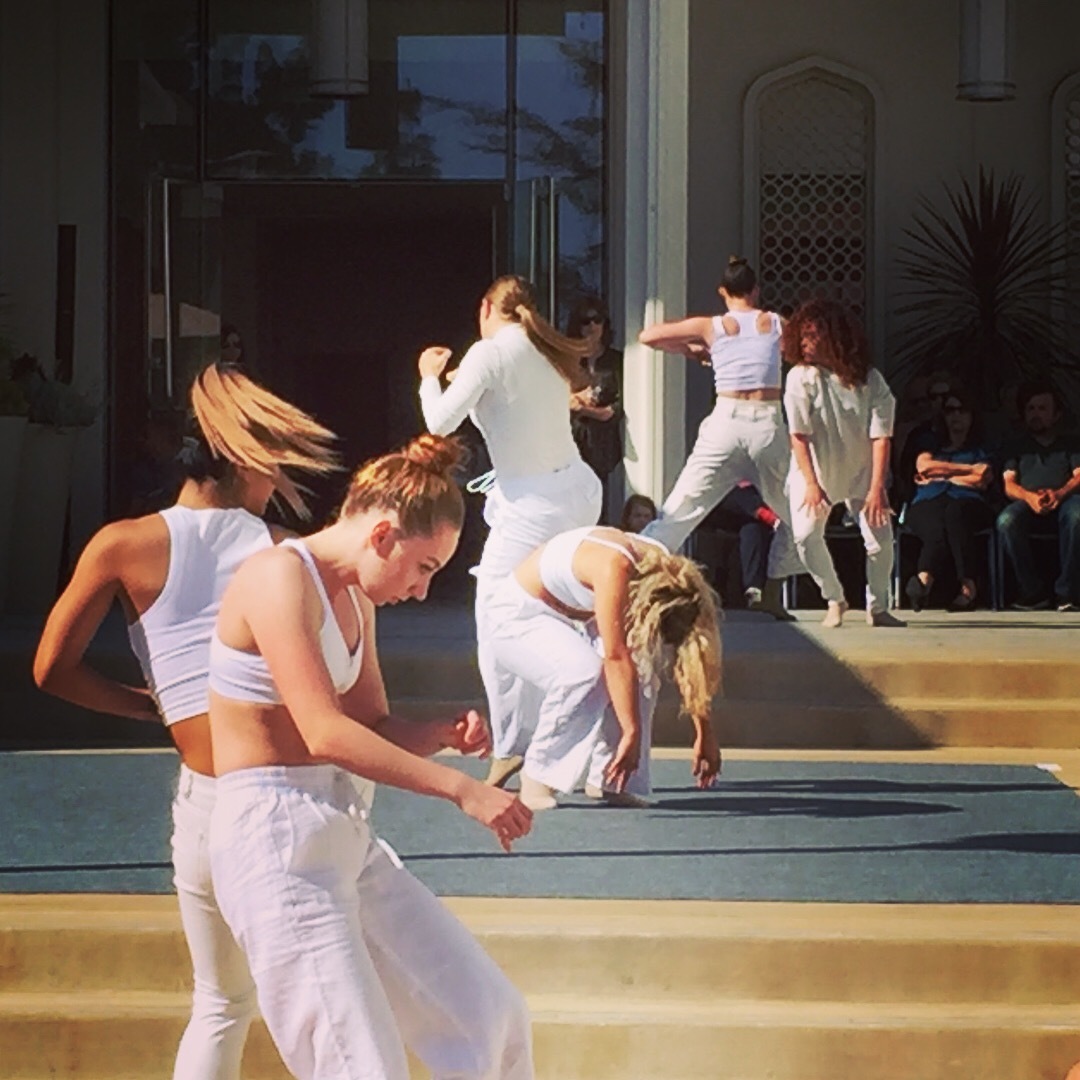 THE BRAND DANCE SERIES - A TRIO OF CREATIVE SPRING PERFORMANCES, EACH UNIQUELY STRUCTURED TO ENHANCE THE MAGNIFICENT GROUNDS AT THE BRAND
@ THE BRAND LIBRARY & ARTS CENTER
Presented by The Brand Associates, and Curated by Jamie Nichols with much care, these performances are all totally different from one another with each dance company or artist using different elements of the Arts, combined with several forms of Dance, molding their piece using the surroundings to inspire their theme and designing the movements to work around site-specific locations.
This series began in the early 1970's as part of the Brand Library and Art Center's mission to promote all aspects of Art. Jamie Nichols, who is connected to the Brand by ancestry, has been working tirelessly to promote Dance forms and inspire people of all ages to come and participate and enjoy what The Arts have to offer, in a beautiful setting that enhances nature and all that evolves from it.
Jamie is a force to be reckoned with, in that her background as a dancer, choreographer, teacher and promoter has always been focused on advancing Dance in it's many forms into the mainstream of entertainment for all to enjoy and experience. Ms. Nichols is the recipient of 6 Lester Horton Dance Awards for Outstanding Achievement, The Lester Horton Furthering the Visibility of Dance Award and the Dance Resource Center of Los Angeles Meritorious Award for Outstanding & Extensive Years of Service. As Executive Producer of Celebrate Dance for 10 years, she presented 70 dance companies at the historic Alex Theatre in Glendale, California to critical acclaim. She has served on multiple boards, committees, panels for grants awardees' and mentored dance companies. She has also been an adjudicator for competitions, publicist for dance companies and produced a variety of dance events in Los Angeles. Most recently, her work "celestial spirit', was commissioned by the Nickerson-Rossi Dance Company for the Palm Springs Dance Festival held at the Annenberg Theatre in Palm Springs. "Celestial Spirit" was chosen as the audience favorite and will be performed in Philadelphia in August 2018. www.celebratedance.org
The first performance of this series, by MASHUP, an all-female dance company on April 28, 2018, led by artistic directors Sarah Rodenhouse and Victoria Brown, both very accomplished choreographers and teachers, was aimed at creating an innovative work that engages diverse communities with a special importance placed on motivating girls and women to be strong, confident, and articulate females. They inspire audiences by exploring a unique MashUp aesthetic combining jazz, modern, and hip hop vocabulary with a foundation strongly rooted in ballet. This performance was entitled "Intrinsic Motivation," and was created using the outside patio and terrace of the Brand Arts Library, the theme being focusing on the intricacies of female self-exploration and as women, the inner questions we have about stereotypical gender roles.
The second performance in this series, on May 12, 2018, was an especially fun afternoon, beginning with a surprise solo turn, by Devin Ziel, where, as we were waiting outside the space where the main performance was going to be done, to one side was a glass-enclosed patio, with chairs, little tables with umbrellas above them, and a few people sitting there reading or listening to music when a pajama-clothed, beautiful girl, resembling a young Kate Winslet, enters, her hair wrapped up onto her head in a large Gibson Girl french roll, with a box of Kleenex placed in the curl above her forehead, ready for plucking. As she entered she yawned and stretched like she had just awoken, went right to a seat at a lone table and buried her head in her hands ~ when the music began, she sat up, seeming rather forlorn, and started to pull, one piece at a time, a sheet of Kleenex out from above, leading to the beginnings of a scattered-with-Kleenex floor and surroundings, the sheets sometimes floating through the air and catching a bit of wind, or her blowing them to float, then picking them back up, all the while doing some very acrobatic and nimble dancing and floorwork (on cement!) with a very carefree feel, as if she was just "going with the flow."
Barefooted, her moods were ever-changing, from pure whimsy, to worried and anxious, to ecstasy. She's on the ground making "snow angels" on top of the Kleenex, jumping up onto a table, climbing under the table, utilizing every space available, back to the floor where she is posing in a somewhat yoga position catching the Kleenex with her toes, sometimes crying into them, and gathering the Kleenex in clumps and bunches and stuffing them randomly in the one wall side where there was lattice work. Was she sleepwalking? Was she wide awake? Near the end, she started retrieving all the Kleenex, rolling them in little balls, maybe indicating things were about to "wrap up"? Only the girl in the pajamas knows for sure...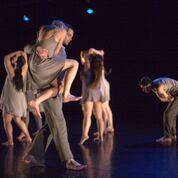 The following performance, with The Deborah Rosen Dancers, including Diane Hula, Matt Lara, Bernadette Raisa Sebastian, Myra Joy Veluz, Aaron Wilson, Taylor Unwin, and Devin Ziel, was also Dream-Themed, entitled DRIFTING, A Suite of Dreamscapes and was performed inside with the audience on all four sides of the room, making for a very intimate setting to give us many interpretations of the Dream State.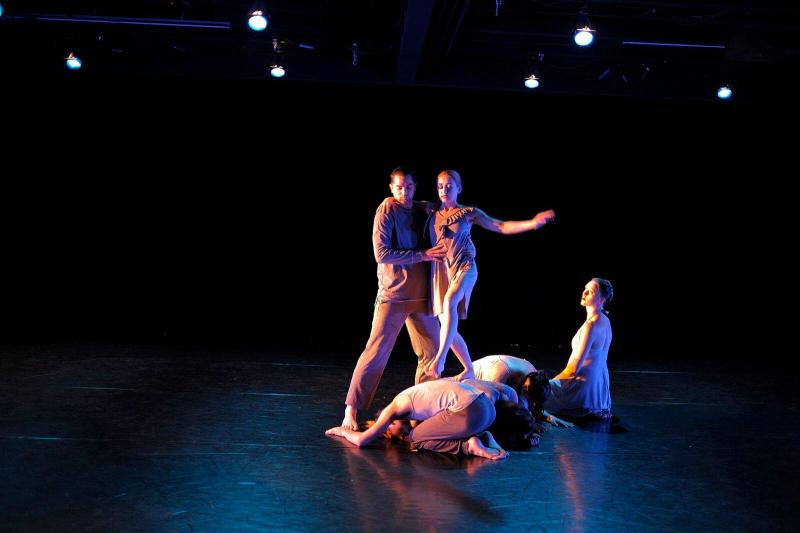 It covered every range of emotion, and is beautifully executed by the dancers, with impeccable technique, much expression, and intense execution, be it comical, frightening, touching, or celebratory. Bravo to Deborah Rosen for creating such a unique piece.
The piece includes spoken poetry, illustrated by the movement, and a strolling ukeleleist, one of the the two male dancers with this troupe, who sings Moonlight Serenade, while a female admirer tap dances, following behind him, surely enamored by his charms.
There was another element of artistry at work during this performance. Jerry Mundy, an established lighting director, utilized the space in very innovative and effective ways. The use of lighting underneath the seating and in other unusual places, enhanced what the dancers were conveying. All of the dancers were thoroughly engaged in groups, in pairs, lifting, climbing on the backs of others and enjoying themselves within the context of the theme. At the end of the piece, audience members were brought up onto the floor to learn part of the choreography which was a delightful way to incorporate the observers into the performance. It was a love fest, at the conclusion, and made the whole experience all the more enjoyable.
The last and third part of this series, was presented on May 19th, 2018, by Kevin Williamson's all-woman troupe, with many elements contributing to an experience in celebrating and honoring the SUPER and empowering women of our past and present. With original music by Anna Luisa Petrisko and performances from LA dancers Heidi Brewer, Jen Hong, Kate Hutter, Devon Frost, Jasmine Jawato, Alexx Shilling, Alexandria Yalj, "Super" takes over Brand Library & Art Center with imaginative solos, ensemble dancing, and spoken text. Many art forms were integrated into this piece, but most prevalent was the strength that women, throughout all history, have continually proven their conviction, their empathy, their support, and their inclusion of all things mankind, that shape our destiny, including the ME, TOO, movement, to advance our civilization for the better. The use of the exterior grounds of the Brand Library and Arts Center was a highlight to this piece, as it represented the many levels women have been forced to conform to along the way. During the piece the women stood together, shared in their fears, fiercely supported each other, comforted one another and rebelled, all through strong, forceful, yet gentle and loving gestures and movement. It is clear that the choreographer, Kevin Williamson, reveres and respects women and what they represent, shown through the steps and formations he has created.
There were several moving stories, spoken aloud, enhanced by either electronic sounds, timpani drums, or funky beats, that accompanied their movements, about a mother and her daughter's appreciation of the way paved ahead for her, as well as mention of key women such as Harriette Tubman, Josephine Baker, Flo Jo, Georgia O'Keefe, Sheila E, Patty Smyth, Janet Jackson, Amelia Earhart, Grace Jones being some of the heroines that came before us. Very empowering and very relevant to our world today.
This series is funded by the Brand Associates and The Brand Library and Art Center under the direction of Caley Cannon. The performances are free and open to the public. Seating is limited. An accessible entrance and parking is located on the East side of the building.
For more information contact: Caley Cannon, Senior Library, Arts & Culture Supervisor, 818-548-2051, ccannon@glendaleca.gov.
Let me encourage you to participate and support a worthwhile endeavor that will be continued next spring designed to enrich Art appreciation and the human spirit. This program is non-profit and run by volunteers, and any contributions are appreciatively accepted. You can become a member at any time, to lend your support year-round.
Photos Courtesy of Jamie Nichols