Review: TOLSTOY IN SUFFOLK - Smartly Written & Brilliantly Acted
TOLSTOY IN SUFFOLK/written & directed by Robert Allan Ackerman/Studio C/thru November 19, 2017
The world premiere of Robert Allan Ackerman's two-hander TOLSTOY IN SUFFOLK receives a strong mounting from Studio C Artists and Combined Artform. Ackerman's intricate, smart and very descriptive script depicts the first meeting of theatre producer Greg and playwright Brendan at Brendan's remote cottage in Suffolk. Director Ackerman wonderfully exhibits his affinity towards Japanese culture (as he so effectively did in his first play BLOOD), subtly utilizing the balancing principle of yin and yang, while also including a related subplot of Japanese origins. The play starts off with a nice balance of Brendan's over-the-top rantings and ravings contrasted by Greg's even-toned, calming bits of encouragement and compliments.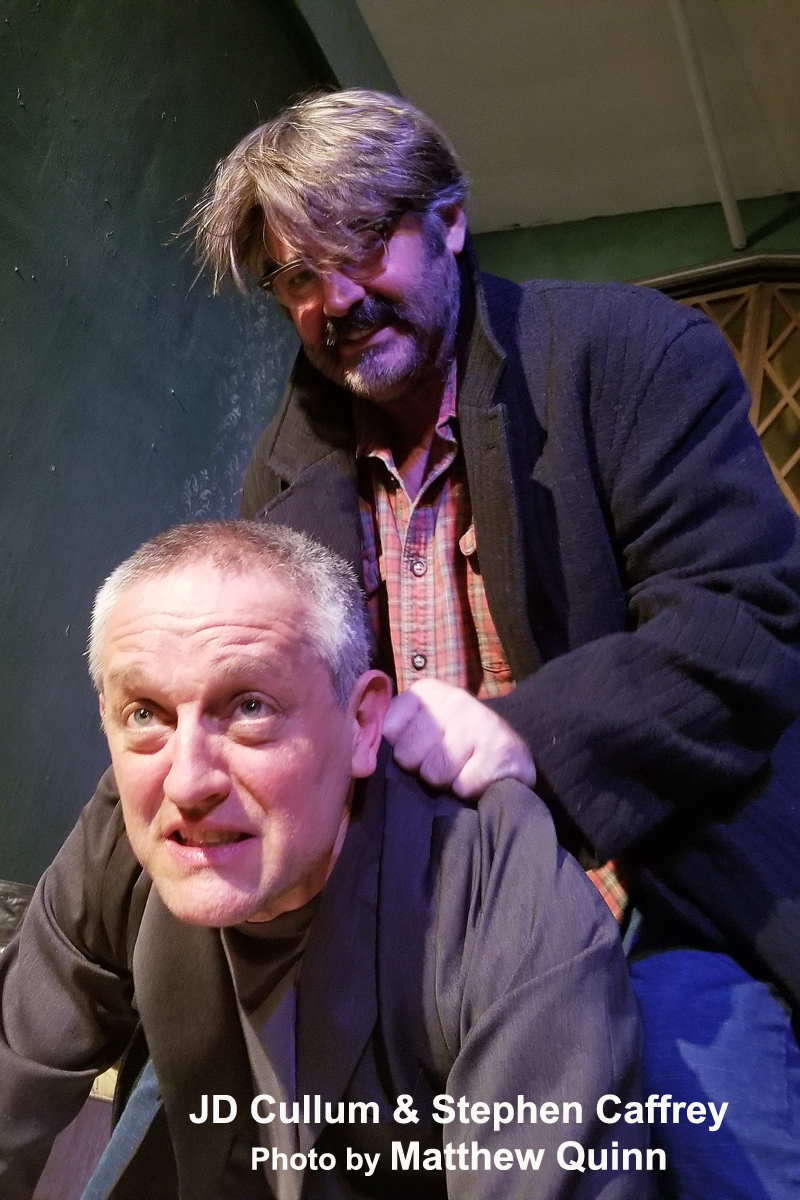 Stephen Caffrey wows as Brendan, the conflicted, larger-than-life, suffering artist who can't get past writing three pages of his long-planned novel. Caffrey deftly handles Ackerman's highly emotional, heavy-worded dialogue as the truly tortured, sometimes unsympathetic soul that Brendan is.
JD Cullum embodies his role of Greg, the driven producer who travelled halfway around the world to convince Brendan to sign over his rights to his adaptation of WHO'S THAT KNOCKING AT MY DOOR?, already a runaway hit in Japan, now soon to be produced on Broadway. Seems that even though Greg gave Brendan credit for the adaptation used in Japan, Greg actually wrote it himself. Of course, now that Broadway calls, a basic translation of the Japanese version simply would not be adequate.
For most of the play, Caffrey's Brendan's the expressive, energetic one, with Cullum's Greg, the calming, quieter partner in this tennis match of verbal wits and bon mots. When Greg finally has his 'honest' outburst, Cullum powerfully dominates the stage showing the more dangerous underbelly of his ambitious box office hit-maker.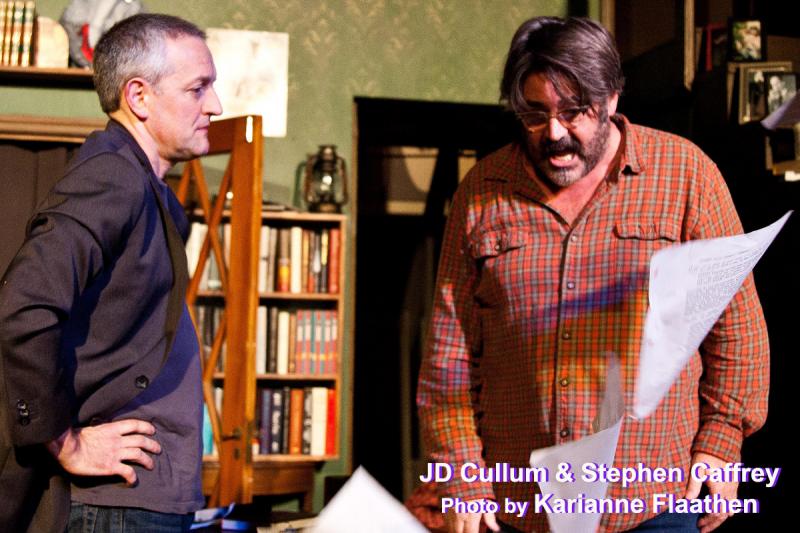 Kudos to set designer Kevin Bailey, together with prop master Janet Fontaine, for creating the detailed, lived-in cottage living room set, with a cluttered stairway to a windowed second floor overlooking the main room. Sound designer Joseph "Sloe" Slawinski timed the various weather and car sound effects for maximum complementary results.
Not to give away any clever spoilers or ingenious twists, suffice to say that the middle of this 90+-minute one-act becomes unbalanced, tilting heavy towards Brendan's mania. A judicious editing of that imbalance would make for a more harmonious and concise theatre piece. But the ending's a great "A-Ha!" moment worth waiting for.