BWW Review: THE DANCE OF DEATH - A Not Quite Balanced Partnering
THE DANCE OF DEATH/by August Strindberg & adapted by Conor McPherson/directed by Ron Sossi/Odyssey Theatre/thru November 19, 2017
Promoted as a precursor to Edward Albee's WHO'S AFRAID OF VIRGINIA WOOLF?, comparisons to Albee's masterpiece does August Strindberg's THE DANCE OF DEATH, here adapted by Conor McPherson, a disservice. Having seen Dame Diana Rigg and David Suchet battle it out as Martha and George in 1996 at the Almeida in London (and, of course, the unforgettable scenery-chewing film version with Taylor and Burton), how can any pair of present-day actors measure up? As adapted by McPherson, directed by Ron Sossi, and embodied by the fully-committed Darrell Larson; Edgar, the husband in almost 25 years of marriage to Alice, falls short in Edgar's VIRGINIA WOOLF-ish verbal skirmishes with Alice. Larson's Edgar has been saddled with some physical ailment that materializes at inopportune times. (Or maybe, at opportune times at Edgar's beck and call?) His frequent bouts of madness/dementia/stillness give Alice the winning advantage over Edgar.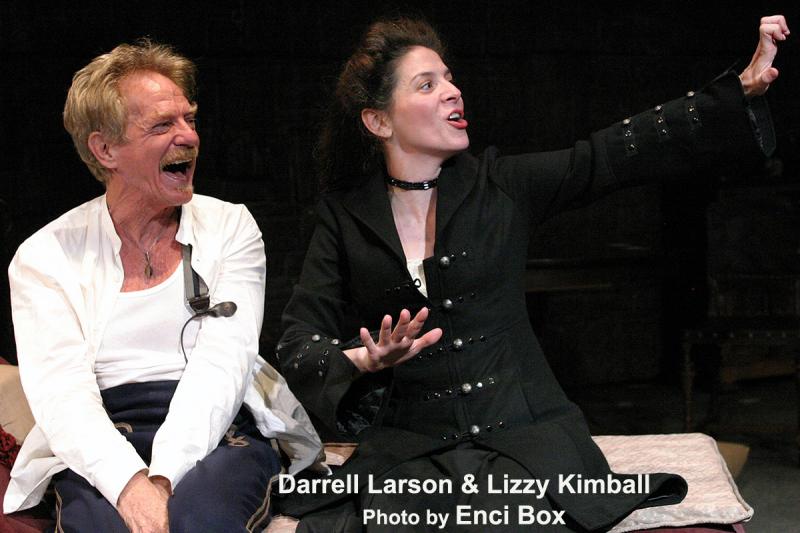 Set in an island fortress (interiors vividly re-imagined by scenic designer Christopher Scott Murillo) at the turn of the 20th Century; Alice and Edgar have been at each others' throats for almost 25 years, after Edgar whisked Alice away from her successful (self-described) stage career. Now pretty much isolated/alienated from the rest of the island folk, the married combatants await the arrival of Alice's cousin Kurt, who's just been assigned to set up a quarantine station on the island. The intertwining of these three characters' back stories and the various alliances does make for intriguing drama.
Lizzy Kimball captivatingly dominates with her role of the trapped, unloved(?) wife; now more caretaker, cook, and maid to Edgar. Kimball manages to earn audience empathy while seductively stirring up Kurt's long dormant lust for her Alice.
Jeff LeBeau seamlessly portrays all the conflicting emotions of cousin Kurt; as Kurt first enters as a forgiving, confident, long-lost relative to the couple; turning into an
accommodating, concerned, the original matchmaker of Alice and Kurt; induced into a easily riled-up revenge-seeking pawn, and morphed into a submissive sex slave. The dynamics of Kimball's Alice foreplay with LeBeau's Kurt's so fascinating to experience.
Kudos also to costume designer Halei Parker for the lovely period gowns of Alice and the appropriate early 20th Century attire of the two gents.
Just wish I had not known beforehand to compare THE DANCE OF DEATH to VIRGINIA WOOLF. Sooo hard a comparison!