Review: THE CLEMENCY OF TITUS at the Dorothy Chandler Pavilion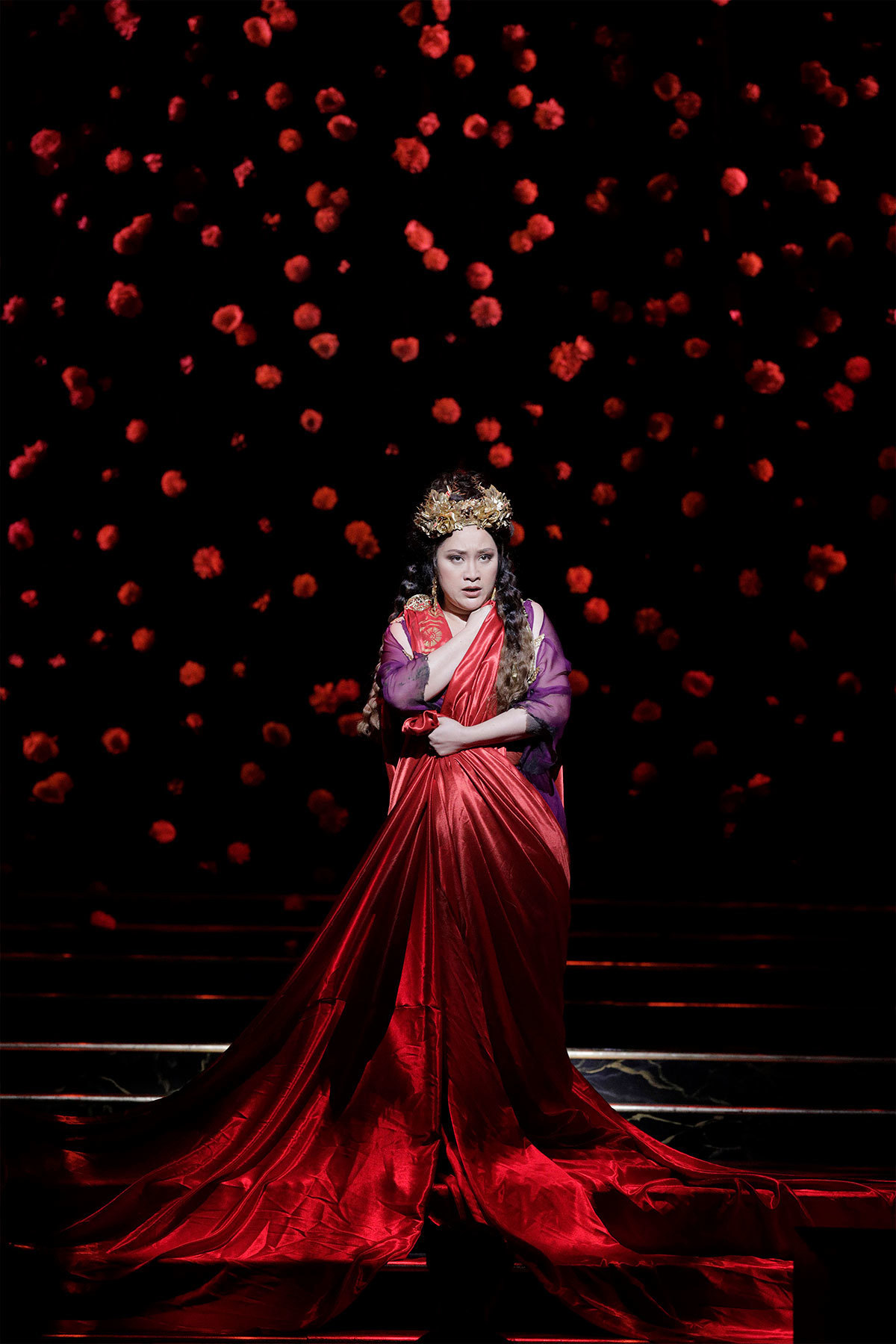 On March 2,2019, Los Angeles Opera presented Wolfgang Amadeus Mozart's THE CLEMENCY OF TITUS (LA CLEMENZA DI TITO) in a production by Thaddeus Strassberger. Having directed and designed the colorful and monumental sets as well, Strassberger has achieved a major opus. Some scenes were played on the full stage and others on its frontal area with Greg Emetaz's projection of a Baroque painting on a curtain behind. For Act II, after a devastating fire, the stunning scenery and projections showed a severely damaged palace in which embers still smoldered. For TITUS, the company paired wonderfully imaginative creative minds with all possible forces and the results were exquisite.
Mattie Ullrich's opulent and colorful costumes helped set the action in the first century of the common era. Titus sported earth colors as did Sesto, while Vitellia wore brilliant reds. Servilia's outfit was blue and Annio showed green under his armor. JAX Messenger's well-planned lighting design enhanced both the scenery and the costumes.
While composing THE MAGIC FLUTE, Mozart was asked to write an opera for a large fee in a short space of time. The composer used a libretto by Pietro Metastasio reworked by Caterino Mazzolà and he hired an assistant to write some of the recitatives in order to finish the piece on time. The result was TITUS, a 1791 opera with a libretto in an older style.
Russell Thomas, who was a good Pollione in the company's 2015 NORMA, has gained measurably in his ability to portray a conflicted but sturdy character. He projected his long legato phrases and fast, tricky runs clearly and coordinated them perfectly with James Conlon's impeccable orchestra. Thomas's strong interpretation communicated his character's changing attitudes to the audience.
Guanqun Yu was a gorgeous Vitellia who sang her polished silver tones with power and flexibility. She was determined to sit on the throne her father lost to Titus by any any means possible, She planned either to marry or to murder the emperor about whom she cared very little. Realizing that Sesto was in love with her, she asked him to kill Titus. When accused of treason, Sesto was willing to die rather then involve Vitellia. Only then did she begin to have a conscience. In the formidable coloratura aria, "Non più di fiori," ("No more Flowers"), she engaged the audience with both her powerful singing and her intense acting as she admitted guilt.
LA Opera is to be congratulated on the makeup for both mezzos singing trouser roles. Both Elizabeth DeShong and Taylor Raven looked masculine. DeShong was a perfect Sesto who appeared to be a man and sang like the magnificent mezzo-soprano she is. She crafted a dramatically three-dimensional character who was torn between his respect for the emperor and his infatuation with Vitellia. In the opera's best known aria, "Parto, parto, ma tu ben mio" ("I go, I go, but you my love"), she showed remarkable agility as well as power and beauty of tone. With its slower tempo, her second aria, "Deh per questo istante" (" For this Moment"), explained her character's complex emotional state.
As Annio, Taylor Raven sang with exquisite, nuanced style and dramatic intensity while maintaining a credible characterization. As his sister, Servilia, Janai Brugger delivered her lines with dramatic intensity at times and with delicacy of tone when that was appropriate. The bass, Publio, sung by James Cresswell, had a great deal of recitative to sing and he performed it with aplomb, giving shape to the music of the higher voices.
Under the leadership of James Conlon, the LA Opera Orchestra performed with great presence and translucence. Stuart Clark's playing warrants special kudos for his clarinet and basset horn solos in the accompaniment to Sesto's aria "Parto, parto" and Vitellia's "Non piu di fiori." Mozart wrote those parts for his clarinetist friend Anton Stadler who traveled to Prague to play them. With great singing, excellent playing, and magnificent settings, Los Angeles Opera has given its audience a production to remember and perhaps revisit between now and March 24th.
Photo by Cory Weaver for LA Opera