BWW Review: Sweet, Lovely One-Act Musical IN A BOOTH AT CHASEN'S Bows at the El Portal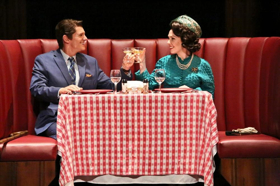 In a Booth at Chasen's/The Real-Life Hollywood Romance of Ron and Nancy Reagan/book by Sam Bennett/music and lyrics by Al Kasha and Phil Swann/directed by Kay Cole/El Portal Theatre, Debbie Reynolds Mainstage/through November 25
Hollywood romances come and go, but certainly not that of Ron and Nancy Reagan. Those of us who witnessed Reagan's rise from movie actor in the 40s to president of SAG, then on to Governor of California and eventually to President of the United States where he served two terms from 1981 to 1989, know that he was not always the greatest politician...but certainly in comparison to today's standards, a good man...one who honestly loved his country. Nancy Davis had been a B actress in films and, it is often said, ran the White House for her husband during the 80s. We know the politics of those latter years and the rumors; what we do not know is how their relationship began...In a Booth at Chasen's restaurant in 1949. Now in a one-act musical that world premiered Sunday November 11 on the El Portal Mainstage, In a Booth at Chasen's plays on until November 25 only. Directed lovingly by Kay Cole and starring Brent Schindele and Kelley Dorney, this sweet little show has much promise.
What book writer Sam Bennett offers us in eight scenarios is a down.to.earth glimpse of Ron and Nancy getting to know each other. Initially they were merely pleasant acquaintances, but eventually became steadfast lovers. Ron had a rancher for a father and did wear cowboy boots with his suits, but as a movie star dated many women and was married to Jane Wyman. Of course, that marriage ended in divorce. He came to his first date with Nancy Davis totally prepared to shake off any romance. As he describes himself, he was footloose. Nancy, on the other hand, had a stage actress mother who was always on the road and a neurosurgeon, more planted father, who were most often apart. Nancy longed for stability and love in marriage, and despite her objections on their first date, she quickly and readily fell in love with Reagan. Each scenario presents a different issue like your basic insecurity for actors in Hollywood, how the rags treat Hollywoodites, and then on a more personal note, what are their favorite as well as least favorite things. It's an up close look at these two people who shared the same issues as many couples who don't plan to fall in love, but who find as time progresses that they are absolutely right for one another.
These two roles are a perfect fit for both Schindele and Dorney who slide into the Reagans' skins with apparent ease, playing off each other with just the right chemistry. With her black wigs, Dorney at times looks exactly like Nancy, and Schindele extends his own easy going manner to suit Reagan's slow phrasing and sometimes awkward mannerisms. Reagan did indeed like to talk a lot and tell corny jokes like "What's the difference between ignorance and apathy? ... I don't know and I don't care." But humorous or not, he was also intelligent, reciting verse and with purposeful intention got deeply into human causes. Schindele allows himself a lot of vulnerability expecially in his final song "She Makes Me Right". Dorney soars with "Red" wearing a sexy red dress and expressing her deep desire for passion and romance.
This brings us to the score by Al Kasha and Phil Swann. They have created some beautiful ballads that express the times of the 40s and 50s, as well as the couple's true feelings. Favorites are "Kite and a String" and "It's Not Easy Being You." Kay Cole's greatest work as director is her fluid pacing and as choreographer, she has the two actors dancing with lovely flair during certain songs.
As to the set, we are most definitely at Chasen's exterior and interior, so Andy Walmsley may be proud of his accomplishment. I read that the booth in which the two sit is the actual booth from Chasen's. But it doesn't stop with Chasen's. Furniture pieces are moved in and out between scenes and background projection design by Daniel Brodie is divine allowing us to feel the atmosphere of the ranch during a picnic or a bicycle ride in a park or just cruising through the hussle and bussle of Hollywood. Kate Bergh has designed very attractive period clothes for both actors. Last but never least Jonathan Tessero is just great as musical director with his lively orchestra.
It is not easy to do a two-person musical, as there are several costume changes and the time between may lag if it were not for the effective instrumental music and projections onscreen. Very effective is the fast depiction of the latter Reagan years in summary at the close of the show.
Go see In a Booth at Chasen's! I think it is a perfect off-Broadway show and hope to see it move forward. You have until November 25 to catch the show at the El Portal!
(photo credit: Michael Lamont)
Related Articles View More Los Angeles

Stories

Shows