BWW Review: PARADISE - A Worthwhile Place That's Hard to Get to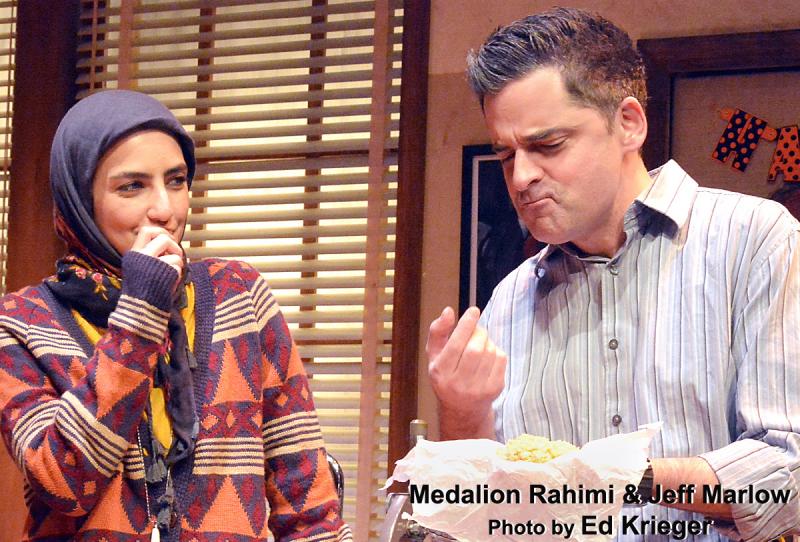 PARADISE/by Laura Maria Censabella/directed by Vicangelo Bulluck/Odyssey Theatre/thru February 17, 2019
The west coast premiere of playwright Laura Maria Censabella's PARADISE receives a strong mounting at the Odyssey Theatre, blessed with the sturdy acting chops of Medalion Rahimi and Jeff Marlow in this singular two-hander. Vicangelo Bulluck ably directs this important, not-oft-told story of a Muslim girl having to weigh her options of family obligations vs. personal goals. Aspects of her Muslim culture take centerstage with the problematic misfortunes of her biology professor, Dr. Royston, a disgraced scientific genius, now downgraded to teaching in an inner-city Bronx high school.
PARADISE begins with straight-A student, 17-year-old Yasmeen begging Dr. Royston for a re-do on the test she scored a 63 on. Rahimi instills her role of Yasmeen with a youthful, wide-eyed exuberance and a relentless enthusiasm. Yasmeen's dejected to learn that Dr. Royston doesn't recognize her as the incessant hand-raiser in his class. He doesn't even know her name. Through the course of the first act, Dr. Royston recognizes the potentially brilliant scientific mind of his young pupil, while also learning various facets of her Muslim culture. Marlow transparently reveals Dr. Royston's jaded, seen-it-all stance, which later morphs into a renewed excitement and cunning for his scientific calling. Kudos to the both of them for mastering their wordy, technical-terminology-heavy monologues, linking the lengthy, explanatory dialogue between them.
Set designer Jeff Rowlings has vividly created a realistic, detailed classroom/lab set. Clever to have the two stagehands rearranging props between scenes in the dimmed lighting, dressed as students. But... a pet peeve of this critic - when a scene lasts less time than the scene changes before and after it. A blackout and the professor changing the date on the chalkboard might have been a much smoother transition.
Censabella's script presents much food for thought on morals, the science of love, and the restrictions of the Muslim culture, sometimes at odds with the American way of life.