BWW Review: OTHER PEOPLE'S MONEY -A Vivid Illustration of Ruthlessness' Easy Win Over Niceness
OTHER PEOPLE'S MONEY/written Jerry Sterner/directed Oliver Muirhead/Pico Playhouse/thru November 20, 2016
The InterACT Theatre Company's production of playwright Jerry Sterner's OTHER PEOPLE'S MONEY has an extended, very nice, exploratory prelude before the definitely-worth-waiting-for sizzling action dominates the stage with the equally matched, passionate Alexandra Wright and explosive Rob Shapiro as opposing lawyers. The necessary backstory of company finances fill this prelude. Hard to make mundane money talk sexy. Oliver Muirhead smartly directs his actors at a smooth, quick pace efficiently using only light cues to seamlessly transition scene changes between the two main sets of Jorgy's and Garfinkle's offices.
Jorgy's 70-something-year-old company has, unbeknownst to him, been targeted for a takeover by an infamous corporate raider Garfinkle. Kent Minault enthusiastically plays the 'aw, shucks' niceness of Jorgy with his unselfish concern for and loyalty to his workers. Peter McDonald plays the tentative, hapless Cole, Jorgy's right-hand man and promised heir to the company throne. Amanda Carlin flawlessly inhabits Bea, Jorgy's secretary and possibly wife or, at least, girlfriend (Not clear on their relationship, only that Bea left her husband to work with Jorgy.)
The introduction meeting between Garfinkle and the aforementioned three seem totally weighted to Garfinkle's advantage, as Shapiro totally bulldozes the three naive, out-of-touch factory heads. Like watching a heavyweight boxer annihilating a lightweight in the ring. No contest at all.
But then, luckily for the company (and the audience), Bea calls her daughter Kate, a budding lawyer, to come home to help their company out. Kate's initial confrontation with Garfinkle has all the sparks and energy missing from the beginning of this play. Wright and Shapiro set a blazing fire on this previous cold stage with their potentially dangerous cat-and-mouse flirtation. They continue their slow, yet commanding burn throughout the rest of the play. Kudos to Shapiro for making his Garfinkle such a rude, obnoxious a**hole, yet turning him into the one you actually root for to somehow succeed.
Then, there's Carlin! So eagerly believable in her devotion to Jorgy. So achingly transparent in her despair to Garfinkle. Carlin and Wright strike gold with their very solid and riveting mother-and-daughter scene.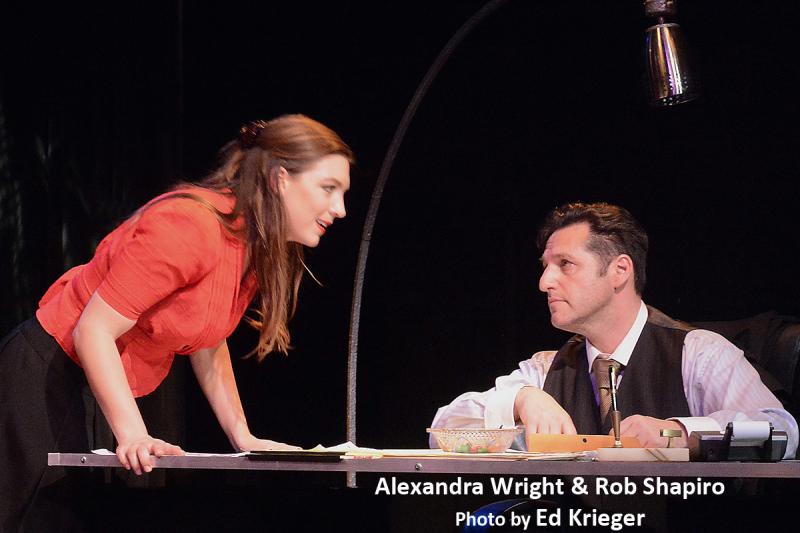 OTHER PEOPLE'S MONEY's the perfect example of simple working as well as, (and possibly better than) fancy. Gary Lee Reed's bare-bones, black box set of two desks and folding chairs complemented by Carol Doehring's lighting proficiently keep the emphasis on the actors/characters doing their thing - which is communicating Sterner's script. (Although the use of a donut making [or dispensing?] machine confounded.)
FYI: Since The InterACT Theatre Company has double-cast this production, you might see a different combination of actors at the performance you attend.