Review: OC's Chance Theater presents Touching Musical VIOLET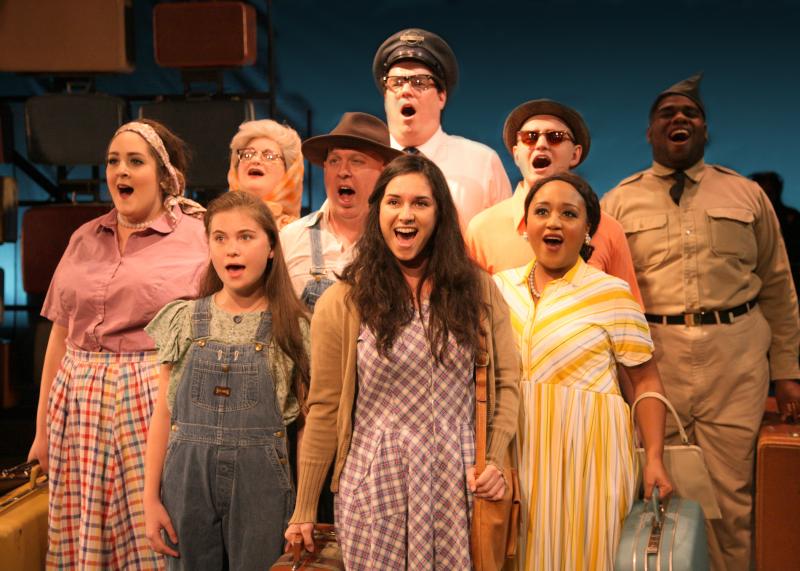 It's an inescapable trap that many of us fall into more often than we'd care to divulge.
We as humans hate to admit that one's physical appearance definitely has an effect on both how we see ourselves and also how we, the society at large, see and treat others---in things as significant as landing a job or in things as simple as finding a lifetime mate or even a one-night-stand. And though, perhaps, we all probably try to adhere to the adage of not "judging a book by its cover," more often than not, we do---whether purposely or unconsciously.
We'd like to think that in the 21st Century, most of us have evolved from this kind of thinking, but it's understandably untrue. There's a reason many of us say out loud that we care more about an individual's inner beauty, but yet in private, we secretly prefer looking at good-looking people's feeds on Instagram (I myself, in the spirit of full disclosure, am quite guilty of the latter).
Let's just freely admit it: being deemed "good-looking" (or, in broader more hurtful terms, "normal") has its proven societal advantages---and those that don't necessarily fall into that slot have to work a bit more to be noticed positively or, at least, not be judged so negatively.
Sadly, the realization of this somewhat accurate generalization is not lost on poor Violet, the title character of VIOLET, the delicate yet still poignantly powerful 1997 award-winning off-Broadway musical, that is now continuing its regional premiere production (based on the 2014 Broadway revival) at Orange County's Chance Theater in Anaheim through March 4, 2018.
A quieter, more down-to-earth musical---but done so with a bellowing musical prowess thanks to book writer and lyricist Brian Crawley and composer Jeanine Tesori---VIOLET explores the multiple layers of feelings associated with being and living life as an "other" within an environment that promotes (and unfairly rewards) societal normalcy and uniformity---and all the baggage that comes with it.
That environment, it just so happens, is the American South in September of 1964, just weeks after the passage of the Civil Rights Act of 1964, the groundbreaking federal law that outlaws discrimination on the basis of race, color, religion, sex, or national origin. And as one may have expected, the Southern states (home of, at the time, the still-in-practice "Jim Crow laws") were the most resistant to this new federal legislation. By setting the plot---based on Doris Betts' short story "The Ugliest Pilgrim"---in this particular era, the musical is given a much more elaborate historical context for the characters to exist in, paving the way to extend the showcased biases for one's outer "layer" to include what many people also discriminate against.
And yet, despite this not-so-subtle parallel, the show's central figure---excellently played by Monika Peña---is only concerned (at least, at first) about her own lot in life: seeing herself as a damaged outsider, and taking cues by how she continuously feels about herself and by how she perceives everyone around her treats her.
You see, Violet is forever haunted by the remnants of a childhood accident. At 13 years old, she was struck by an axe blade that cut her face, leaving her physically and, well, emotionally scarred. Everyday, the scar on her face (which, I admit, I couldn't really see from my seat in this small theater) is, for her, a hard-to-miss reminder of the trauma she continually endures. Though the scar may not throb with pain, she still hurts profoundly in so many ways.
But, alas, she is surprisingly pro-active in alleviating her pain---perhaps because she's had some time to live with it.
She has found a possible salvation: she is encouraged by the miraculous promises offered by an oily, slick---and literally oily-haired---TV preacher (the tone-perfect Chris Kerrigan), a televangelist who advertises his self-proclaimed penchant for curing people's maladies... from physical handicaps and internal diseases to the devilish demons that may have latched onto one's very soul.
Filled with hope, her devout faith, and lots of pluck, Violet packs up a suitcase and decides to go on an irrational (but some may say unknowingly needed) journey via Greyhound bus from her hometown of Spruce Pine, North Carolina towards Tulsa, Oklahoma, the site of the preacher's congregation. Once there, she will seek out this supposed messenger from the Lord in the hopes of getting the instant "cure" for what ails her.
It is a certainly not-so-far-fetched reaction coming from her, primarily because it is clear to us, the audience, and everyone who eventually meets her, that Violet's scar truly burrows deep: she is as fractured on the outside as she is on the inside, palpably heartbroken by her lot in life, and, yet, still quite determined with her end-goal of self-improvement at the same time.
It's an interesting duality to watch: a relatively smart woman haunted by her physical flaw and yet seems, on the surface, to have a bubbling hutzpah underneath a toughened exterior that's been hardened by years of judgment (both self-inflicted and from others). She is fascinating in that she can be quite openly witty and yet guarded in the same breath. Though she's traveling to seek a cure, she's also, in her own way, highly acclimated to her "damage."
Though VIOLET The Musical, on the surface, sets off initially to track the title character's cathartic journey towards "fixing" her flaw---a solution, she feels perhaps, is the only way she will ever improve her quality of life as a whole---it is what she discovers along the way that truly enriches (and, uh, complicates) her forward trajectory.
This, of course, involves the chance meeting she has with a couple of soldiers at a rest stop diner in Kingsport, Tennessee: Monty (convincingly boyish Jordan Schneider), a cocky, young, white Corporal, and his slightly older pal Flick (Taylor Fagins), a mature, kind-natured black Sergeant in his early 30's. The two men are en route to Fort Smith, Arkansas---which will likely be their deployment point for their tour of duty in Vietnam.
After initial bonding over a poker game, the trio become fast friends---jumpstarting a very muddy triangle that impacts all three lives.
And thus begins Violet's mental, cultural and emotional education, where her eyes are widely opened to a larger landscape beyond her own small town---towards an America where people are even more complicated than she realized, and where her personal experience of being an "other" doesn't seem so unique or isolated. Along the way, she learns about love, intolerance, loneliness, and exposing one's vulnerabilities to another... and discovers that one's outer exterior isn't always the best barometer for determining one's true self.
Intermittently, she recalls---via flashbacks---her younger self (Rebeka Hoblik) and her complex relationship with her father (Johnny Fletcher), a man who proves to be a key figure in Violet's current emotional state.
Thoughtfully directed (and choreographed) by Kari Hayter---a frequent Chance Theater presence that has also helmed other memorable smaller-scaled intimate productions of HAIRSPRAY, LYSISTRATA JONES, BLOODY BLOODY Andrew Jackson, and last year's impressive PARADE---Chance's astute production of this surprise hidden gem of a show is as touching as it admirable.
Aided immensely by the superb four-person live band producing its Southern music soundtrack led by musical director Robyn Manion, this production of VIOLET sings like a big musical downscaled for an intimate private party that you'll feel special for being an attendee. In their rousing interpretation of Tesori and Crawley's mix of soul, gospel and Southern rock, it was a pleasing show to hear, too.
But I am especially enamored by Fred Kinney's visually-pleasing multi-colored suitcase scenic design motif, which immediately and profoundly speaks to the musical's many themes as well as its specific moment in time. It's quite a gorgeous framing device for the cast, who are adorned with Elizabeth Cox's pertinent costumes, and are lit befittingly by lighting designer Nick van Houten.
As this is a smaller theater, this production of VIOLET also takes great advantage of this venue's more intimate surroundings. It is quite a smart move, because VIOLET is a musical drama that hinges on the observable emotional performances of its cast. As individual personalities---whether out front or in the periphery---each actor is given their due spotlight to deliver their important contributions to the overall themes that populate this seemingly simple musical.
Peña's performance of the title role is ultimately a winning one---a manic cacophony of emotions both subtle and overt, tinged with a palpable ache and longing in her singing voice that is evident right from the start. Fagins---a teddy bear on the outside but still hinting at a seasoned veteran of pained perseverance on the inside---gives a terrific performance as Flick, a man who, like Violet, has known the daggers of judgment from others all his life (and, oh my, what a voice, too!). Schneider, for his part, offers up a believably easygoing Monty, adding a necessary wedge between Violet and Flick.
Also worth noting are Fletcher and Hoblik, who show a lovely rapport playing father and younger daughter respectively in Violet's sentimental recollections of her past. I am especially enamored with Hoblik's singing voice as young Violet, which sound buoyant, light, and appropriately young, yet still full-bodied---a believable "early" version of the adult Violet that Peña will eventually embody. Kerrigan's awesome, recognizably oleaginous TV preacher reeks of carnival barker/Professor Harold Hill boastfulness which he pretty much nails with each appearance. The remainder of the hardworking ensemble---each of whom take on multiple smaller roles throughout---are quite good, especially the trio of women that are given special moments to shine: Janet McGregor as the "Old Lady," Jade Taylor as the Music Hall Singer, and Natasha Reese as Lula Buffington. All three have lovely voices.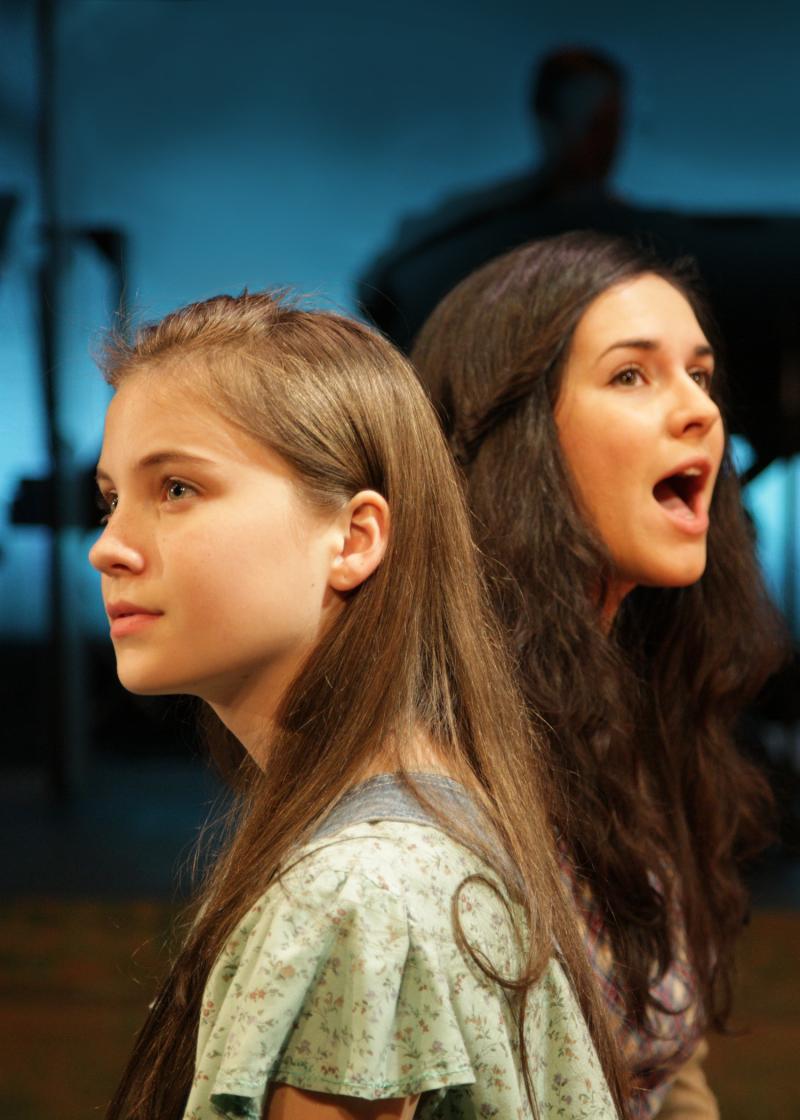 Reflective and, ultimately, achingly bittersweet, VIOLET surprised me with its dark, heightened subtlety but eventually it pierced my core the same way more bombastic shows have managed to do. So many other shows these days churn out their narratives in service of big musical numbers. Here, VIOLET allows its gravitas to spill out like molasses so that audiences can savor the slow burn, the subtle tone shifts, and its rich contextual layers. It definitely wears its emotions on its time-worn sleeves, making it a very rewarding, cathartic drama with just enough hope to lighten things up. In a way, this musical shows that everyone has their own surface "scars"---and that beneath those scars is a human being just longing to be loved like everyone else.
Follow this reviewer on Twitter: @cre8iveMLQ.
Photos from Chance Theater's production of VIOLET by Doug Catiller/True Image Studio.
-------
Chance Theater's Production of VIOLET continues on the Cripe Stage through March 4, 2018. The Chance Theater is located in the Bette Aitken Theater Arts Center at 5522 E. La Palma Ave., Anaheim Hills, CA 92807. For more information or to purchase tickets, call (714) 777-3033 or visit www.ChanceTheater.com.