Review: In Solofest 2017 Hit Show IT'S ONLY LIPSTICK, Claudia DiMartino Shares Life Lessons Learned and Dreams Pursued
Back by popular demand after being a hit of the 2017 SoloFest, accomplished actress Claudia DiMartino once again shares her touching, moving and hilarious story of leaving the corporate world to pursue her acting dreams in IT'S ONLY LIPSTICK at the Whitefire Theater in Sherman Oaks on Thursday evenings at 8pm through August 17. Directed by acclaimed solo show veteran Jessica Lynn Johnson, the show is DiMartino's story of surviving the dysfunction of an Italian-American family in Brooklyn to weathering the instability of being a marketing executive in the beauty industry in corporate America before the life-shattering events of 9/11 caused her to take a good, hard look at her life and make the decision that it's never too late to go after your dreams.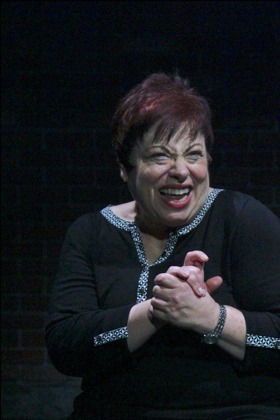 During her 22-year career in the beauty and cosmetics industry, when Claudia DiMartino found herself exhausted and working around the clock or when colleagues stressed out over projects, she would often say, "It's only lipstick" in an attempt to remind herself the work was not all that important and to calm down and relax for the sake of her health. But it was not until she visited Israel and a life-changing experience changed her outlook on life and belief that she really could succeed by choosing to life the type of life she's always wanting since being called the "free spirit" of her family.
As she recounts vibrant tales of more than 40 people in her life at age 10 through adulthood, you will come to understand who each played a significant role in her life. She takes on dysfunctional family members, teachers and bosses, totally morphing into each individual with a change of voice, posture and attitude so completely that you really will feel you have gotten to know each person and how they managed to leave their mark on her life.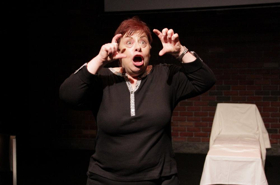 "When I performed at SoloFest, the audience response was amazing and I had so many requests to bring the show back so I thought it was time to give it a full run," DiMartino said. "The show addresses different aspects of my life. I deal with growing up in an Italian-American family in Brooklyn with a lot of discipline and making practical choices in life. I deal with the craziness of corporate America and trying to fit in. I deal with struggling with faith and being desperate. But mostly, I deal with my life's journey of coming into my own when so many people said no."
That life dream meant moving to Los Angeles and pursuing an acting career, which DiMartino has done with great success since 2001. She's had roles on Major Crimes, The Middle, Parenthood, Greek and General Hospital Night Shift as well as feature films He's Just Not That Into You and The Boston Strangler. DiMartino also had the lead role in the film The Grievance Clause. Another film of hers, and one DiMartino is very proud of, is Life Sentence, which is being presented in prisons to help rehabilitate inmates. For the stage, It's Only Lipstick is her first solo show.
Raised as a weekly churchgoing Italian Catholic, Di Martino's faith carried her through some of the most difficult moments in her life. In fact, some of the most inspiring moments of the show occur when she emotionally shares moments of faith and prayer that led to miracles in her life, both medically and spiritually. It's within these moments, as well as when describing moments of the lifetime support she received from her supportive father, whom DiMartino calls her "saving grace," her eyes tear up and her voice cracks with such heartfelt emotion that you can't help but be drawn into her strength of character to survive and follow her dreams.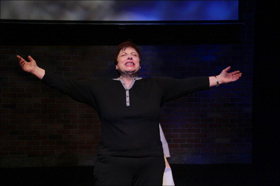 "I think It's Only Lipstick resonates with people on many levels, including family, work and faith," DiMartino said. "The people in our lives and life's circumstances can rob us of our dreams and destinies. But, there is always hope. This show is about following your passion and going for it."
You will certainly recognize moments and choices similar to ones you have made in your own life. May you be as lucky as DiMartino in following your dreams!
IT'S ONLY LIPSTICK, written and performed by Claudia DiMartino, directed by Jessica Lynn Johnson, continues on Thursday nights through August 17 at 8:00pm at The Whitefire Theater 13500 Ventura Blvd., Sherman Oaks, CA 91423. General Admission: $25. Discounted tickets for groups of 6-9 at $19 using discount code small group, with groups of 10 or more discounted to $15 using discount code large group. To purchase tickets or more show information, please visit http://itsonlylipstick.brownpapertickets.com/