BWW Review: Ever Just As Sure BEAUTY AND THE BEAST - LIVE IN CONCERT - They Can Sing, They Can Dance!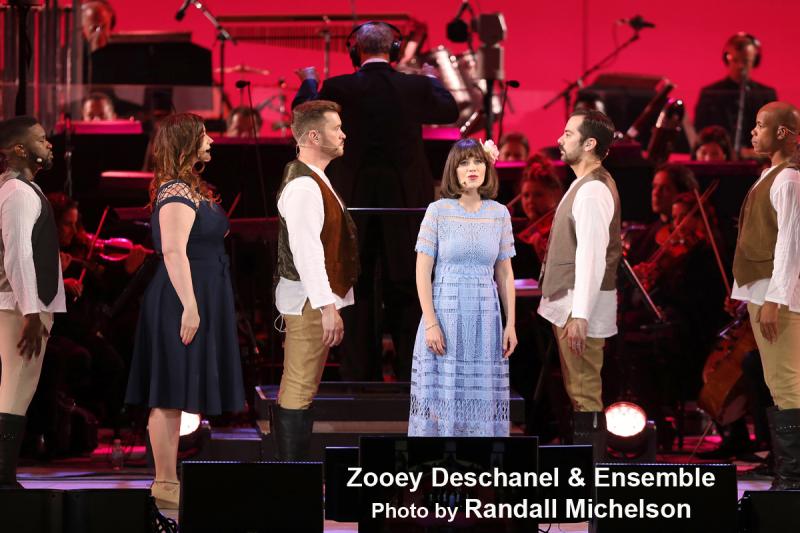 BEAUTY AND THE BEAST - LIVE IN CONCERT/music & lyrics by Alan Menken & Howard Ashman/score by Alan Menken/directed by Richard Kraft/musical direction by Michael Kosarin/Hollywood Bowl/May 25 & 26, 2018
This summer's LIVE IN CONCERT film choice Beauty & the Beast brought together a wonderful mix of theatre, television and film talents to sing live along with the live orchestra deftly led by musical director Michael Kosarin as the animated 1991 film Beauty & the Beast played on the accompanying big screens. Their opening Overture (with some musicians that actually played on the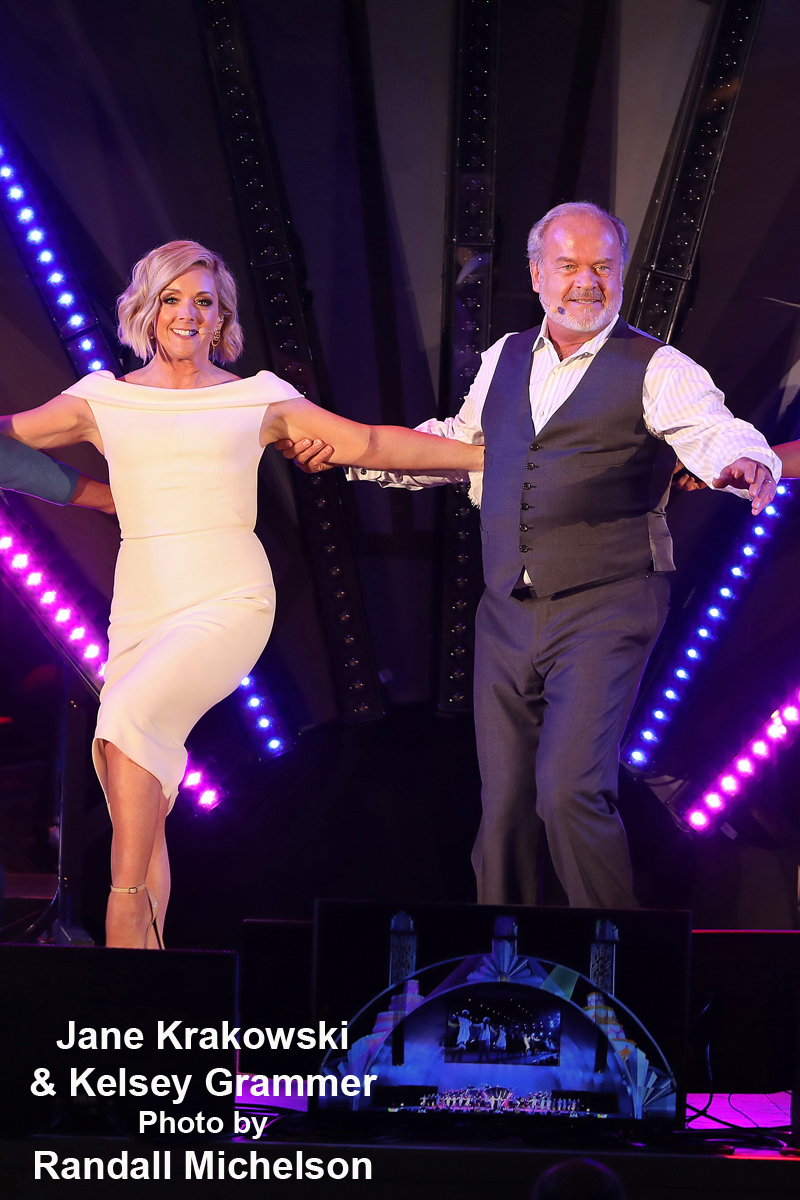 original Beauty & the Beast soundtrack recording) sounded most rhapsodic over the Hollywood Bowl's incredible sound system (sound designed by Frederick Vogler), sounding better than most enclosed music halls. Kudos to video director Kenneth Shapiro for his most complementary proscenium visuals that exploded off the film screen making the vibrant saturated colors encompass the Bowl's shell.
Zooey Deschanel made for a perfect Belle with her innocence, vulnerability and her striking vocals. Wish she had much more to sing. But her sharp comedic chops played right into the townsfolks' description of Belle "that girl is so peculiar."
Kelsey Grammer IS Lumiere, the perfect fit for the affable, welcoming candlestick host singing "Be Our Guest," the first act closer.
Taye Diggs proudly displayed his formidable biceps, his natural machismo and his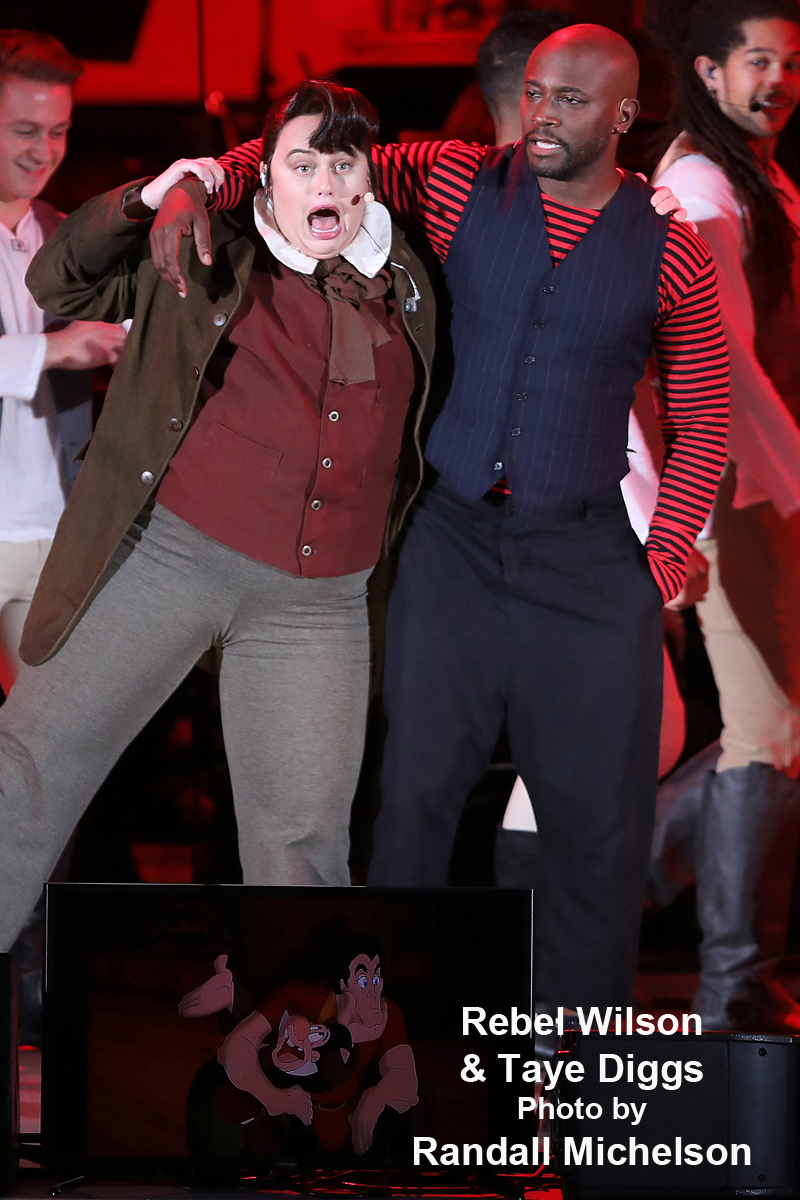 confident vocals as the preening Gaston. Rebel Wilson mined comedy gold in her male-drag, coiffed and costumed LeFou (hats off to costumer Linda Muggeridge). Her dueting with Diggs in the middle of the audience in "The Mob Song" repeatedly hit the audience's funny bones.
Jane Krakowski aptly stamped her own Mrs. Potts' take on Angela Lansbury's version of "Beauty and The Beast." Very nice!
Welcomed additions to the animated film LIVE IN CONCERT songs were Wardrobe's "Human Again," cut from the score, most hilariously interpreted by Marissa Jaret Winokur, and "Evermore," from the 2017 live action film Beauty and the Beast, NAILed by Anthony Evans' powerhouse and expressive vocals as the Beast - the showstopper of the night!
The attractive chorus guys and gals agilely strutted their dancing prowess handling the sometimes flowing (ballroom), sometimes chaotic (mob) choreography by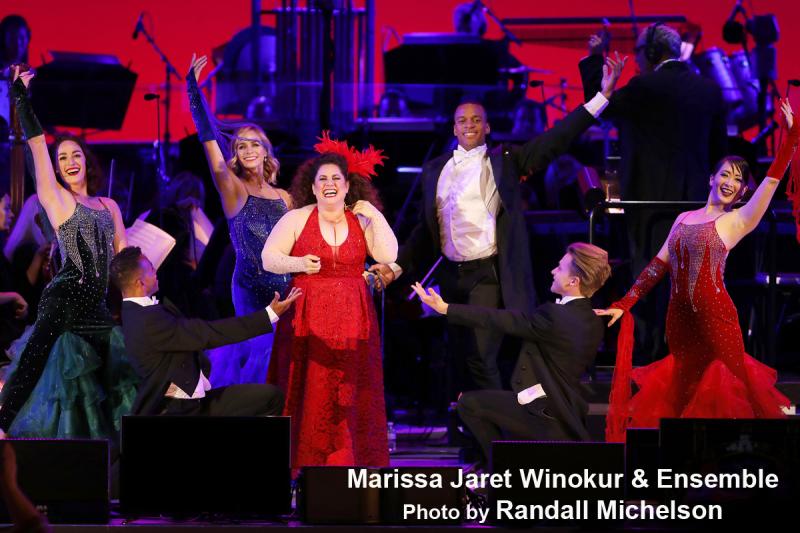 Following Forward Productions.
How director Richard Kraft successfully managed to sync the live performers on stage to onscreen animated antics was no mean feat, but the issue of performers exiting their center stage positions in full sight of the audience after completing their numbers still remains a puzzlement unsolved.
Guest artists performing Disney, non-Beauty and the Beast songs included: the recently crowned American Idol winner, a very poised Maddie Poppe, opening the evening with her strong alto vocals while accompanying herself on ukulele on "Bare Necessities." A cappella group D Cappella performed a slick, choreographed
harmonic set of Disney tunes, sometimes sounding various instruments, instead of singing actual lyrics. They genially finished their set performing "Immortals" from Big Hero 6 with clever amplification of a synthesizer unit that multiplied their individual sounds.
A charismatic 16-year-old Emily Bear simply WOW-ed with her intricate piano virtuosity on the lightning-tempo-ed "Flight of the Bumblebee" accompanying the 1948 Disney animated short Bumble Boogie.
Post-intermission entertainment had violinist Sandy Cameron and celloist Tina Guo duel it out in a rousing Disney instrumental.
The night closed out with none other than the Beauty and the Beast musical genius himself Alan Menken singing and accompanying himself on a grand piano "How Does a Moment Last Forever" and, as a tribute to his late creative partner Howard Ashman, "Beauty and the Beast."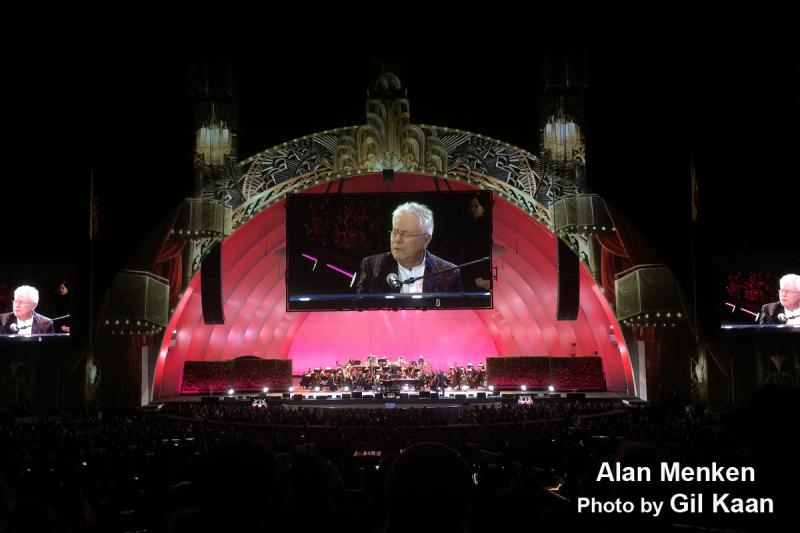 Ever a surprise, this LIVE IN CONCERT - BEAUTY AND THE BEAST (produced by Laura Engel & Richard Kraft, Tim Fox & Alison Ahart Williams, and Live Nation/Andrew Hewitt & Bill Silva Presents, in association with Disney Concerts).
For future Hollywood Bowl events, log onto www.hollywoodbowl.com and www.ahbsp-ln.com