BWW Review: Definitely Game On For THRONES! THE MUSICAL PARODY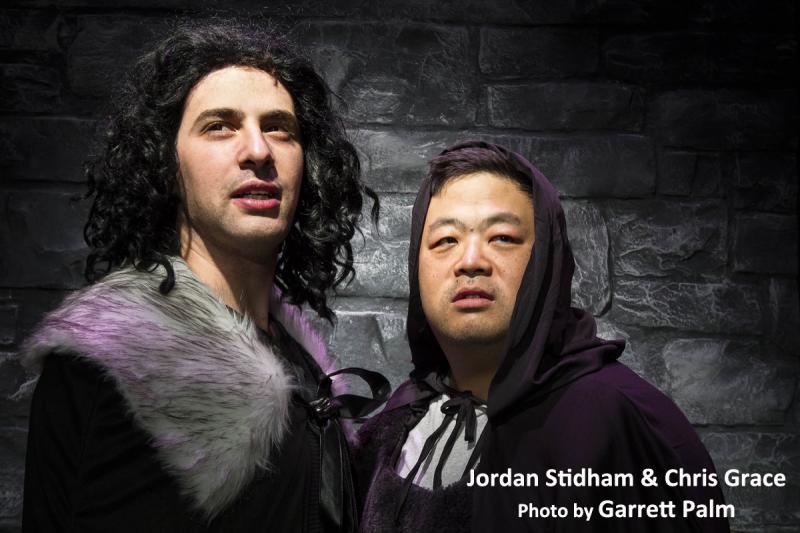 THRONES! THE MUSICAL PARODY/written and composed by Chris Grace, Zach Reino, Al Samuels, Nick Semar & Dan Wessels/directed by John Flynn/musical direction by Douglas Drew/Hudson Mainstage Theatre/thru December 20, 2016
The Los Angeles premiere of THRONES! THE MUSICAL PARODY receives a full-throttled, laugh-filled mounting from a very talented cast and its off-stage creatives. John Flynn nimbly directs his committed performers at a smooth, swift pace from laugh to laugh to even more laughs. The Combined comic geniuses of Chris Grace, Zach Reino, Al Samuels, Nick Semar & Dan Wessels must be lauded for this clever, witty script; both spoken and sung.
THRONES! opens with Ross and his four friends gathered in his sister Linda's living room to cheer her up from her just finalized divorce. When she tells them she doesn't need their moral support, they admit their primary reason there's really to be using Linda's big TV screen to watch their favorite obsession Game of Thrones. Since Linda hasn't any knowledge or interest of the cult hit, all agree to catch her up on the thousands of characters and their interweaving plotlines. And here lies the heart and humor of THRONES! The recreation of Game of Thrones scenes and the explanation of the many spoilers make for great, continuous hilarity.
"The Name Song," a tongue-twister listing the hundreds of Game of Thrones characters gets divvied up amongst the five friends. Then Linda (played by Leslie Collins, a wonderfully transparent vessel of many emotions) reprises the entire list - by herself. Nice!
All do double, triple or more duties as Linda's friends and as various Game of Thrones characters (Collins included).
Grace gets the most opportunities to show off his strong vocal pipes (especially in "Hold the Door"), as well as, his rapping prowess. Grace nails his Peter Dinkage/Tyrion Lannister imitation. Is it wrong to howl at Grace on his knees with shoes on them???
Jordan Stidham gives appropriate goofy gravitas to Tom, the only one in the group to have actually read George R.R. Martin's series of books the TV series based upon. But it's Stidham's Jon Snow that grabs the spotlight each time his tosses his long black curls away from his face. Then, there's his eye-catching scene as the stand-in for the naked Meghan Parks' Cersei Lannister in her walk of shame marched through the village. Everyone, including the actors, are cracking up in this short, but quite effective scene. Samuels as the accompanying nun/quaker lady bell ringer adds to the guffaw-inducing with just his/her simple lines of "Shame! Shame!" Samuels also hits a bulls-eye breastfeeding off the left balloon of the two worn by Jessica Joy. What Samuels does after his mouth leaves the balloon's nipple's just comic gold!
Joy shines (with her long, bright blonde wig) as the strong Daenerys Targaryen. Simply brilliant to see Joy attempting to mount, and then ride her beast of a winged dragon (composed of three actors utilizing a pair of curtains on curtain rods and an umbrella). A fantastic visual!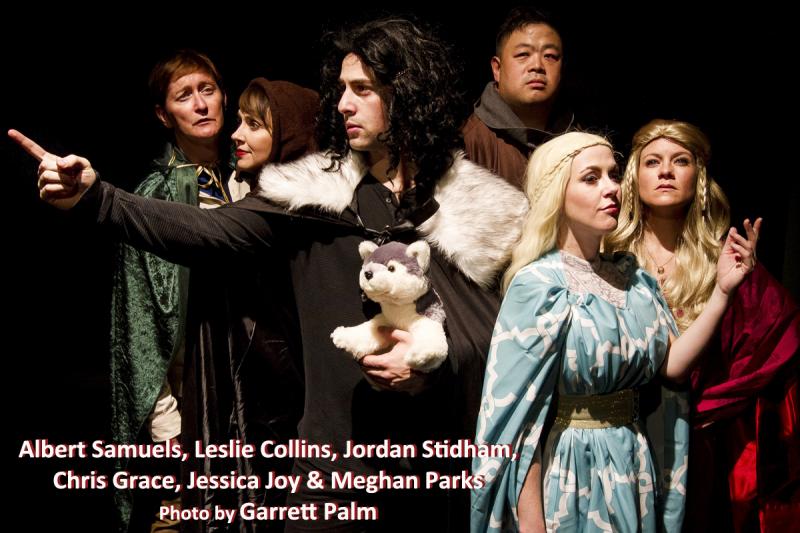 Joy's sharp comic timing gets matched by Parks in their well-executed vaudeville hat-and-cane number as Joffrey Baratheon and Ramsay Bolton (with complementary back-up from handcuffed prisoners Grace and Stidham).
Kudos to choreographer Kimberly McVicar for her entertaining range of dances from hip-hop to vaudeville to synchronized humping. Accolades to Amanda Gladu for her suitably cheesy costumes for the Game of Thrones characters, especially for the "embellished," flesh-colored leotard Stidham has to parade through entire theatre in. Pete Hickok ably designed an efficient set with easily movable set pieces requiring no scene changes.
THRONES! works as well for Game of Thrones aficionados as non-fans like Linda. You can't help but laugh!