Click Here for More Articles on OPERA - LOS ANGELES
BWW Review: DON CARLO at Dorothy Chandler Pavilion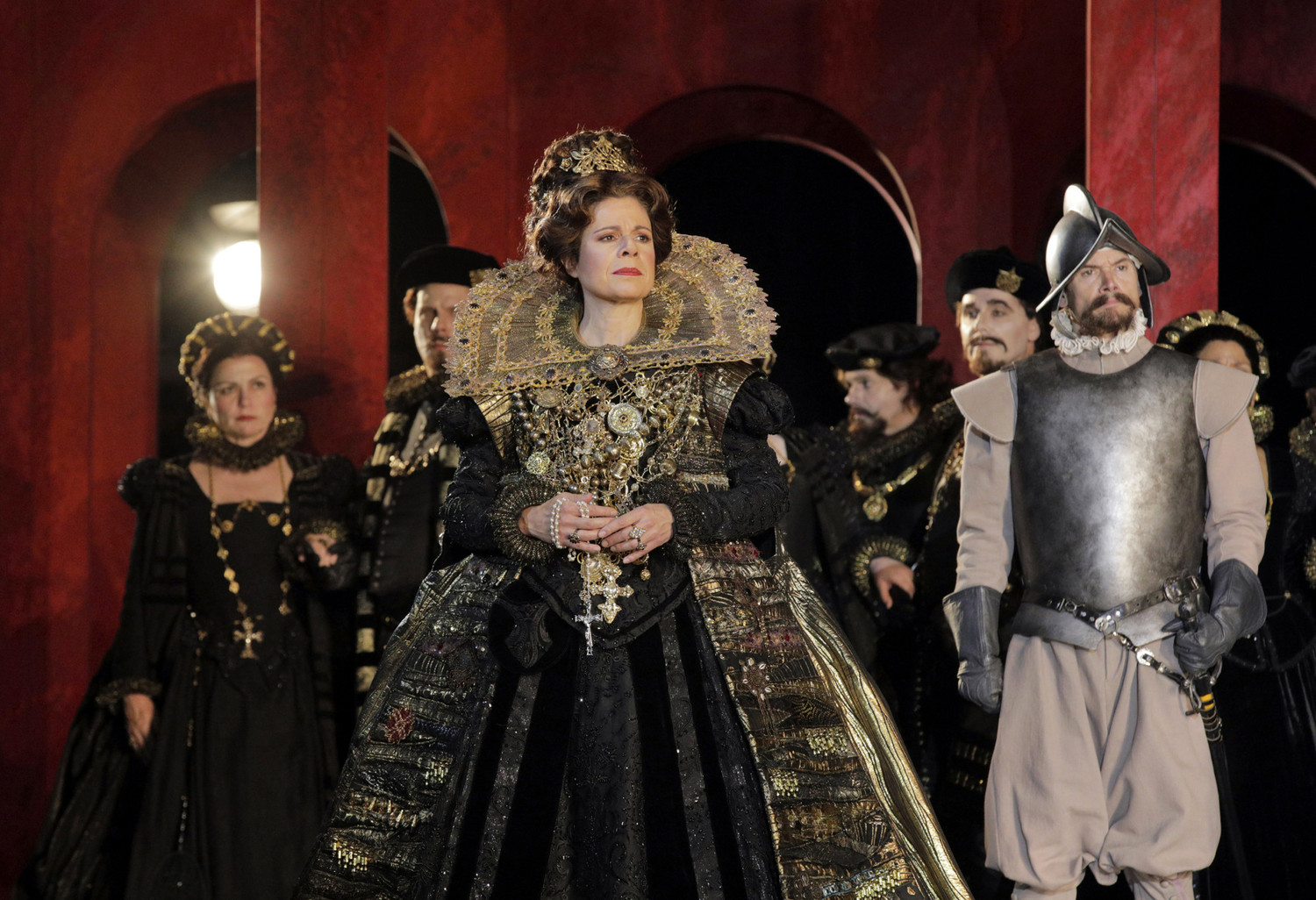 Los Angeles Opera assembled an all-star cast for its opening night revival of Verdi's DON CARLO on September 22, 2018. James Conlon led approximately 75 musicians as they embarked on another excursion into the dark world of sixteenth century Spain and the Inquisition. Verdi's DON CARLO tells a fascinating tale that is not quite historically accurate but makes good drama.
This work has always been one of opera's chief masterpieces for lovers of low voices. In 2018, Plácido Domingo joined forces with darker sounds in the baritone role of Rodrigo, Marquis of Posa. Rodrigo was is Don Carlo's friend and a fighter for religious freedom in the Spanish-controlled Netherlands. Historically Posa never existed, but some of his thoughts had been in the minds of progressive leaders since the dawn of time. Rodrigo represents an idea that achieved much better acceptance in Verdi's time, but it may have been a spark that lit the minds of a few forward-looking men and women who lived under the heavy hand of the Inquisition. Domingo's Rodrigo was simply the embodiment of the desire for home rule.
Verdi made many changes and revisions before he was satisfied with this opera, but he made few if any to the role of Posa. He knew what he wanted from artists who would assume this part, and he wrote it in his first version of the score. Always the master of Verdian scores, Domingo gave his audience an exquisite and charismatic rendition of this beautifully lyric role that required his character to lunge into passionate entreaties on occasion.
This DON CARLO is an original Los Angeles Opera production by Ian Judge that was first seen in 2006. The 2018 stage director is Louisa Muller whose version occasionally lapses into melodrama. When Don Carlo discovered the woman he thought was Elisabeth was really Eboli, the audience responded with an uncalled for laugh. Patrons, however, never missed the point of a dramatic moment. Onlookers even felt sympathy for Philip II who demanded extreme loyalty and caused the deaths of people who disagreed with him.
John Gunter's scenery consisted of high, dark red arches with snatches of 16th century oil paintings and frescos on their upper reaches. As with many of Judge's productions, these sets seemed to help throw the voices out into the auditorium. Tim Goodchild's costumes were generally authentic and, whenever possible, he made the opera characters look like the historical personages they represented.
Ana María Martínez, a frequently heard singer at Los Angeles Opera, has grown both vocally and histrionically since her debut as Mimi in LA BOHEME in 1997. Her 2018 rendition of Elisabeth de Valois showed she has become a consummate actress who can sing both lyric and spinto roles in the Italian and French repertoires. Elisabeth is a difficult role that demands spot-on entrances on high notes. She performed them perfectly.
Ramón Vargas's Don Carlo was also a sympathetic character, but the opera that bears his name has a large orchestra and there were times, especially in the first act, when he was hard to hear. At other times he sang his sweet, lyric tones while standing motionless. When he and Domingo sang together, however, they had a wealth of good chemistry that made up for Vargas's stiffness.
Mezzo-soprano Anna Smirnova was a go-for-broke Eboli who flirted her way through the Veil Song and showed immense vocal power in "O don fatale" ("O Fatal Gift"). Her delivery was not overly Italianate, but every note was in place and her phrasing was stylistically correct.
Although bass, Ferruccio Furlanetto, has been singing Philip II for many years, his work is always passionate and this performance was no exception. He sang with a full palette of tone colors that included not only dynamics but also sounds that drew the listener into the heart of his dilemma. When he sang "Ella gammai m'amo" ("She never Loved Me"), he knew he could never make his sweet, young and naive bride grow fond of him.
The most fascinating scene in the opera is the dialogue between king and Inquisitor. As the blind but uniquely powerful Grand Inquisitor, bass Morris Robinson dominated the king to whom everyone else bowed. Robinson's voice was an excellent representation of the Church's power over everyone in Spain and its possessions during the 16thcentury. He sang over the large orchestra with seeming ease as he told the king who was really in charge of life and death in his kingdom.
Another bass role in this opera is that of the Friar who may actually be the previous king. Philip's father, Charles V, had retired to a monastery. In this rather mysterious role, Solomon Howard opened and closed the opera with perfectly poised low tones.
Mezzo Taylor Raven was an efficient page who sang with lyric tones and Joshua Wheeker was a resonant Count Lerma. Liv Redpath, who was Zerbinetta in Santa Fe Opera's 2018 ARIADNE AUF NAXOS, sang the Celestial Voice with ethereal silvery tones. Her voice emanated from above as she assured onlookers that the heretics who died in the Auto da Fe were received into paradise.
At the lecture that preceded the performance, conductor James Conlon said this was his fiftieth performance of DON CARLO. His rendition was exquisitely translucent and it allowed audience members to follow every instrumental voice in the orchestra. It was a big sound to sing over, but Conlon had most of the right singers and the composite sound was absolutely gorgeous. Grant Gershon's chorus added to the glorious sound and at the end of the evening the applause was thunderous. Future performances of Don Carlo at LA Opera's Dorothy Chandler Pavilion are on September 29, October 4, l7, 11, and 14.
Ana María Martínez with Chorus. Photo by Cory Weaver.