BWW Review: Candlelight Offers a Sturdy ANNIE GET YOUR GUN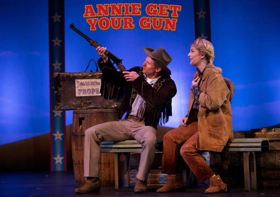 Annie Get Your Gun/original book by Herbert and Dorothy Fields/revised by Peter Stone/music and lyrics by Irving Berlin/directed by James W. Gruessing Jr./musical direction by Douglas Austin/choreography by Janet Renslow/Candlelight Pavilion Dinner Theatre/Claremont/through April 14/no performances Sunday April 1 Easter; special added performance on Thursday April 5
Annie Get Your Gun is a tried and true musical gem from the Golden Age. The music by Irving Berlin is the major highlight with a book by Herbert and Dorothy Fields, updated by Peter Stone, about the life and times of Annie Oakley (Jamie Mills) focusing on her romance with sharpshooter Frank Butler (Brent Schindele through March 18/Johnny Fletcher from 3/23-4/14). Candlelight Pavilion's current production provides a fun-filled evening for audience who do go out humming the tunes.
Oakley, so beautifully played on screen in 1957 by Betty Hutton, is a raucous uneducated backwoods girl, raising three siblings, who just happens to be a sure shot with a gun. She makes light of her talent until she is spotted by the Buffalo Bill Wild West traveling show and asked to join Butler in a shootoff audition. Unlike anyone Butler has ever seen, Annie instantly falls for him and he, gradually for her. She learns etiquette, changes her grubby looks for a more feminine, pink glow that Frank admires, and the two compete in the show until Annie becomes a bigger draw than Frank. Since his ego will not allow any performer, especially a woman, to surpass him onstage, he leaves for the Pawnee Bill Far East show. Annie stays, becomes the star with top billing and travels with Buffalo Bill (Randy Hilton) to Europe. As most know, there is a happy ending with love winning out for the two sharpshooters. Being an old-fashioned musical, Annie Get Your Gun's story has a very light plotline with lots of homespun humor and little to no substance, except the love element, naturally. In the Golden Age, entertainment was the priority.
The Candlelight cast, under James W. Gruessing Jr's steady direction, are terrific, all great singers belting out the glory of the Berlin score. Schindele, always a resourceful actor, brings out Bulter's ego to the max and Mills makes a delightful Annie. I would prefer a bit more spunk and awkwardness from her, particularly in the beginning scenes. Schindele seemed to be pulling back a tad the night I saw the show, but this was a two-performance day, always a challenge for the actor. In the supporting ensemble are the stellar Erica Marie Weisz as the deliciously jealous Dolly, the apple of Frank's eye before Annie, her sister Winnie played with super energy and verve by Kylie Molnar. She is in love with an Indian boy Tommy Keeler essayed nicely by Jacob Narcy. I assume Molnar is Mills' understudy, as she could easily play the role of Annie Oakley. She is a scene stealer and a great little performer! Annie's siblings are wonderfully essayed by Allyssa Entz, Brooklyn Vizcarra and ... Lucca Beene who is learning fast how to chew up the scenery. Praise to one and all of the 20+ ensemble for their great singing and dancing, under the musical direction of Douglas Austin and fast-paced choreography of Janet Renslow, who has finely replicated the original.
Songs that we all love include: "There's No Business Like Show Business", "Doin' What Comes Natur'lly", "They Say It's Wonderful", "You Can't Get a Man with a Gun", "The Girl That I Marry", "Anything You Can Do" and my personal favorite "I Got Lost in His Arms". Peter Stone thankfully left "I'm An Indian Too" out of the show, as it is undoubtedly too insensitive toward the Indian culture.
Don't miss this exuberant show through April 14!
_ _ _ _ _ _ _ _ _ _ _ _ _ _ _ _ _ _ _ _
Act One of Candleight's show is of course the dinner that remains outstanding with chicken, fish and tri-tip entrees all scrumptious. The crabcake appetizer remains a plus as do the homemade desserts, like the Pavilion Berry Sundae. Drink specials for a mere $6 each are worth ordering like the Sure Shot coffee laced with Rum Chata Cream and Amaretto Liqueurs.
The next show will be the dazzling Singin' In the Rain beginning April 20. Make early reservations!
http://candlelightpavilion.com/index.asp
(photo credit: James Suter)