Review: Bunch of Fresh, Top-Notch Talents Make For An Exquisite Bouquet of STEEL MAGNOLIAS
STEEL MAGNOLIAS/by Robert Harling/directed by Cameron Watson/Actors Co-op David Schall Theatre/thru May 5, 2019
Playwright Robert Harling's sharp, snappy, heart-wrenching, Louisiana-favored dialogue receives its most worthy due in this Actors Co-op production; cast with a spot-on ensemble of six amazing actresses, smoothly and expertly helmed by director Cameron Watson.
Upon entering the David Schall Theatre, the detailed visuals of scenic designer Stephen Gifford's beauty shop set (circa 1987), adorned with properties designer Abe Rodriguez's salon equipment and tchotchkes, clearly pinpoint the specific time and place of the story about to be unfolding.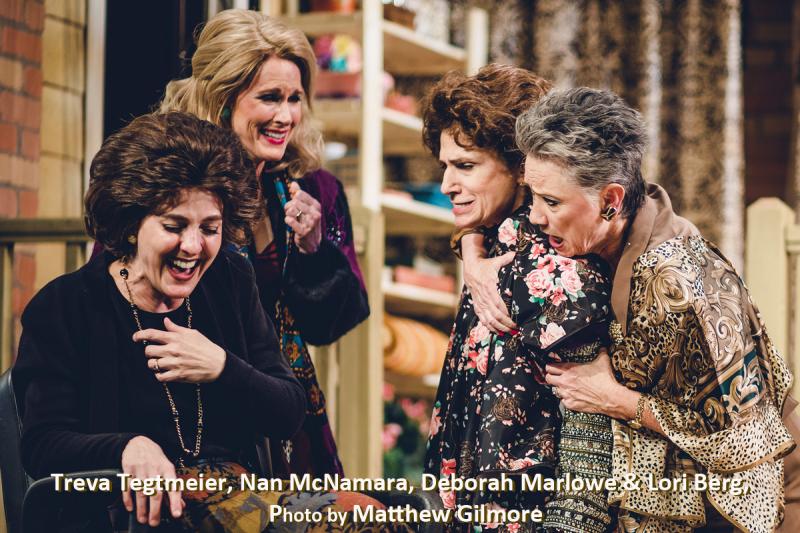 STEEL MAGNOLIAS opens with salon owner Truvy testing out the hairstyling skills of young job applicant Heidi. After Truvy agrees to hire Heidi, the other four characters (Truvy's long-time friends and clients) arrive for their respective appointments. Truvy's salon's the place for the town women to gather to have their hair done while letting their hair down. Harling's causal banter vividly illustrates the various deep friendships between these women. To these actresses' credit, not only do they mine every laugh in Harling's script, but at various points in the play, they wreck your eyes with much tearing.
Nan McNamara compassionately and sturdily provides the backbone to STEEL MAGNOLIAS as salon owner Truvy. McNamara's Truvy's the one the others gravitate to for a strong shoulder to cry on, a witty quip or two to make things brighter, and, of course, great hair..
Heidi Palomino's so innocent and naïve as new-to-town Annelle. Palomino's Annelle noticeably gains self-confidence and purpose as the play processes.
Lori Berg nails all her snappy one-liners (and she does get the lion's share) as the mayor's widow Clairee, while portraying Clairee as a vibrant businesswoman, a striving survivor and a wonderful friend.
Deborah Marlowe owns her role of the irascible Ouiser, oft out-of-sorts with all, but quite devoted to her old dog Rhet, as well as, the ladies at Truvy's salon.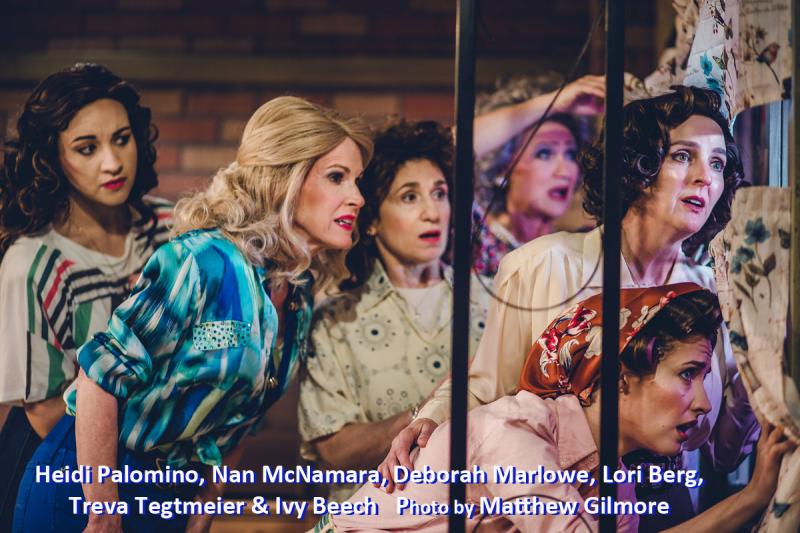 Ivy Beech and Treva Tegtmeier both wonderfully play the center of attention of Truvy's salon - Shelby getting her bridal 'Grace Kelly' do, and the mother of the bride M'Lynn anxiously hovering, watching out for her daughter's diabetic episodes.
Those familiar with the film Steel Magnolias will know what to expect near the end. Without giving the end away, David Schall Theatre audiences should expect to be controlling their sobbing and waterworks hearing Tegtmeier's tearjerking monologue of M'Lynn. Brava, Ms. Tegtmeier. And, thank God, Harling has the most considerate instinct to lighten the mood when it can't get any, any darker.
Kudos to hair designer Jessica Mills for her on-the-nose, before-and-after coifs. BTW, McNamara and Palomino must really know their hairstyling basics!
Costume designer Terri A. Lewis aces the 1980's Louisiana dresses. And deserved recognition to lighting designer Andrew Schmedake and sound designer Cameron Combe for their so faultless-to-be-unnoticed contributions.
Only thorn, an unexpected long blackout in between Scene 1 and Scene 2 of Act 1. The transition between Act 2's Scene 1 and Scene 2 utilizes a voice-over radio announcer to smoothly take up the down time. Maybe, a voice-over radio announcement of some Easter festivities interrupted by static, and morphing into a Christmas song would fill the Act 1 dead space more effectively.
Actors Co-op's STEEL MAGNOLIAS blossoms readily received at any time.