BWW Review: Aptly Titled BEAUTIFUL - The Carole King Musical Charms OC
Even without eye-popping special effects, a gimmicky storyline, or those oft-used literary or cinematic source materials, some stage musicals just manage to entertain by sheer likability alone.
A big warm hug of a show that's brimming with lots of surprisingly snappy wit and, arguably, some of the previous century's most melodious pop hits, BEAUTIFUL---the Broadway stage musical based on the life of treasured Grammy Award-winning singer/songwriter Carole King---is a show that certainly lives up to its title. This charming, swiftly-paced bio-musical's first national tour continues performances at Orange County's Segerstrom Center for the Arts in Costa Mesa through October 16.
Directed by Marc Bruni and features a straight-forward yet engaging book by Douglas McGrath, the show is nostalgia-baiting at its classy best. It's also quite a head-bobbing, toe-tapping reminder of just how much King and her co-writer husband Gerry Goffin have contributed to the world of early pop music.
And, yes, as far as jukebox musicals go, BEAUTIFUL is certainly one of the far superior ones. From start to finish, the musical keeps you intrigued, despite having very little high drama (though, perhaps, it was very much high drama for the people who lived this). But as you take in the genuinely heartwarming show---from its joyful, giddy highs to its melancholy (and, thankfully, not too tragic) lows---you'll very quickly feel glad (and, frankly, a little relieved) that it has been purposely fashioned that way. To that end, BEAUTIFUL is actually quite a wonderfully refreshing change-of-pace. It's centrist entertainment that satisfies and leaves you smiling and humming as you exit out to return to your own lives. Just as King describes herself, the show is pretty "square"... but you still can't help but like it.
What the pleasant but still fascinating, lull-free story lacks in any real conflict or danger, it makes up for it with extraordinary musical performances from not only its four incredible lead actors, but also its superb supporting cast, some of whom occasionally step out into the spotlight to personify the very famous artists (The Shirelles, The Drifters, The Righteous Brothers, etc.) that helped make many of these King-penned tunes infamous.
Taking on the role of living legend Carole King on this latter leg of the first national tour is Julia Knitel, who comes to the tour from the musical's Broadway company (she took over the role on tour from Abby Mueller whose sister Jessie Mueller won the 2014 Tony Award for this very role). Blessed with noticeable acting chops and a clear, gorgeous singing voice, Knitel certainly channels much of her real-life counterpart in both speech, accent, and mannerism without being an outright impersonation attempt. Her versions of King's hits, particularly on "It's Too Late"---a moment in the story when King realizes she can (and should) be the artist up front instead of just a writer in the background---are exquisite.
If the production's goal is to have the audience fall in love with King---well, this characterization that's on this stage---then Knitel handily accomplishes this task.
The musical is bookended with a happy and reflective Knitel as curly-coiffed King making her Carnegie Hall solo debut in 1971.
"I never wanted to be a singer," she tells the audience while behind the piano singing "So Far Away." She then begins to reminisce about her early beginnings as a songwriter first for other, more "radio-friendly" artists.
The story then flashes back not so quite far away to King as 16-year-old Carol Joan Klein, a budding composer living in 1958 Brooklyn with her hilariously stage-mothery mom Genie (scene-stealer Suzanne Grodner), who, while keenly aware that she has a talented daughter, isn't too happy with her traipsing off to Manhattan alone to meet with a music mogul in the hopes of selling one of her songs. But as most rebellious teens tend to do, Carole whisks off to meet with music publisher Donnie Kirshner (Curt Bouril) anyway at his infamous music "factory" at 1650 Broadway, where a stable of composers, writers, musicians, and singers are on hand to find the next big hit record. Kirshner is hungry for his company's next number one hit.
Despite the dizzying hubbub of activity, tenacious Carole manages to get herself seen (well, heard) and, as expected, Kirshner is thoroughly impressed and buys her song "It Might As Well Rain in September" right on the spot---and asks if she has any more like it. This is, of course, the moment when you witness someone's dreams coming true right before our very eyes.
Later at Queens College, Carole meets campus hottie Gerry Goffin (the swoony-worthy, charismatic Liam Tobin), who, as kismet would have it also happens to be a very talented writer/lyricist. The two hit it off instantly, deciding to collaborate creatively on songs to be churned over for Don's factory. After The Shirelles hit No. 1 with the pair's "Will You Love Me Tomorrow," Don gives the pair an office, a salary, and a mandate to create chart-toppers full-time. Soon their fruitful musical partnership morphs into a romantic one, which culminates in Carole announcing---surprise!---she is pregnant. She and Gerry rush to get married just as their song "Some Kind of Wonderful" becomes a big hit for The Drifters.
More hits follow including "Up On The Roof" for (again) The Drifters, "One Fine Day" for The Chiffons, and even "The Loco-Motion" which becomes an unexpected hit sung by their very own babysitter Little Eva.
Perhaps as a way to pad the narrative (and songbook) to fill a two-act musical, BEAUTIFUL also smartly gives ample stage time to another songwriting power-couple that forms on the other side of the wall from Carole and Gerry's office. Not only does their presence show the genesis of a friendly musical rivalry that results in some incredible songs from both sides of the wall, but this other pair is also presented as a notable (and sometimes hilarious) contrast to the increasingly rocky coupling of Carole and Gerry.
The couple in question involves whip-smart, self-assured lyricist Cynthia Weil (the alluring Erika Olson) and her anxiously neurotic composer partner Barry Mann (a very winning Ben Fankhauser, the show's go-to comical genius). The two have an inter-office meet-cute that starts off as a successful musical collaboration in their own right (they're responsible for chart toppers like "On Broadway" and "You've Lost That Loving Feeling") that also soon moves into the realm of love.
But unlike their friends in the office next door, though, Cynthia and Barry don't rush into marriage---well, at least on Cynthia's part---even though they already act like an old, adorable married couple. Barry is gaga over his lady and has been wanting to get married, but the more independent-minded and work-empowered Cynthia is a bit more cautious about taking the step. She hesitates fully committing to Barry not because she's not in love with him, but mostly because she feels she may lose her equal stance in their professional partnership if she does.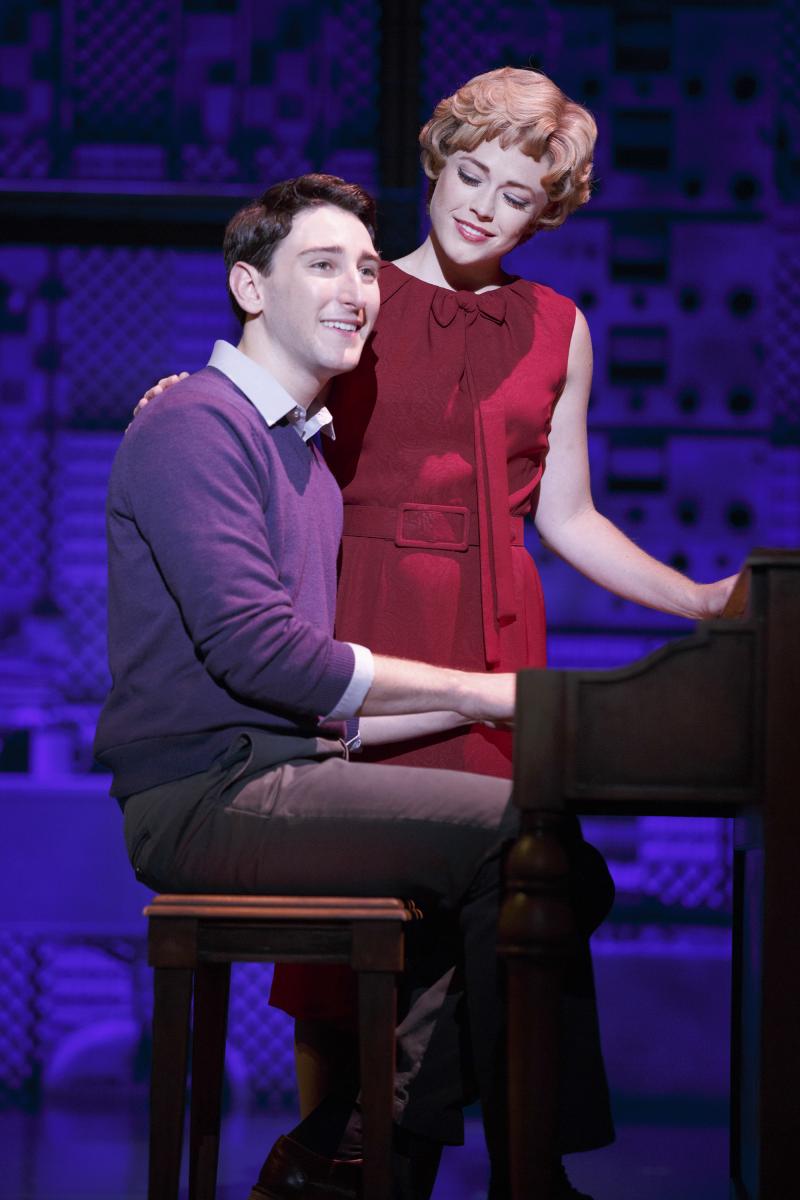 Reading deeper between the lines, Cynthia perhaps also doesn't like what she's seeing with Carole and Gerry---where Carole is slowly stifling her sense of self in order to continually appease her increasingly erratic, bad-behaving husband.
And if one thinks about it, both Weil and King are pioneering trailblazers for their lauded work in a very male-run industry during a much earlier time in the history of the music business. Cynthia isn't willing to sacrifice her hard-earned position, while Carole seems to display an (incorrect) ideology that her work is only good when Gerry is involved in it---which explains why Carole is willing to do whatever it takes to make Gerry happy and still be present in her and her daughter's lives, even if it means sacrificing her own real personal happiness.
Thus, most of the first act, then, is spent showing the difference between the Carole/Gerry dynamic with the Cynthia/Barry partnership. While Carole and Gerry somehow manage to always one-up their best friends when it comes to securing hit songs, at the end of the day, Cynthia and Barry seem far more content with their lives than their friends Carole and Gerry... who seem to be only growing more apart. By the end of the first act, Carole is presented with a heartbreaking revelation that puts her relationship on thin ice.
The second act presents Carole's continued attempts to save her marriage---including a big move to the calm of the suburbs to escape the hustle and bustle of city life after Gerry suffers a mental breakdown. She's motivated to keep her home life whole primarily for her family, and so that she doesn't end up like her mom, whom she feels "is always in a rage" because Carole's dad left her mom.
Unfortunately, by this point, it's all too late (hence, Carole's new song "It's Too Late"). The marriage predictably implodes after Carole discovers Gerry had been cheating on her with (yet again) another singer.
Once the dust settles, Carole decides to start anew, and eventually gains some much-needed confidence, ditching her long-held belief that the public won't accept her as anything else but a songwriter.
"Who wants to hear a normal person?!" she yells in protest (uh, lots of us, Carole! LOTS of us!)
Bravely---after a fun family vacay at Disneyland---she decides to make the big move out west to Los Angeles where she begins work on her very own solo album with producer Lou Adler, which will eventually become her "normal person" masterpiece, Tapestry. Part of me wishes that we get to see more of the making of this monumental album, which the story just rushes through in the second half...
But also in the second half? A heartwarming and sweet "You've Got A Friend" followed by the show's uplifting 11 o'clock number "(You Make Me Feel Like A) Natural Woman" that reminds us all while Carole King is so deservedly revered.
Meanwhile, as this whole narrative unfolds on stage, the audience is treated to a bevy of familiar, old school pop gems that are wonderfully performed in front of Derek McLane's gorgeously textured set designs that all resemble---surprise!---woven quilts and tapestries (just a coincidental nod to Carole's groundbreaking album Tapestry perhaps?). They are complemented exquisitely by Peter Kaczorowski's effective lighting schemes, Brian Ronan's soundscapes, and the rousing orchestral sounds supervised by musical director Susan Draus. Alejo Vietti's era-perfect costumes (the instant wardrobe transformations are so fun) paired with Charles G. LaPointe's Wig and Hair Designs and Joe Dulude II's Make Up work all punctuate the show's pleasing visuals. Josh Prince's choreography---particularly during the song showcases for each musical "act" performing a songwriting team's song---are peppy and feel reverent to their respective eras.
A relatively pleasant musical theater experience throughout, BEAUTIFUL is quite an admirable, satisfying tribute to one of the music world's "natural" talents. Whether you're a Carole King super fan or a casual admirer of her staggeringly good body of work, this is a stage show worth taking in while it's in your town.
Follow this reviewer on Twitter: @cre8iveMLQ
---
Photos from the current National Tour Company of BEAUTIFUL - THE Carole King MUSICAL by Joan Marcus, courtesy of SCFTA. Portions of this review originally published on OnStage.
Performances of the National Tour of BEAUTIFUL - THE Carole King MUSICAL at Segerstrom Center for the Arts continue through Sunday, October 16, 2016. Tickets can be purchased online at www.SCFTA.org, by phone at 714-556-2787 or in person at the SCFTA box office (open daily at 10 am). Segerstrom Center for the Arts is located at 600 Town Center Drive in Costa Mesa. For tickets or more information, visit SCFTA.org.