BWW Review: Annual LIVING HISTORY TOUR Features Local Legends, Moguls, and Media Stars Resting Inside Woodlawn Cemetery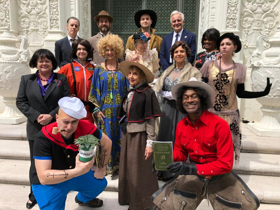 The Woodlawn Cemetery Living History Tour 2019 cast - Photo credit: Patrick Hayden
Back row: Joe Pridemore, Nick Sears, Keanu Ross-Cabrera, Stanley Brown, Dee Wright
Second row: Nicole Picard, Laura Walker, Wendy Wilkins, Jane Edwina Seymour, Ellen Burr, Kelly McDevitt
First row: Emmanuel Paraskiv, Sally Ashear, Lejon Stewart
History comes alive at Woodlawn Cemetery, Mausoleum & Mortuary in Santa Monica during their Living History Tour in which costumed actors portraying
noted personalities interred there share their stories and contributions to history and society. And although I had heard about the tours in previous years, last weekend was the first time I actually spent two hours on a wonderfully brilliant Saturday afternoon walking among the many souls who chose this peaceful spot as their final resting place. This year's tour featured 14 notable characters more than willing to share their life stories, often adding in many details not widely known about them.
Beginning at the entrance of the centrally located Mausoleum, be sure to pick up a program with information about those you will be meeting along with a map noting the locations of their sites, which comes in handy since the walking pace can be a bit brisk to keep the tour within its two-hour limit.
But don't hesitate to linger a bit and speak with the actors who will be more than happy to pose for photos or share more information about the people they are portraying. Just be sure to keep your Tour Guide in site. And as there is a lot of walking on uneven ground, please be sure to wear comfortable shoes especially since the only seating offered during the tour is on the grass near each of the gravesites visited.
This year's free tour began with rugged Keanu Ross-Canrera as movie and television star Glenn Ford, a Canadian-born actor who starred in more than 100 films, including Gilda, 3:10 to Yuma and Cimarron. Among the many facts shared, I learned he was called the fastest gun in Hollywood, able to draw his weapon in .04 seconds - faster than John Wayne or Gunsmoke's James Arness. Thanks in part to these quick hands,
Ford was often cast in Westerns including the appropriately titled The Fastest Gun Alive (1956).
After a short walk, we arrived at the gravesite of Edwina Booth, an American actress best known for her role as Nina Trent, The White Goddess in Trader Moon, one of the first talking films, done entirely on site in Africa long before any real laws were in effect to protect the safety of actors or crew. Her portrayer, Kelly McDevitt, shared how several were mauled, caught malaria, or were even eaten by wild animals during the filming!
We then visited with three women from very different career paths: Space, Entertainment and Education.
Sally Ride, portrayed by Laura Walker costumed in an orange NASA jumpsuit, spoke about her breakthrough as the first American woman to travel in space, along with her desire to encourage young girls that science was not just for boys. But did you know she was the first LGBTQ astronaut to go into space?
Then it was on to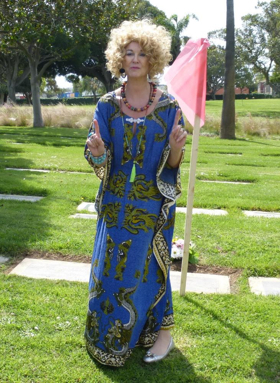 Wendy Wilkins as blonde, curly-haired actress Audra Lindley, best known for her role as Mrs. Roper on TV's Three's Company.
Under a lovely shady tree, we met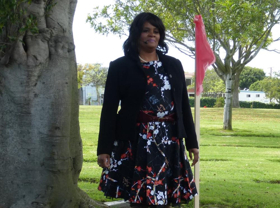 Dee Wright as Sylvia "Dottie" Quinn, a Santa Monica community activist who dedicated her life to the development of City youth programs, who was married to Dr. Alfred T. Quinn, the first African American teacher in the city.
After my visit to the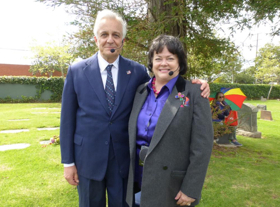 Santa Monica History Museum earlier this year, I was pleased our next visit was with the museum's co-founders, married couple Louise and Robert "Bob" Gabriel (Nicole Picard and Stanley Brown) who shared their deep love of the city and desire to preserve its heritage as well as their total devotion and great love for each other.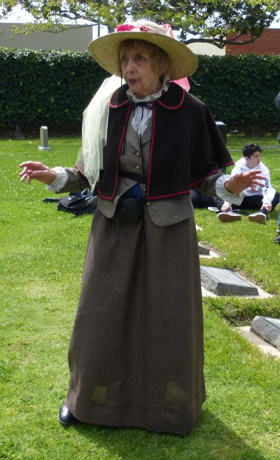 Close by was Elfie Mosse, Santa Monica's first librarian who held the post for 49 years. Actor Sally Ashear shared many details about the early years of the library through its expansion into three locations. And she reminded us that the library's exhibit in the Mausoleum gave everyone a chance to apply for a Santa Monica Library Card, should anyone not have one.
Decked out in leather chaps,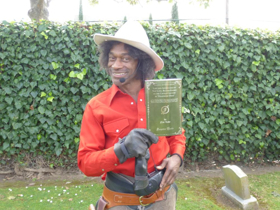 Lejon Stewart totally relished his role as Nat Love, aka Deadwood Dick, a former slave whose exploits made him one of the most famous African American heroes of the Old West. After marrying his wife Alice (with whom he is buried), Nat went on to live an extraordinary life as a published author in the early 20th Century.
Next it was on to local Real Estate Mogul
Abbott Kinney, portrayed by Nick Sears decked out in sartorial perfection. He shared Kinney's many years travelling in Europe, his luck in purchasing the property he named Ocean Park, and his decision to develop the Venice Canals against much opposition. But there is a great sense of peace strolling through those canals to this day!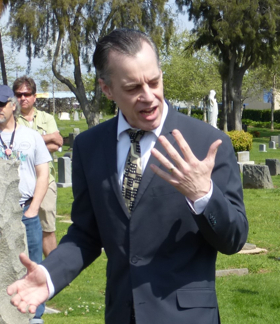 Wrapping up the tour were Joe Pridemore as Lion Feuchtwanger, a prominent German-Jewish novelist and playwright who lived in exile in the United States for being critical of Adolf Hitler and the Nazi Party;
Emmanuel Paraskiv decked out as Popeye whose creator Elzie C. Segar is buried at Woodlawn;
Jane Edwina Seymour as Irene Ryan,
known the world over as Granny from The Beverly Hillbillies who I learned had a fatal stoke onstage while playing the Grandmother in the musical PIPPIN, which opens at the Westchester Playhouse on May 17. Our last stop took us inside the Mausoleum to meet with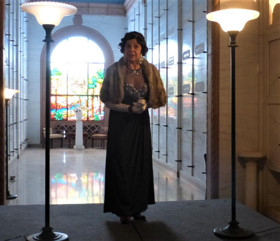 Merle Norman, the founder of her famous cosmetics company who encouraged women to go into sales long before Mary Kay. Be sure to notice the lovely stained glass windows throughout the Mausoleum which deserve a tour of their own.
There are many other famous people
we passed along the way including Tom Hayden, Bess Myerson, Doug McClure, Barbara Billingsley, Leo Carrillo, and Harvey Korman. For more information about the City of Santa Monica's Woodlawn Cemetery, Mausoleum & Mortuary, located at 1847 14th Street Santa Monica, please visit www.woodlawnSM.com. Admission is free to the Living History Tour and I encourage everyone to make plans to attend this interesting event in the years ahead. Or just visit the grounds and create your own tour, daily until sunset.
Tour photos by Shari Barrett
Related Articles View More Los Angeles

Stories

Shows