Review: A Luminous Jaimi Paige - The Definitive Blanche DuBois - Drives A Masterful STREETCAR NAMED DESIRE
A STREETCAR NAMED DESIRE/by Tennessee Williams/directed by Michael Michetti/The Theatre @ Boston Court/thru March 25, 2018
The combined creative genius of director Michael Michetti and dramaturg Fanshen Cox DiGiovanni have re-imagined the Tennessee Williams' classic A STREETCAR NAMED DESIRE into a stunning, relevant update to present time. With a very talented cast of many racial backgrounds, Williams' words of insult and prejudice take on new significance to our present culture.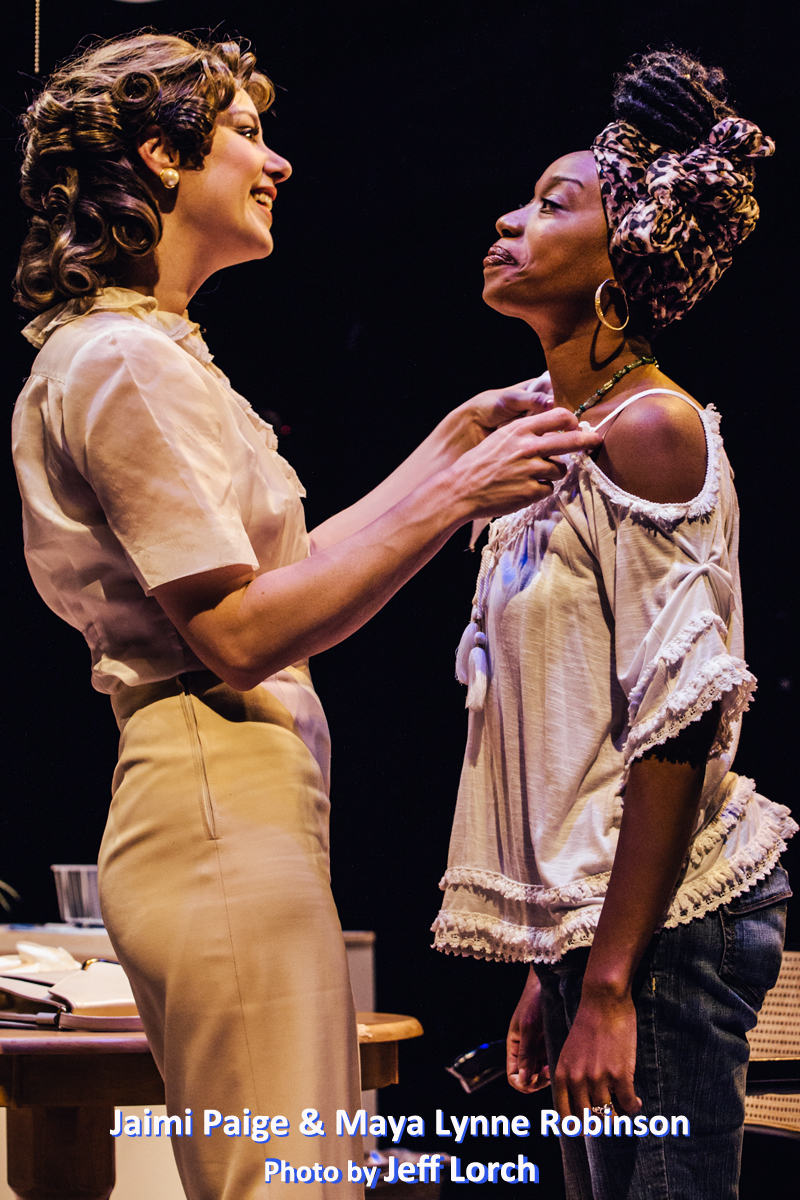 Basic storyline of A STREETCAR NAMED DESIRE has the cultured southern belle Blanche DuBois surprise visiting her younger sister Stella in New Orleans after losing their family home Belle Rive. Blanche openly voices her disappointment to the tiny two-room flat Stella's husband Stanley provides for her. After all these years apart, Blanche still can easily work her control over her little sis Stella, ordering around to fetch an ice- cold coca cola or help her put on one of her fancy dresses. Blanche's teasing persuasions do nothing to win over Stanley, but Blanche's flirtatious charms do hit home with Stanley's poker friends, especially the more gentlemanly Mitch.
Jaimi Paige, as the oh-so-delicate Blanche DuBois, grabs your attention from the moment she gingerly enters the stage carrying her valise in her white gloved hand, to the very end when she makes her forced exit. Paige's Blanche's so unlike other Blanches. Paige spouts her dialogue at a mile-a-minute in her high-strung, manic frenzy. Past Blanches have used the slow, drawn-out southern drawl to deliver Blanche's lines. The riveting Paige demands your
attention as weaves the truths (and lies) of her past life in Laurel, Mississippi. Paige's every physical gesture (the tilt of her cigarette, the crossings of her legs, another snuck swig of Stanley's booze) telegraphs the insecurities, the hypersensitivity, the egocentrisms of Blanche. Paige's Blanche breaks down in subtle increments over the three-hour production until her irrational mental state's simply unquestionable. Brava, Mz. Paige.
Desean Kevin Terry imbues Stanley Kowalski with explosive, hair-trigger volatility. Terry deftly portrays the duality of Stanley's tender love for Stella and his brutal aversion to Blanche, with a little uncontrollable wife-hitting in the mix.
Maya Lynne Robinson wonderfully essays the role of Stella, torn between her sister and her husband's dislike and mistrust of each other. Robinson's expressions say it all as she sits silently listening to Blanche and Stanley quarrel. Robinson's Stella's more calming demeanor nicely counterpoints with Paige's Blanche's hysteria. You never question the strong sisterly bond that's there.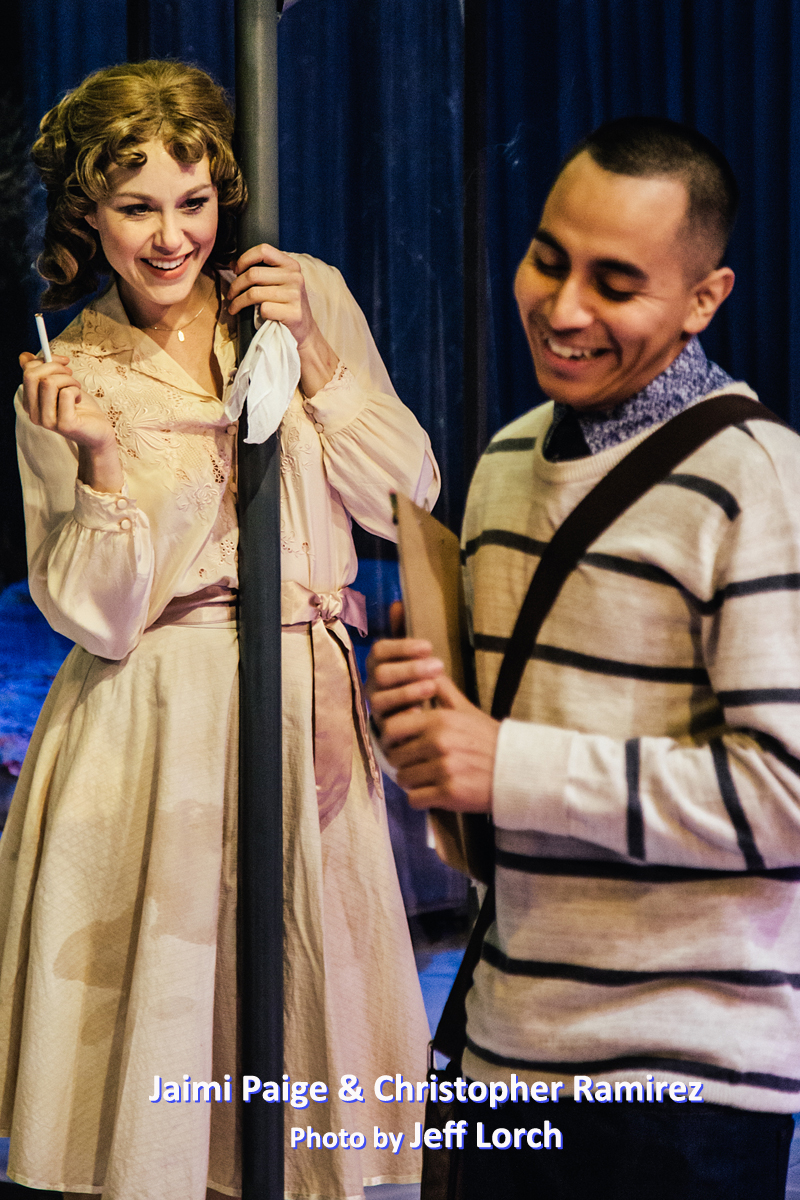 Luis Kelly-Duarte makes his indelible mark as Mitch, Stanley's bowling mate and poker buddy. The more grounded and sensitive of Stanley's pals, Mitch sees only the vulnerability of Blanche, instead of the cunningness and deceitfulness that Stanley recognizes.
If you didn't know you were attending an updated version of A STREETCAR NAMED DESIRE, the DJ downstage right should be a big clue as you enter the theater . DJ Sam Sewell and her soundboard nimbly mix the scene change music and the occasional dramatic musical emphasizes within the scenes. Sewell receives vocal assist in the pre-show with Paul Outlaw's hipster vocals. Outlaw later reappears as a no-nonsense doctor.
Chris Ramirez smoothly doubles as poker playing Pablo and as the young, naive newspaper collector Blanche seduces.
Others supplying able support include Mariana Marroquin and Joma Saenz as Eunice and Steve, the Kowalski's upstairs neighbors, and Martica de Cardenas in her dual roles of flower seller and nurse.
Kudos to scenic designer Efren Delgadillo Jr. for his two-story, exposed scaffolding set of the Kowalski dwelling on Boston Court's specially constructed thrust stage. Costumer Dominique Fawn Hill's 1940's period dresses effectively flatter the appearance-focused Blanche while costuming on all others succeed in suggesting 20/21st century attire. Lighting designer Rose Malone capably surmounts the challenge of having the Kowalski's home purposely low lit.
And additional "Well done!" to director Michetti for his firm hand keeping his actors filling up each and every moment, making this two-act production seem way shorter than its actual three-hour running time.
Must-see theatre at its most innovatively relevant!