Click Here for More Articles on Jimmy Awards
BWW Interview: Jimmy Winner Josh Strobl's Advice To High School Theatre Kids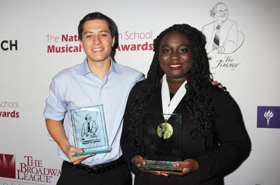 Meet Josh Strobl: it might not be a name you recognize now, but don't be surprised when you see it lighting up a marquee on Broadway in the next few years. That's not only because he is crazy talented and currently a student at University of Michigan (which can claim Pasek & Paul, Gavin Creel, and Darren Criss as alumni), but he was also the winner of the 2016 Best Performance by an Actor Jimmy Award -- a feat that snagged him articles in both the LA Times and New York Times. And of course, Jimmy Award alumni are no strangers to Broadway: Kyle Selig won his Jimmy in 2010 and is currently starring as Aaron Samuels in Mean Girls; Jai'len Christine Li Josey, the 2014 winner, is the breakout star of Spongebob Squarepants; even Tony nominee Eva Noblezada of Miss Saigon was a finalist in 2014.
And like them, he didn't get to where he is just based on talent alone. He worked at it: every day by keeping his grades up to get into a good college, every week in private vocal lessons with Studio City based vocal coach Mary McGregor, and every year through his school choir and local competitions. His talent got him cast in shows, but his hard work is what won him awards -- specifically, the highest high school musical theater award in the nation.
So, what does a Jimmy-Award-Winning finalist performance look like? Check out Josh singing "Maria" from West Side Story below. He was nominated for his performance as Link in Hairspray, but chose a softer number with a little more depth for his finalist performance.
That high B, though! It's no surprise that Josh has drawn comparisons to Broadway studs such as Jeremy Jordan and Aaron Tveit -- especially since he'll be starring in Jeremy Jordan's iconic Newsies role this summer.
BroadwayWorld caught Josh amidst his busy college schedule to answer a few questions for students hoping to pursue theatre! Check it out below:
---
You graduated from Burroughs High School in Burbank, CA in 2016. You then won the Jerry Herman award after performing onstage at the Pantages Theatre, and then flew to New York to win the 2016 Jimmy Award. Tell us about that experience!
What a crazy month! It was one of the busiest times of my life, but also the most rewarding time. I have lived in LA my whole life so being able to perform in such a historic venue was a dream. Then I got to New York and the dream just kept getting crazier. Not only did I get to perform at the Minskoff Theatre in NY, but I got to perform with some of the most talented and kind people I have ever met. After 10 days of intense work with Broadway professionals and a genius creative team, we put together a night that I will never forget.
Do you have any advice for high schoolers who might be performing at their local award ceremonies, or even those who might be off to The Jimmy's?
No matter what happens, never give up on your dreams. Keep working to achieve your goals; once you have achieved those goals then set some more goals and work to achieve those. Since winning at the Jimmy's, I have gone out on many auditions and I have been told "no" many times. Rejection does not mean that you have failed, it means you need to work harder.
How do you think participating in (and winning at!) high school award ceremonies affected your college experience?
Participating in high school award ceremonies gave me confidence and experience that I still carry with me in college. I am so grateful to the Jerry Herman Awards and the Jimmy Awards for granting me with countless life lessons and incredible mentorships. Both of these awards were after the college decisions were made so they didn't play a part in my acceptance. However, other awards that I competed in, including the Music Center Spotlight Awards and Youngarts, granted me with great audition practice and helped me build my resumé for college auditions.
Did you do any extracurricular type of theatre outside of school shows when you were in high school?
I actually got into theatre very late in the game. I decided I wanted to do theatre the summer going into my senior year of high school. The way I spent high school was performing as the lead singer of a rock band. I had been in rock bands since I was in the fourth grade, and I was lucky enough to be able to perform at legendary rock venues such as The Whisky a Go Go and The Troubadour. Then the summer going into my senior year I went to a summer intensive program at the University of Michigan, called MPULSE, and that's where I fell in love with musical theatre.
How many colleges did you apply to, and what made you choose University of Michigan?
I applied to 7 schools for Musical Theatre. All of those schools were fantastic schools that would've given me great opportunities and an amazing education. There was something special about the University of Michigan though. From the second I walked on campus, I fell in love with the city and the people. Then I met the faculty and I knew that Michigan was where I needed to go. I don't regret my decision for a second! I have just finished my second year and I have grown immensely as a performer and as a person.
What kind of opportunities have you come across being a in a well-respected musical theater program?
Our alumni network at Michigan is INSANE. Just to give you one example of just how gracious our alumni really is, I have a story from the last time I was in New York. As I was getting out of seeing Waitress on Broadway, I look across the street and I see Gavin Creel (who is a graduate of Michigan) and star of Hello Dolly. So I go over to him and I say "Hey, I go to Michigan!" To my surprise he proceeds to tell me that he just picked up his Tony Award that he won for Hello Dolly, and then he pulls the award out of a bag he was holding, allowing me to be one of the first people to see his Tony Award! He very easily could've signed my playbill and left, but instead he created a moment that I will cherish for the rest of my life.
What are three things you've learned since you were first started at UMich?
1. It is okay to fail.
2. Always express gratitude when it is appropriate.
3. Look forward on your own journey, not sideways comparing yourself to others. You can't move forward if you are always looking sideways.
What are some stigmas about musical theater programs you think are false? What are some that are true?
- We don't just sing and dance all the time, there are other things we like to do. For example, I love to golf!
- Musical theatre programs do require so much work. Some days I am in class from 8:30am-6:00pm, rehearsal from 7pm-11pm, and then I wake up the next day and do it all over again.
What do you to keep yourself from getting nervous before an audition/show?
You will always get nervous before a show or an audition if it's something you truly care about. The real question is how do you handle your nerves. My answer to that is you must trust the work that you have done. If you have done everything you can to prepare for an audition or show then just go out there and show off your work.
What advice would you give to your high school self?
Be yourself. I know it sounds cheesy, but no other person can be you. So be the best damn you that you can be!
---
There you have it! Working hard got Josh to the Jimmy's, to University of Michigan, and this summer, it's taking him to the stage! He'll be starring as Jack Kelly in Newsies at the Shenandoah Summer Music Theatre in Winchester, Virginia from June 21st - July 1st. For tickets or more information, click here.
To keep up with Josh, follow him on Instagram and Twitter under @jstrobes77 or check out his website!
For those who might not know, the Jimmy Awards are the high school musical theatre award equivalent of the Tony's. Student performers qualify to compete in the national program by winning top honors at regional high school musical theatre awards competitions presented by Broadway League member performing arts centers. Over 1,500 high schools and 100,000 students participate in these annual events. An elite group of nominees are then flown out to New York for a week to see a Broadway show, work with industry professionals, and rehearse an opening number together. At the show -- which was hosted by Tony-winner Ben Platt last year -- each nominee performs a small section of a song from the show they were nominated for, in full costume, of course. As they perform for the panel of judges, only a handful students are selected to perform a full number of their choosing. Finally, from those finalists, two students are selected to win the coveted Best Performance by an Actor and Best Performance by an Actress Jimmy's -- which are accompanied by a $10,000 scholarship check. Want to know how you or your school can get to the Jimmy's? Check out this list of qualifying theaters and find one near you!
Photo by: Henry McGee