BWW Interviews: A Conversation With Pop Music Icon Engelbert Humperdinck
1970's pop icon Engelbert Humperdinck, dubbed "The King Of Romance," brings his trademark vocal stylings and bedroom eyes to the beautiful McCallum Theatre for two performances on April 13 and 14 at 8:00 pm. Selling more than 150 million records over the past 40 years, Humperdinck has earned four Grammy nominations, a Golden Globe for Entertainer of The Year in 1988, a star on The Hollywood Walk of Fame and countless swooning fans along the way. I had the chance to chat for a few minutes with the music legend. Here are a few highlights from that conversation:
DG: When did you first know you wanted to be a performer?
EH: When I was seventeen. At seventeen years old I found out I could sing and I got up and sang in a club and I got a big hand, and I thought I'm gonna continue this. So that's how it all began.
DG: And where was that?
EH: That was in England in a club called Bond Street Working Mans Club.
DG: What brought that about? Why did you get up to sing that night?
EH: Well, everyone was getting up and singing, so I thought I'd do the same thing. But I didn't realize it was an audition for clubs. You know? And so, it served its purpose and here I am today – and in the meantime have you heard that I'm representing the UK in The British Songwriting Contest? The BBC shoes me for this particular contest and, ah, I'm very, very excited and honored to be representing the country.
DG: When will this take place?
EH: On the 26th of May.
DG: Did you have any mentors or performers that influenced you and your music?
EH: No. No. I just went my own way and found my own niche. Eventually when I recorded "Release Me" it sort of stamped my style and I've followed in that vain ever since. And, I've had success and fortune with it by selling 150 million units since that particular album that was number one around the world.
DG: What was it like after "Release Me: hit the charts and you were suddenly known internationally?
EH: I could eat again. (He laughs) It was wonderful, you know. You get your own home and you buy a car. It was just a great moment in my life. It felt very, very comfortable.
DG: Besides singing, what is your greatest passion?
EH: Well, I have a couple of things – I mean, I enjoy my golf and I enjoy riding my Harleys. I'm a TV buff. I watch television. I watch the movie channel all the time and try to catch up with that. I would have liked to have become an actor, but it didn't come to pass. So, I'm not really worried now. I just want to carry on doing what I do and do it better than ever.
DG: What do you think is the secret to a long and enduring career?
EH: Work hard. I would say, enjoy what you do. I really enjoy what I do. And if you want a lasting career you have to work at it. Keep it current. Keep it fresh. Keep it so that you never get sort of … you know … what's the word … when you get sort of … not stale … oh, complacent.
DG: Tell me something about you that people would not know.
EH: Oh, well .. Oh, I work with a lot of charitable organizations. I don't know whether they know about that, but I do. I enjoy that kind of thing, because people in show business should get involved in that sort of thing – with charities – they should do that. I'm involved with about 16 charities.
DG: What can audiences expect to see this weekend at The McCallum?
EH: My show is very fast moving and it involves a lot of music --- I think it's one of the best shows that I've ever put out – the most professional – it really is a good show. And I'm getting good reactions from wherever I go around the world. And, I hope to get it when I come to the desert.
DG: Tell me a little bit about your upcoming album.
EH: Well, its being produced by a gentleman namEd Martin Terefe. Martin is the number one producer in the UK and I'm with a record company called Conehead Records. This is a collaboration album. I can't tell you who the people are collaborating with me --- it's a secret till after the contest is over – my part of the album is finished, but the people who are going to collaborate with me are kept secret until the contest is over. You know how that is? There is a song on there by Dan Wilson who wrote Adele's "Number One." Various great writers, you know.
DG: Any advice for aspiring young singers/performers?
EH: Umm, you know that's hard in today's world because --- when I began, it was a tough beginning, you know – you had to work little venues here and there to gain experience and have an apprenticeship of working in front of all kinds of audiences prior to coming to the big time. Today you can go on American Idol or you can go on X Factor and be discovered overnight if you have the ability to capture the audience with one song. But you have to maintain that and use it –I mean, you have to have the ability to keep an audience for a couple of hours in the palm of your hand. That's very hard to do. Unless you have lots of experience, that's a difficult task.
DG: How do you wish to be remembered?
EH: Well. My legacy is my music. All I can tell my audience is keep listening.
The McCallum presents Engelbert Humperdinck on April 13 and 14 at 8:00 pm. Tickets can be purchased at (760)340-2787 or www.mccallumtheatre.com.
David Green is the Founder and Executive Director of Musical Theatre University, a comprehensive training ground for young people with aspirations for careers in professional theatre. His alumn... (read more about this author)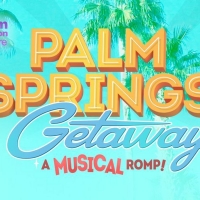 PALM SPRINGS GETAWAY to Return to Palm Canyon Theatre for the Holidays

November 26, 2022

Palm Canyon Theatre (PCT) is bringing back its popular, original musical – Palm Springs Getaway. The production is a nostalgic romp through the popular oasis featuring glimpses of history, icons and the celebrities who made the city famous. With a collection of well-known and original songs, the show transports audiences from the early desert landscape to the vibrant and inclusive community people know and love today – and every decade in between.
---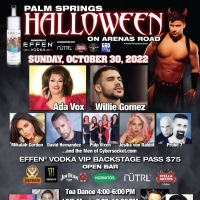 Ada Vox, Willie Gomez and David Hernandez Among Headliners At HALLOWEEN PALM SPRINGS 2022

September 19, 2022

Halloween Palm Springs will return to Arenas Road (Arenas District – Downtown Palm Springs) on Sunday, October 30 from 4:00-10:00p.m. A Hocker Productions event, Halloween Palm Springs is FREE with a suggested donation of $10 being accepted at each of the entrances benefiting DAP Health, Palm Springs Gay Men's Chorus, Greater Palm Springs Pride and LGBTQ Community Center of the Desert. 
---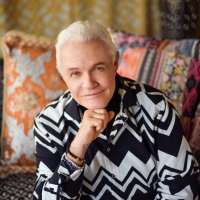 Previews: Michael Childer's One Night Only Celebrates 16 Years at McCallum Theatre With Star-Studded NEW YORK, NEW YORK

September 6, 2022

Michael Childers "One Night Only' celebrates its 16th year in the desert with "New York, New York" on November 9, 2022 at 6:00 p.m. This year's theme is all about New York in all its glory from Harlem and the Cotton Club to Broadway and 42nd Street to Studio 54. All proceeds benefit The Barbara Sinatra Children's Foundation. Once again the creative team is helmed by director Scott Coulter and musical director Todd Schroeder. Tickets will go on sale Wednesday, September 7, through the McCallum Theatre box office online at www.McCallumTheatre.com. Tickets can also be purchased by phone at 760-340-2787.
---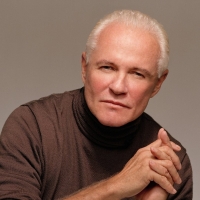 CVREP Celebrates Famed Celebrity Photographer Michael Childers With A Luminary Luncheon

March 29, 2022

Coachella Valley Repertory Theater (CVRep) is proud to announce that iconic and legendary photographer Michael Childers will be honored at the Luminary Luncheon, an exclusive entertainment and fundraising experience, on Wednesday, March 30, 2022 at 12:00 N with a special sponsor reception at 11:15 AM at the beautiful Westin Mission Hills, Rancho Mirage. Childers has captured through his lens, some of the most renowned portraits of Hollywood and music icons and produced numerous award-winning films. For 16 years, he's had the biggest hit in the Coachella Valley with sold out performances of One Night Only. This year's production at the McCallum Theatre will be held Wednesday, November 9, 2022 and will benefit the Barbara Sinatra Children's Center.
---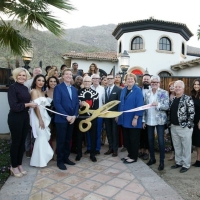 Two Covid-Years In The Making! ASIASF/PALM SPRINGS Hosts It's 'Ribbon Cutting 2.0' And Officially Announces A Triumphant Return

February 8, 2022

Two years after its record-breaking grand opening and subsequent COVID enforced shut-down, AsiaSF/Palm Springs (www.asiasf.com), is back! The SoCal branch of the storied San Francisco dinner theatre and cabaret featuring the world-famous transgender Ladies of AsiaSFwelcomed back its first paying customers earlier this year. Now, they're ready to officially announce their full return. The "Ribbon Cutting 2.0" will take place tomorrow – Wednesday, February 9 at 5pm – at 1555 South Palm Canyon Drive.  Palm Springs Mayor Lisa Middleton and representatives from The Palm Springs Chamber of Commerce will officiate. Proof of full vaccination is required for all employees, guests and entertainers and masks are required for entry and when guests are not actively eating or drinking.
---