Photos: WHBPAC Volunteers Honored at Beach Party Luncheon
Over sixty of the Westhampton Beach Performing Arts Center's dedicated volunteers gathered at the Quogue Village Beach Club for a special 15th Anniversary Volunteer Appreciation Luncheon hosted by the WHBPAC's Advisory Council on Tuesday, June 4. The event was organized to honor and celebrate the work and support provided to the theatre by a legion of community volunteers. To salute their efforts, the Volunteer Council was treated to a beach party luncheon at the Quogue Village Beach Club that included a barbeque catered by The Quogue Country Market. Scroll down for photos from the event!
Each year, the WHBPAC volunteers donate a combined total of over 2,700 hours of service to help over 35,000 patrons flow smoothly in and out of the theatre. They are dedicated, loyal, and eager to help the PAC meet its mission. In addition to taking tickets and seating patrons at Main Stage performances, volunteers can also participate in many other ways. This school year alone, volunteers will donate their time at twenty five School Day Performances and seat over 10,000 students and their teachers at performances that support and enhance the school curriculum.
The volunteers also donate their time to the administrative staff when help is needed with periodic mailings of newsletters, brochure mailings, and annual appeals. Their help is indispensable at key events such as the Annual Golf Tournament Fundraiser, pre/post performance parties and many other special events!
To join the Volunteer Council at the not-for-profit Westhampton Beach Performing Arts Center and learn how good it can feel to lend a helping hand in the community, contact Cheryl Wheeler at 631-288-2350, ext 102 or at CherylW@whbpac.org.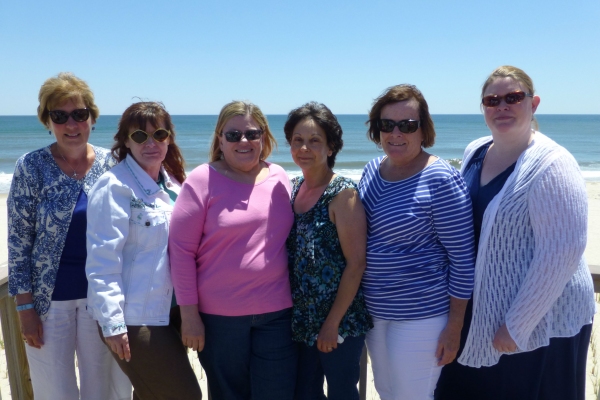 Cheryl Wheeler with her Volunteer Committee

Volunteer Beach Party