Bay Street Theater to Host Hurricane Relief Benefit Concert This Weekend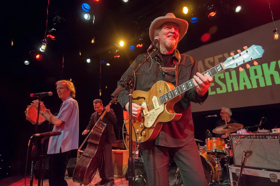 Benefits by Bay Street has announced a Hurricane Relief Benefit Concert to raise funds for victims of all of the recent hurricanes.
The concert will take place at Bay Street Theater & Sag Harbor Center for the Arts on Sunday, October 1 from 4-6pm; emceed by Southampton Town Supervisor, Jay Schneiderman, who is helping to organize the event. East End Cares is also assisting and providing additional volunteers.
Suggested donations for adults are $20 and $10 per child, but any amount, large or small, is welcomed. Donations can be made at the box office or on the phone now or on the day of the event. Cash and checks are most appreciated so as to provide maximum funds to the victims. The box office is open Tuesday- Saturday, 11 am - 5 pm, and Sunday Oct. 1 from 2 pm onward; phone number is 631-725-9500. Anyone unable to attend on October 1 may make a donation at the box office any time prior to October 1.
A great afternoon of rocking music is planned, with two bands performing, Joe Lauro & The Hoodoo Loungers and Gene Casey & The Lone Sharks, with perhaps a solo artist or duet performing in between. All ticket and raffle proceeds will be used for hurricane relief efforts through three charities that are working directly with victims--the Red Cross, the Salvation Army, and Team Rubicon. Donors can specify to which organization they prefer to contribute. Any funds not specified will be shared equally between these three organizations.
Benefits by Bay Street is a program of Bay Street Theater & Sag Harbor Center for the Arts which periodically provides the theater and staffing for free to assist others in need. Past benefits include events for victims of the typhoon in the Philippines, the earthquake in Haiti, the tsunami in Japan, and most recently for the ambulance and fire teams who bravely assisted in the Sag Harbor cinema fire. Together these events have helped to raise over $35,000 for those in need from the generous East End community.
The Hurricane Relief concert is in honor of all of those whose lives were literally uprooted in recent weeks by hurricanes Harvey, Irma and Jose, and the rebuilding that will be required for many weeks and months to come. Everyone involved will be volunteering their time and talents, including all of the musicians, Bay Street staff, Jay Schneiderman and his staff, East End Cares, technical support, community volunteers, and many more.
Many on the East End have already been assisting on the ground in hard hit areas including Maureen Rutkowski, East End Cares (EEC) co-founder who has just recently returned from volunteering in Texas with Team Rubicon. Jon Schoen, a Sag Harbor resident and EEC volunteer, is currently on the ground now with Team Rubicon as of this writing.
In addition to great music, a special raffle will be held in the lobby with items collected by volunteer Dinorah Delfin, and prizes donated from generous local retailers and restaurants to assist in the fundraising efforts.
Raffle items to date include:
One yoga private in the Hampton's by Bruce Bailey
Sun-Sessions private and group surf lessons by Bruce Bailey - Sun-Sessions
One hour massage in the Hamptons by Tika Udomsit
Hamptons Thai Yoga Massage
One hour massage in the Hamptons by Joan Davidson
Spa 27 - Health & Beauty
One manicure and pedicure in the Hamptons
Spa 27 - Health & Beauty
One gift certificate for hair salon
Salon 66, Jackie Fuchs, Sag Harbor, New York
Celebrity interior designer Brogan Lane is offering a in-depth 2 hour home consultation in the Hamptons.
One hour of private Pilates class in the Hamptons by Rasa Tarailate
One hour of IT services in the Hamptons or New York City (Pc 911)
A two night stay (off season) at the Breakers Motel in Montauk next year.
Soap and essential oils gift basket plus Aromatherapy consultation by Charmaine Waldrop.
$100 gift certificate from Page restaurant in Sag Harbor.
$100 gift certificate from Dopo La Spiaggia restaurant in Sag Harbor.
$100 gift certificate from Dock House restaurant in Sag Harbor.
Artwork by local artists BretT Loving and Candace Ceslow, and New York artist Whisbe.
A $200 Gift certificate to Buddha Berry in Sag Harbor
Four $25 gift certificates to Sag Town Café
A gift certificate for lunch for 4 at The American Hotel (approx.$250 value)
Bay Street Theater & Sag Harbor Center for the Arts is a year-round, not-for-profit professional theater and community cultural center which endeavors to innovate, educate, and entertain a diverse community through the practice of the performing arts. We serve as a social and cultural gathering place, an educational resource, and a home for a community of artists.