Review: LES MISERABLES at Kansas City Broadway Series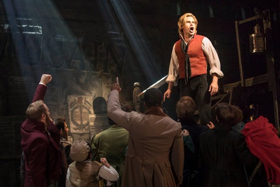 "Do you hear the people sing?" You will if you attend the 25th Anniversary edition of "Les Miserables" now on stage at the Kansas City Music Hall through Sunday, December 9. This is an absolutely credible recreation of the show that first hit London's West End theater district way back in 1985 and journeyed Across the Pond two years later. It has been running pretty much at full steam ever since.
All credit goes to the actors, the orchestra, the directors, the set designers, the lighting designer, and the original author, Victor Hugo from 1862. In this production, we learn that Hugo was also an artist and his original paintings have been transformed to projections that are many of the backdrops used in this production.
The music by Claude-Michel Schonberg is heart stopping. This musical/opera is one long, marvelous anthem. If "Les Miz" (the musical) has a weakness, it lies in the source text. The original novel is a jaw-dropping 2783 pages. The play begins in 1815 and ends somewhere around 1835. The lead character Jean Valjean has already been in the slammer for 19 years.
"Les Miserables" takes place after the French Revolution and Reign of Terror, but before the French Republic has found its footing. The monarchy literally lost its head in 1793. Valjean went to jail in 1796.
General Jean Maximillian LeMarque was a Napoleonic commander who became a member of parliament and opposed the reestablishment of the French monarchy. His death in 1832 fomented the real uprising of the students in "Les Miserables."
"Les Miserables" is a story of redemption, but the number of plots, subplots, time passing, romances, and political intrigues make it challenging to follow. The libretto authors James Fenton, Trevor Nunn, and John Caird have done an excellent job of trimming this massive tome down to two and a half hours, but this show's success rests firmly on its score. A flow chart in the program or a projection on stage to keep dates and locations straight would be helpful. There actually is some identification of time and place on the program page that lists the musical numbers, but I've never noticed it until now when I looked for it.
Extreme dramatic lighting and moving set wagons have been used to keep the show moving and give it the feel of a motion picture. These are impressive and welcome changes to the original concept. Unfortunately, they may have the unintended consequence of further muddling the passage of time.
There are no weak actors in this touring version of "Les Miz." Nick Cartell as Jean Valjean is excellent. He has one of those haunting tenors that stays with you long after the final curtain falls." His show stopper is, of course, "Bring Him Home."
Josh Davis is Inspector Javert (the French cop) who chases Valjean through the years before committing suicide in remorse by throwing himself off a Paris dam and is just as good. I have been fortunate enough to see "Les Miz" a number of times and this rendering of Javert's death scene is the most effective I've ever seen. His big number "Stars" is available in a couple of iterations on You Tube and worth hearing again.
Andrew Love as the kindly Bishop of Digne lends his exquisite tenor to his short, but pivotal turn in the first act. Andrew Love is a great name for the man who turns Valjean from a life of crime.
Fantine (the mother of Cosette who becomes Valjean's foster daughter) played here by Melissa Mitchell enjoys one of the signature songs ("I Dreamed a Dream), a classic death scene, and a resurrection for the finale.
J. Anthony Crane and Allison Gunn as the Thenardiers are the always crowd-pleasing comic relief characters with their various versions of "Master of the House" throughout the show. They are also the only characters in the whole show who are uncompromisingly evil and without any redeeming qualities.
Their daughter (Eponine played by the incredibly voiced Phoneix Best) is the victim of an unrequited love with her friend Marius (Josh Grosso). Eponine gets to sing the lovely "On My Own." Marius gets the love interest - a grown-up Cosette (Jillian Butler). Josh Grasso in particular has a really nice tenor. I suspect we will hear from him again. The Cosette character in the flow of this play is more limited than you might suspect, and Jillian Butler can do more. I should like to hear her have the opportunity.
"Les Miserables" is an experience more than a play with a wonderful orchestra under the direction of Brian Eads. Tickets are available online at https://theaterleague.com/kansascity/ or by telephone at 816-421-7500. "Les Miz" will perform at the Music Hall through December 9.
Photos courtesy of Kansas City Broadway Series and the producers of "Les Miserables"
| | |
| --- | --- |
| Vote Now for the 2022 BroadwayWorld Kansas City Awards | |
| voting ends in | |
Al Portner is regional editor for Broadway World – Kansas City.  He is a retired career journalist and media executive who has written for publication over more than 40 years. Portner ha... (read more about this author)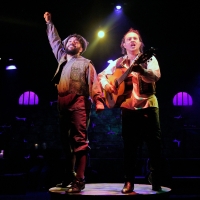 Review: MAN OF LA MANCHA at Music Theater Heritage

October 10, 2022

Playing now at Music Theater Heritage through October 23 at Crown Center is an imaginative new production of 1965's Tony award winning Best Musical 'Man of La Mancha' offered by Musical Theater Heritage.
---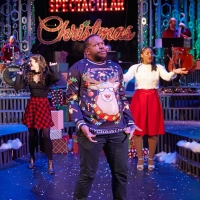 BWW Review: SPECTACULAR CHRISTMAS SHOW at Musical Theater Heritage

December 12, 2021

One of the annual challenges inherent to creating an absolutely new "Spectacular Christmas Show" at Musical l Theater Heritage is how to differentiate this year's production from the thirteen editions that preceded it. I have been privileged to see eight of the fourteen iterations and can promise you that each production is professional, well performed, entertaining and very different from earlier versions. Sure, you will recognize some of the music, but it is unlikely that the key will be one you are pre-programed to have heard before or that the various harmonies will be hackneyed.
---
BWW Interview: Scott Moreau of JOHNNY & JUNE at New Theatre Restaurant

December 8, 2021

"Johnny & June" at New Theatre Restaurant is an outstanding, original, tribute concert reminiscent of what TV audiences might have enjoyed at home between the premiere of the "Johnny Cash TV Show" in 1969 and the final "Johnny Cash Christmas Special" in 1985.   This New Theatre Restaurant original features Scott Moreau as Johnny Cash, Ashley Pankow, as June Carter Cash, and Cathy Burnett as Country Comedian, Minnie Pearl.  
---
BWW Review: JOHNNY & JUNE at New Theatre Restaurant

November 24, 2021

New Theatre Restaurant in Overland Park has opened an original and very enjoyable, new production, entitled "Johnny & June." The show is a country music tribute concert to Johnny & June Carter Cash with Scott Moreau and Ashley Pankow as the title characters and with Cathy Barnett as comedian Minnie Pearl along with a five piece band.
---
BWW Review: COMPANY at Musical Theater Heritage

November 7, 2021

Now through November 21, Musical Theater Heritage offers a super production of "Company," Stephen Sondheim's breakthrough 1970 musical. "Company" marks the first appearance of the indelible Sondheim musical voice we have heard so often since.
---