Review: GOOSEBUMPS: PHANTOM OF THE AUDITORIUM - THE MUSICAL at The Coterie Theatre

Goosebumps: Phantom of the Auditorium The Musical
It was a dim and foggy night at the Coterie Theatre as the curtain slowly opened. A large group of children were huddled at the foot of the stage as Brooke and Zeke began to talk about the upcoming audition for their school musical about a Phantom. Drama teacher, Ms. Walker, has brought out this old play (originally attempted by her great-grandmother) in tribute to some mysterious happenings from a long past era. The show is cast and suddenly strange things begin to happen with seemingly no one to blame. Is someone trying to sabotage the show? Is it a cruel joke being played by someone in the cast? How will the mystery be solved? Goosebumps is both musically exciting and theatrically adventurous which holds its audience in suspense until the final curtain. This one is sure to give you...goosebumps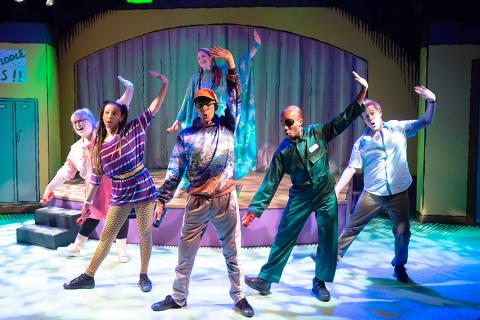 !
The current show at the Coterie Theatre bounces along with the springy vitality of its energetic cast and a playfully exciting story. Callie Rodina (as Brooke) and Jacob Valle (as Zeke) channel the starry-eyed teenagers (think High School Musical) perfectly as the the "leads" in the school play. Rodina provides a perfect "coming out of her shell" character with just the right amount of shy confidence to draw in even the youngest in the audience. Valle brings the fun goofball to life with a sense of light-hearted humor and innocence (which ultimately his character needs to stay out of trouble). Joining them is Lily Nicholas, as classmate Tina, whose character is initially upset that she didn't get the lead in the show, but later takes ownership of managing the production. Ms. Nicholas is sufficiently shady in the role as her disgruntled character belts out "Understudy Buddy". A new kid Brian (played by David LeVota) arrives on the scene and is added to the show to assist Tina with set construction. LeVota blends two parts of bashful nerd with one part innocuous interloper that keeps the audience guessing. Sarah LaBarr (Ms. Walker) is effortlessly eccentric as the slightly flighty drama teacher. Her duet with Tina as they explain "The Legend" of the Phantom perfectly sets up the early drama of the show. Rounding out the cast is Evan J. Lovelace (loved him in Superior Donuts), as Emile the night janitor, who brings added drama and mystery as he elusively appears throughout the show. In "My Home, Sweet Home" number he adds heart to the puzzle as the others try to unmask the Phantom.
Don't be fooled into thinking that a show derived from a children's book/television show doesn't pack the punch of a large production Broadway musical, because this one does. This show is entertaining from start to finish and brings an element of joyful fun to the stage. The Coterie has cleared the front few rows of seating to let kids (of all ages) sit up close to the stage and feel like they are participating in the spectacle.
And, that big bunch of kids' enthusiasm makes the show all the more exciting. The fact that the cast is so engaging and endearing draws those with even the shortest attention span into the rapidly unfolding drama. Everyone from age 4 to 104 will find this a tantalizing treat, without getting too scared. If you have elementary aged children, they will love it...and SURPRISE. you will too. A definite MUST SEE!
Directed by Jeff Church | Music Directed by Anthony T. Edwards | Choreographed by Jerry Jay Cranford. Technical Staff includes: Danielle Renee (production stage manager), Scott Hobart (set designer/technical director), Jarrett Bertoncin (lighting designer), David Kiehl (sound designer), Georgianna Londré Buchanan (costume designer), Joyce Merrill (properties/set dressing), and Taylor Smith (production assistant).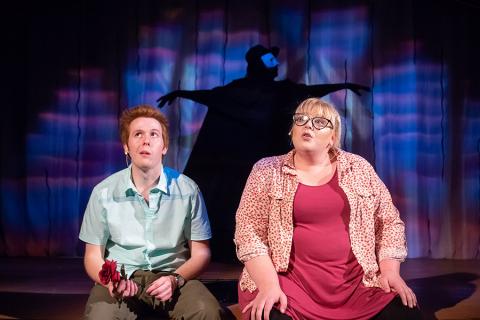 Goosebumps: Phantom of the Auditorium - The Musical is adapted for the stage with Book and lyrics by John Maclay and based on the beloved series from RL Stine.
Music, Lyrics, Orchestrations and Arrangements by Danny Abosch
Length: 65 minutes (without an intermission, so go...before you go in)
Performances are at the Coterie Theatre in Crown Center, at 2450 Grand Blvd, Kansas City, MO, June 19 through August 5th, 2018. For tickets call the box office at (816) 474-6552 or online: www.thecoterie.org
Photos by J. Robert Schraeder courtesy of Coterie Theatre
| | |
| --- | --- |
| Vote Now for the 2022 BroadwayWorld Kansas City Awards | |
| voting ends in | |