Review: DADDY LONG LEGS at Spinning Tree Theatre
Daddy Long Legs
If Jane Austin were born in America, this would have been the type of show she would have written. Filled with romantic innocence, budding wit, and music that lands somewhere between Jason Robert Brown and Stephen Sondheim it is this season's "must see" show. This Kansas City premiere musical is from the Tony Award-winning director of Les Misérables (John Caird, book) and the Tony-nominated composer of Jane Eyre (Paul Gordon, music and lyrics).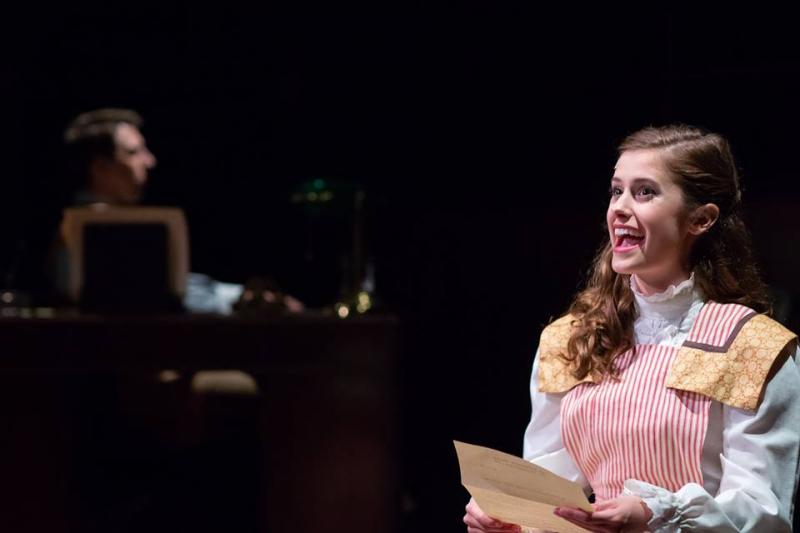 Based on Jean Webster's 1912 novel, it's the story of Jerusha Abbott who, after growing up in an orphanage, learns that a mysterious benefactor has paid her way to college. Jerusha sets her sights on a career in writing and her mystery man only asks that she send frequent letters summarizing her activities. Jerusha befriends two other young women at college and quickly finds that her sheltered existence has left her with much to learn. Lamenting in her letters to her mystery donor, who she names"Daddy Long Legs," she tries to imagine just who this "old" gentleman is that she writes to.
Amid her struggles through college, Jerusha meets a couple of young men that are relatives of her college girlfriends. As she struggles to sort through her feelings she still feels drawn to "Daddy" and continues to confide in him, bearing heart and soul in her writing. Unknown to Jerusha she has actually met her "contributor" who is reluctant to disclose his identity. The twists and turns in this story grow increasingly precarious right up to the big reveal.
Samantha McHenry stars as Jerusha Abbott. Actors are seldom as perfect for a role as McHenry is for this one. She inhabits Jerusha like we all inhabit our favorite article of clothing. She's wears her comfortably, believably, and is so genuine in her approach it's as if the role was written with her in mind. McHenry checks through the emotional highs and lows of this character so convincingly she has the audience on the edge of their seats. McHenry's brilliant performance is...quite special.
John Cleary plays Jervis Pendleton, a role that reminded me a bit of Jamie in "The Last Five Years." Cleary initiates the role with the sense of duty that a wealth-born young man has been raised to exhibit. However, this man's senses are more aligned with what's in the heart and less with what yacht is docked a the marina. Cleary's sense of musicality mesh well with McHenry's strong vocals. He's as good in his softer moments as he is in the more dramatic points. He's a fine actor who matches well with McHenry, as he goes from perfectly perplexed to endearingly enamored.
Sara Crawford and Jeremy Jacobs direct this engaging musical with pinpoint precision. Jacobs at the keyboard is so well synchronized with the singers on stage it's as if he has every line in the script memorized. The stage set is well adapted to the era and the costumes, changed with great slight of hand, lend a sense of authenticity to the performance.
Jeremy Jacobs, Piano; Rachel Fuentes, Cello and Daniel Verschelden, Guitar
Lighting Design - Nicole Jaja, Scenic Design - Julia Ubert, Costume Design Mary Traylor, Sound Design - Jeff Eubank, Properties Design - Eric Palmquist, Stage Management - Ashley Pike
DADDY LONG LEGS runs approximately 2 hours, including one 15-minute intermission.
Spinning Tree Theatre at Just Off Broadway Theatre
3051 Central in midtown Kansas City Missouri
spinningtreetheatre.com for tickets (August 17 - September 2, 2018)
Photo's courtesy of Spinning Tree Theatre