New Stage Theatre Invites You to Be Their Guest for DISNEY'S BEAUTY AND THE BEAST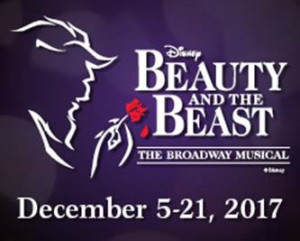 New Stage Theatre presents the Disney classic Beauty and the Beast December 7-21, 2017. Curtain times for public performances are 7:00 p.m. and 2:00 p.m. on Sundays. Ticket prices are $35.00 with discounts available for students, senior citizens and groups. Tickets can be purchased at the box office, located inside the Jane Reid Petty Theatre Center, charged by phone by calling the theatre at (601) 948-3531 or ordered online at www.newstagetheatre.com. Sponsored by Blue Cross Blue Shield of Mississippi, Trustmark, and the Sam E. and Bernice C. Wittel Foundation.
Disney's Beauty and the Beast features the animated film's Academy Award winning score and is the classic story of Belle, a young woman in a provincial town, and the Beast, who is really a young prince trapped in a spell placed by an enchantress. If the Beast can learn to love and be loved, the curse will end and he will be transformed to his former self. But time is running out. If the Beast does not learn his lesson soon, he and his household will be doomed for all eternity.
"We are thrilled to present Disney's Beauty and the Beast as a musical theatre gift to our audiences during the holidays," said Director Francine Thomas Reynolds. "The message of the show - that a person's inner beauty is much more important than the out - especially resonates during this season. The magic of Beauty and the Beast will charm children and adults alike."
The ensemble cast includes Danielle Bowen as Belle (New York, NY), Michael Spaziani as The Beast (Astoria, NY), Kevin Tonizzo-Naughton as Gaston (New York, NY), Cory Drake as Maurice (Jackson), Cameron Pitre as Lefou (Jackson), Sharon Miles as Mrs. Potts (Jackson), Andrew Fehrenbacher as Lumiere (Clinton), Chris Roebuck as Cogsworth (Ridgeland), Kathlyn Arcemont as Madame (Jackson), Mandy Kate Myers as Babette (Pearl), and Nehemiah Thompson (Jackson) and Clay Nelson (Brandon) both playing the part of Chip. Bowen, Spaziani, and Tonizzo-Naughton appear through the courtesy of the Actors' Equity Association.
Other cast members include Xerron Mingo (Jackson), Kyle Parker Daniels (Jackson), Michael Kinslow (Clinton), Cecil Hill (Jackson), Hosea Griffith (Jackson), Harrison Speed (Jackson), Timothy Magee (Jackson), Whitten Gray (Madison), Willis Thigpen (Jackson), Jessica Debolt (Jackson), Brianna Hill (Jackson), Kenya Jefferson (Byram), Leslie Ann Harkins (Jackson), Courtney Holifield (Brandon), Claire Porter (Jackson), Sara Thomas Easley (Jackson), Hannah Brady (Madison), Reese Overstreet (Jackson), Oluchi Nwaokorie (Jackson), Kate Rodenmeyer (Jackson), Mary Robinson Coco (Jackson), and Natalie Pace (Clinton). Disney's Beauty and the Beast is directed by Francine Reynolds, music direction by Carol Joy Sparkman and choreographed by Tiffany Jefferson.