THE BEAUTIFUL VILLAGE Premieres On Abbey Stage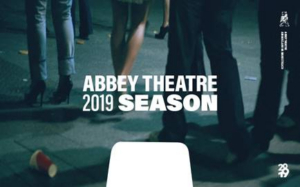 In September 2019, the Abbey Theatre will premiere This Beautiful Village by Abbey Theatre Associate Playwright Lisa Tierney-Keogh on the Abbey Stage. After 10 years writing in New York and heading up the American wing of Waking the Feminists, this marks the critically-acclaimed Irish playwright's debut at Ireland's National Theatre.
This Beautiful Village is a razor-sharp new play that exposes every side of what it means to co-exist in Ireland today.
'Paul, darlin', this isn't a democracy. It's a residents association.'
On a quiet street in leafy, suburban Dublin, local residents meet about a piece of graffiti. Who did it? What does it mean? And what's to be done about it? They have wine and a quorum. Nothing can go wrong. Set over one night, six people will confront their pride, prejudice and privilege.
Lisa Tierney-Keogh remarked: 'It's been a dream of mine to have my work staged at my National Theatre so I'm thrilled to be making my Abbey Theatre debut. From the moment I first spoke to Graham McLaren and Neil Murray about writing a play for the Abbey, I knew I needed to respond to the moment we are in. I wanted to reflect the shifting power structures that are happening in the world, and in Ireland. I wrote this play to build a connection for anyone who feels lost right now. I want audiences to feel seen, to feel a little less alone. Power alienates people and I want to tear that power down.'
Graham McLaren and Neil Murray, Directors of the Abbey Theatre: 'Lisa Tierney-Keogh is a fearless playwright. She calls injustice out and stands up for a new Ireland. As Directors of Ireland's National Theatre, we have a responsibility to reflect Ireland as it is now. We want the Abbey Stage to emulate the experiences and conversations that happen in diverse neighbourhoods across the country. This Beautiful Village wittily asks some of the hard questions our communities interrogate together.'
Fresh from a London run of Edinburgh Fringe First Award-winning play CLASS in the Bush Theatre, David Horan directs on the Abbey Stage for the first time. The cast includes Pom Boyd (Shame, Rosie), Ruth Bradley (The Fall, Rebellion), Michael Ford-FitzGerald (Resistance, Rebellion), Damian Kearney (Love/Hate, The Wind that Shakes the Barley), Bethan Mary-James (Belle) and Aidan McArdle (The Fall).
This Beautiful Village will be the 30th show in the Abbey's Free First Preview series, where members of the public are invited to queue for a free ticket to the first preview on 2 September. This Beautiful Village will premiere on 4 September. Tickets are available at abbeytheatre.ie.