BWW Review: COME ON HOME feels the pulse of Ireland at The Abbey Theatre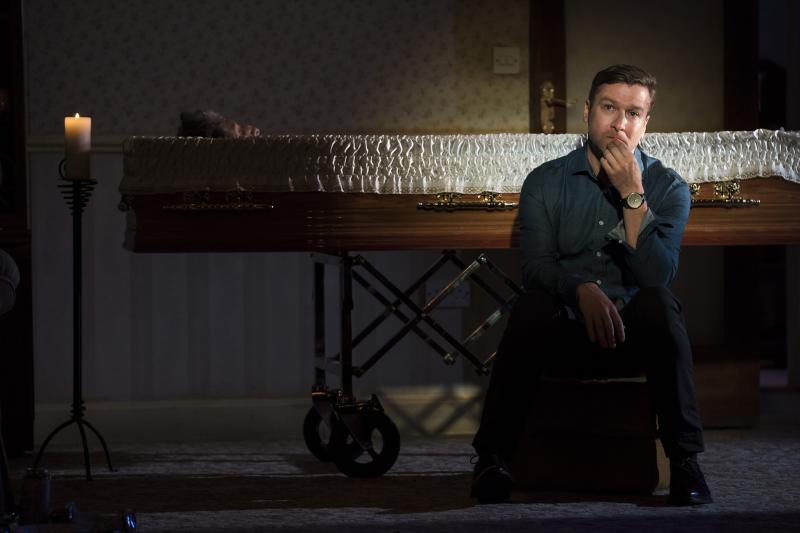 It is inexplicable that a play with such sombre overtones can be so tremendously life-affirming and funny. It would be insensitive to call it a comedy but I will share that the audience (including myself) laughed uproariously throughout. And somewhat paradoxically given the title, Come on Home is about fresh starts and moving on.
Playwright Philip McMahon's new narrative is a quintessentially Irish tale exploring the fragile yet resilient bonds of family against a backdrop of sexual intolerance, rejection and corruption. McMahon dredges the murky waters of small-town Irish prejudice, presenting it compassionately without bias or judgement and laced with a healthy dose of Irish humour.
Three brothers reunite following the death of their beloved mother. Estranged Michael (Billy Carter) hesitantly leaves the bright lights of London, returning to his dim provincial home town in Ireland. Banished from his home 20 years earlier for being gay, Michael receives a sincere if awkward welcome from his earnest younger brother Ray (Ian Lloyd Anderson) and a hostile reception from his volatile older brother Brian (Declan Conlon). Spirited Aoife (Kathy Rose O'Brien) and cynical Martina (Aislín McGuckin) play Ray and Brian's fabulously feisty and strong-willed partners.
Gathered in the sitting room around their mother's remains (respectfully displayed in a posh coffin with Italian brass handles) the brothers soon lock horns opening a Pandora's box of anger and resentment. Father Aidan (Seán O'Callaghan) and Father Seamus' (Des Nealon) brief visits to the household only fuel the fraternal fire. In the aftermath, the brothers discover empathy, understanding, acceptance, and healing.
Under the sensitive direction of Rachel O'Riordan the cast all give electrifying performances with rapid-fire dialogue engaging the audience from the very start. I found myself becoming terribly fond of this fallible family. McGuckin and O'Brien completely nailed the mother-in-law/daughter-in-law jungle with hilarious and poignant performances. Anderson's childlike ignorance of his brothers' plights is endearing. Conlon's portrayal of a grown man crushed is heroic and Carter's nuanced performance gives us a chilling glimpse at the lasting impacts of intolerance.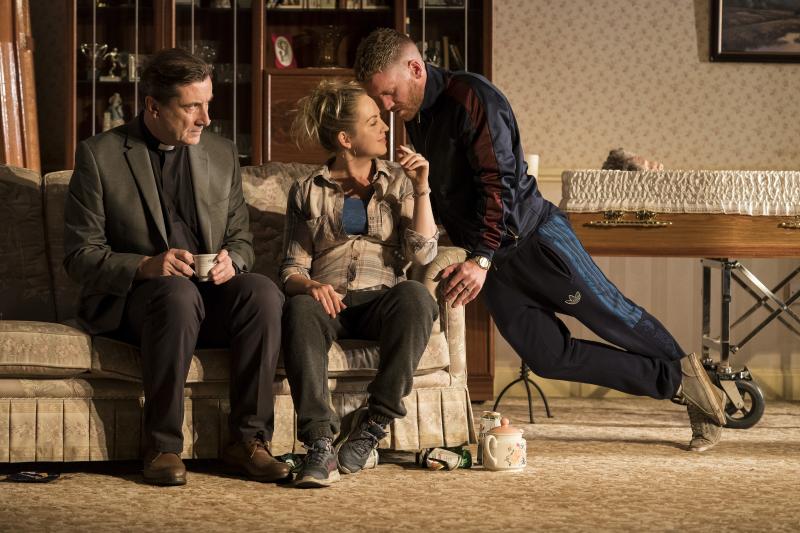 In recent years Ireland has played a significant role on the world stage as a forerunner in the popular public acceptance of gender rights. Come on Home is timeous, cathartic, heartening and particularly pertinent today as Ireland embraces its diversity. Treat yourself to a thought-provoking evening of laughter, tears, and new beginnings before this run ends.

Come on Home runs at The Abbey Theatre until August 4th, 2018.
Related Articles View More Ireland

Stories

Shows