Stage Rights Acquires Licensing Rights to DESPERATE MEASURES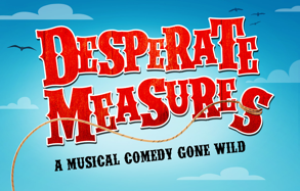 Steele Spring Stage Rights, the licensing company that represents The Marvelous Wonderettes, has just acquired the licensing and theatrical performance rights to the award-winning off-Broadway musical comedy smash that sets William Shakespeare's Measure for Measure in the Wild West.
Peter Kellogg (Book & Lyrics) has two Tony nominations for book and lyrics to a musical of Anna Karenina (composer Dan Levine), which toured in Japan and was broadcast on Japanese Public TV in 2006. With David Friedman, he created Desperate Measures, which won 2018 Drama Desk Awards for Best Music and Best Lyrics, as well as The Outer Critics Circle and Off-Broadway Alliance Awards for Best Musical. CD available on Amazon. Also with David: Chasing Nicolette (based on the French romance, Aucassin and Nicolette), produced at Westport Playhouse, the Prince in Philadelphia, and Village Theatre in Seattle; and Stunt Girl, based on the life of Nellie Bly, New York City's first female reporter, which premiered at Village Theatre. With composer Steve Weiner, he has written a 10-person musical based on the Sheridan play The Rivals, which premiered at Bristol Riverside Theatre last fall.
David Friedman (Music) In addition to Desperate Measures (2018 Drama Desk Best Music Award), David has written four other musicals with Peter Kellogg: Nicolette & Aucassin, Nellie Bly, Money Talks, and Lincoln in Love; King Island Christmas (with Deborah Brevoort - 50+ productions worldwide); Koga (with Philip Kholos) a web series for children about using martial arts and kindness to solve everyday problems, and is currently collaborating with Elizabeth Dewberry on a musical about Temple Grandin. David has written songs for everyone from Disney to Diana Ross, produced all the late/great Nancy LaMott's CDs and wrote many of her best-known songs, conducted and vocal arranged six musicals on Broadway and numerous Disney Animated Films (Beauty & The Beast, Aladdin, Pocahontas, The Hunchback of Notre Dame) wrote songs for The Lizzie McGuire Movie, Aladdin and the King of Thieves, Bambi II, and Trick, scored three television series, performed his revue Listen To My Heart - The Songs of David Friedman Off-Broadway, all over America, and abroad, and co-wrote 100 songs (with Kathie Lee Gifford) for the Today Show's Everyone Has a Story Segment. David is a best-selling metaphysics author with five books including The Thought Exchange, and We Can Be Kind - Healing Our World One Kindness at a Time, based on his song of the same name. For more information, go to www.MIDDERMusic.com.

The New York Off-Broadway production was produced by Pat Addiss, Mary Cossette, and Willette Klausner and the World Premiere production was presented by The York Theater Company: James Morgan (Producing Artistic Director) and Evans Haile (Executive Director).
Stage Rights is thrilled to add this musical to its ever-growing catalog. The theatrical publisher is no stranger to popular Off-Broadway fare with The Marvelous Wonderettes in the third year of its revival run at the Kirk Theatre. Its stable of musicals has also expanded to include such dynamic shows as the Little Women-inspired My Jo, the musical comedy hit The Book of Merman, and the fish-and-chips-out-of-water comedy , God Save Queen Pam. For more information on Desperate Measures or other titles licensed by Stage Rights, please visit stagerights.com or call 323-739-0413.
Based in Los Angeles and founded in 2000, Stage Rights is one of the foremost independent theatrical publishers in the United States, providing stage performance rights for a wide range of plays and musicals to theater companies, schools, and other producing organizations across the country and internationally. As a licensing agent, Stage Rights is committed to providing each producer the tools they need for financial and artistic success. Stage Rights is dedicated to the future of live theatre, offering special programs that champion new theatrical works.
Related Articles
View More Industry

Stories
More Hot Stories For You