MSA Agency Produces ONE NIGHT ONLY: MSA IN PARADISE
The show will be held at the famed Paradise Club in Times Square on May 23rd.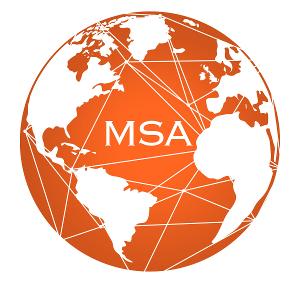 McDonald/Selznick Associates (MSA) is producing ONE NIGHT ONLY: MSA IN PARADISE
The show will be held at the famed Paradise Club in Times Square on May 23rd. McDonald/Selznick Associates' groundbreaking New York City production features exclusively MSA artists, from the Direction and Choreography of MSA's Creative Department, to the Actors, Singers, Dancers, and Specialty Acts of MSA's Talent Department- all together, in one immersive party! Work by creative clients Holly-Anne Devlin, Chris Grant, Lauren Yalango-Grant, Miles Keeney, Shannon Lewis, Dylan Pearce, Bo Park, Kellen Stancil, and James Alonzo White will be featured.
The invite-only audience will be comprised of Producers, Casting Directors, General Managers and other special industry guests - raising awareness of MSA artists' high caliber of work. "McDonald/Selznick Associates is honored to host this special event in celebration of the comeback of New York City's entertainment industry. I am not sure if this has ever been done, on this scale, by another NYC agency. We are very excited for our friends and colleagues to experience ONE NIGHT ONLY!" Agent Greg Uliasz, shared.
Performers for the evening will include (in order of appearance): Maya Farhat, Hayley Lampart, Lexxe, Jada Temple, Brittany Nicole Williams, Parker Aimone, Bo Belza, Joanne Daquigan, Arielle Disciascio, Presley Gookin, Ciara Gray, Daisy Infantas, Nicholas Kim, Chase Maxwell, Ben Milan-Polisar, Becca Robinson, Maci Arms, Dayne Board, Runako Campbell, Madison O'Connor, Soultana Schiavi, Caitlin Sullivan, Courtney Sullivan, Tansy, Sam Urdang, Victoria Finehout-Vigil, Mark Mauriello, Dario Natarelli, Megan Hornaday, Nolan McKew, Peakaboo Pointe, Eric Delgado, Brandon Rosario, Summer Stolle, Jonathan Cable, Julia Chen Myers, Jaryd Farcon, Youngsil Kim, Allison Schieler, Mendel and Bassam, Marcel Werder, Grayson Samuels, Luana Psaros, Lynnette Paz, Jake Warren, Andres Acosta, Nycole Altchiler, Paula DeLuise, Presley Gookin, Ciara Gray, Alec Varcas, Cole Wachman, Miss Miranda, Francine Espíritu, Chris Borrero, Erika Citrin, Regan Jackson, Hector Lopez, and Michael Sakelos.
ONE NIGHT ONLY is produced by MSA in association with Kaleidescope Entertainment, and was written by Holly-Anne Devlin. Agents working on the east coast; Julie McDonald, Tony Selznick, Bre Traver, Greg Uliasz, Rebecca Harrell, Bella Crotti, Brooklyn Lavin, Alyssa Renard, and Erin Marino have curated the event, and will be in attendance. Andy Peterson will serve as the Musical Director, Walter Trarbach is the sound designer, Laura West and Myles Nuzzi are the Project Managers.
Founded in 2000 by Julie McDonald and Tony Selznick, McDonald Selznick Associates (MSA) is a creative talent agency representing a unique class of artists in the entertainment industry. With more than 30 years of experience, MSA has earned its status as the global leader in its field whose clients have been nominated for and won multiple awards. Founders/Agents Julie McDonald and Tony Selznick state; "MSA believes that amazing things happen when the right people connect. We introduce our top talent to every corner of the entertainment industry and turn our clients dreams into actual accomplishments. We've always been ahead of the curve, leading the market with cutting-edge ideas and innovation."