Click Here for More Articles on Podcasts
LIFE IN THE PIT Podcast Finishes 7th Month, Featuring 30 Episodes and 29 Interviews
The guests have included those who play guitar, bass, reed books, harp, brass books, percussion, and keyboard.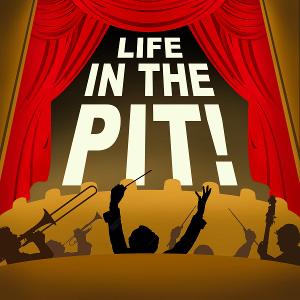 While the instrumentalists who play for musical theatre have been away from the pit and finding other ways to earn an income in 2020, the podcast called Life In the Pit has done its best to give a voice to those who would be playing for productions in a normal year. The mission of the podcast is to share what life is like in theatre for musicians to aspiring music students and those who love theatre who aren't directly involved with the music. One review on Apple Podcasts calls it "informative, insightful, and enjoyable".
Launched at the beginning of July, the podcast now has over 30 episodes, including 29 interviews with other guests. The guests have included those who play guitar, bass, reed books, harp, brass books, percussion, and keyboard. It also includes perspectives of music directors and conductors from all types of theatre. Aaron Gandy talks about writing a show for Jim Dale, whom he met while music directing a show in Carnegie Hall, as well as spending 9 years working at The Lion King on Broadway in Episode 24. That episode is preceded by Tommy Jackson talking about starting a house band from scratch for a renovated historic theatre in small town North Carolina in Episode 23.
The host, David Lane, lives in the Piedmont Triad of North Carolina, an area rich with university music programs and a high concentration of local professional talent. Many of his guests have been local, as he believes that musical theatre in his area represents the type of theatre that most listeners not living in New York are likely to experience such as community theatre and playing for school productions as well as some regional professional theatres. However, some of the guests who live in various places such as Jacksonville, Nashville, Greensboro, Seattle, Chicago, and Los Angeles talk about their area theatre scene as well as playing for national tours.
Special episodes include a talk on Episode 21 with orchestral contractor (Wayne Leechford) about supplementing on national tours for Durham Performing Arts Center, a major house for touring shows. In Episode 13, listeners can learn what it's like to work on a cruise line from James Hodson, a resident of Melbourne, Australia who has traveled to all 7 continents!
Recognizing a lack of diversity in the pit, Lane has made an effort to be inclusive, while recognizing that more work needs to be done here going forward. In episode 19, clarinetist Kania Mills talks about playing at a high standard and being an African American woman, and how that can be a challenge.
Presently, there is a bonus series within the podcast that is in progress called "Ask the Music Director". Lane takes questions that were asked to music directors from fans and friends on social media and has enlisted multiple music directors from different cities to answer them. In 2021, there will be more representation from Broadway and touring. The episodes in January will include an arts administrator in Atlanta who talks about event planning and goal setting, and also a musician from Orlando who has spent 21 years working for Walt Disney World.
You can find Life In the Pit on Apple Podcasts, Spotify, Stitcher, Amazon, IHeartRadio, and Podbean. You can contact Lane through the podcast portion of his website at www.davidlanemusic.com/podcast. Follow the podcast on instagram.com/lifeinthepitpod or twitter.com/lifeinthepitpod.