Industry Pro Newsletter: Earth Day, Ken-Matt Martin takes over at Victory Gardens, and the Latest on Calls for Better Workplaces in the theatre
The March on Broadway is the latest event in numerous calls to reform the industry in the past year
This week, the Industry Pro Newsletter is brought to you by Axiom Medical.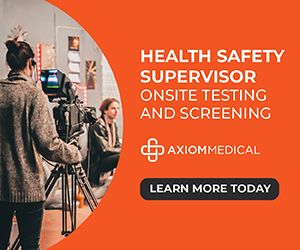 Axiom Medical provides preventive medicine and public health expertise to mitigate the spread of infectious diseases in the workplace. Our services are consistent with the workplace safety regulations and guidelines outlined by The Directors Guild of America, IATSE, and SAG-AFTRA. Our team always follows all required procedural standards to ensure your workforces' safety.
April 26, 2021 -
One thing is certain: the performing arts will be a changed industry as we come out of the other side of the pandemic. From changes in business model, to new budget priorities to deal with potential shortfalls, to a deeper understanding of the ways the industry has failed in DEI efforts in the past, there will be few, if any, institutions that come back as the same institution they were before. That isn't a guarantee that this change is going to be all for the positive, and no matter what, there will continue to be growing pains as groups across the industry grapple with the way things were, the way they want things to be, and the way things are. This week, we have stories of the new generation of leaders coming to the fore in the midst of this upheaval, stories of cities starting to get their performing arts industries open again, and a look at how the industry has shifted over the past year, and where it can go from here.
How US Theatre Has Changed In the Last Year
Writing in The Nation, Alisa Solomon chronicles how the regional theatres across the United States have been responding and changing not only in relation to the pandemic, but to calls for greater equity and diversity across the industry.
Mayor de Blasio Praises AEA, A Perfect Crime
"This is important, this is momentous, because here was an example of the shape of things to come - the theater coming back in New York City," de Blasio said. "A show that has been running since 1987, longest play ever in New York City history, a show that kept going after 9/11, after the Great Recession, but got held back for the first time by COVID."
Chicago Announces Major Increase in City Funding for the Arts
Citing the pandemic and a long history of lagging other cities in available funding for the arts, the City of Chicago not only announced funding for one-time only programs (like acquiring art for the new International terminal at O'Hare), but that the city would be increasing the budget line for public art from $100,000 annually to $3 million.
Ken-Matt Martin Takes Over at Victory Gardens
As Ken-Matt Martin takes over as the Artistic Director at Victory Gardens Theatre in Chicago, The New York Times describes his journey, as well as diving into what it means to be taking over institutions at this moment in history.
The Scott Rudin Scandal and the Latest Developments in Calls for Broadway (and theatres) to Re-Open as Better Work Environments for All
After a report in the Hollywood Reporter kicked off an industry wide conversation about abusive workplaces in the entertainment industry - through stories that focused on Scott Rudin, Scott Rudin announced last Saturday that he will step back from active participation in Broadway productions. In response to Rudin's announcement, AEA issued a statement calling for Rudin to release any of his past and current staff members from non-disclosure agreements they may have signed as conditions of their employment. As protestors called for Scott Rudin to be placed on AEA's Do Not Work list, the union responded, in short telling their membership that due to their agreement with the Broadway League, they could not place Rudin on the Do Not Work list. These protests culminated in a march late last week that traveled through midtown to demand both action on Rudin and further transparency from the union on their efforts to increase DEI initiatives. On Thursday of last week, the Producers Guild of America announced that they would be expanding their own training programs to include anti-bullying training, as well as creating a task force to investigate issues of workplace harassment within their own ranks and the entertainment industry at large. AEA responded to this announcement from the Producers Guild to call upon the Broadway League to issue their own statement and/or take action in regards to Rudin and other cases of workplace misconduct.
Ways to Make Theatre a Little More Green
Live theatre can be shockingly wasteful in terms of environmental impact, but it doesn't necessarily need to be that way. While theatres making changes won't necessarily completely save the planet, the ETC Blog offers a roundup of some initiatives that theatres are a part of, and ways that all companies can help in reducing the potential environmental impacts of the art form.
The BroadwayWorld Streaming Calendar is the go-to resource for theatre audiences looking for a theatrical experience in their own living room. The best part? Listings are completely free of charge (with paid boosting options available). Add your streaming content today!
BroadwayWorld Stage Mag - A Fully Interactive Show Program
The digital solution to your show program needs - want to see what's possible? Check out the Stage Mag's for Disney's Women's Day on Broadway and A Love Letter to Liza: A 75th Anniversary Celebration Then start building your own at stagemag.broadwayworld.com.
The BroadwayWorld Streaming Calendar is the go-to resource for theatre audiences looking for a theatrical experience in their own living room. The best part? Listings are completely free of charge (with paid boosting options available). Add your streaming content today!
Want more information about marketing options with BroadwayWorld? Request a media kit here and a member of our sales and marketing team will reach out promptly.