BWW Review: SPOTLIGHT THEATRE's Blends the Traditional and Modern Brilliantly in KIRANA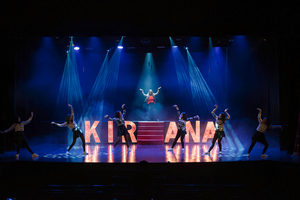 Society expects people to conform to its norms to be accepted. Those who can't will be cast aside and forgotten, with their dreams left broken. But is it worth it losing one's true self to pursue one's ambition? SPOTLIGHT THEATRE explores the issue of identity and dreams in their original musical KIRANA, which ran for three shows on August 23-25 2019 at the Gedung Kesenian Jakarta.
Scriptwriter Hadyus Santoso had spent months of research, including immersing himself in the daily lives of rural Javanese villages, to understand the traditional Javanese values. SPOTLIGHT THEATRE also works with a cultural consultant, Martini Murti, to further refine the script. This dedicated approach has proven invaluable in presenting a sense of heartfelt sincerity and genuine admiration towards the subject matter.
However, KIRANA is not a strictly traditional (or, for the more cynical, 'old-fashioned') theatre performance. It is, at its heart, a contemporary musical with modern sensibilities, only with the message of preserving one's true self and time-honored values including humility and familial bonds. This production is directed by Ibas Aragi.
KIRANA tells the story of the titular Kirana Lestari (Delicia Kaeno), a girl living with her parents in a rural Javanese village. Although they're a loving family, times have been hard for the father, Raditya Hartanto (Hadyus Santoso), who doesn't earn enough money from his farming work.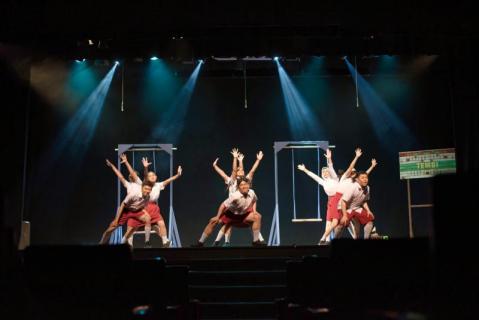 Kirana's mother (Amanda Gondowijoyo) chimes in by selling the traditional cloth batik she makes herself and taking up sinden (traditional singing performance) jobs. Inspired by her mother, Kirana dreams of becoming a great singer.
Despite her friends' persuasion, Kirana and her family leave for the big city in search of a better living. She arrives to rampant bullying from the city folks, who mocks her provincial background. And after her father gets scammed out of a job, he, alongside Kirana's mother, resorts to selling their kidneys to provide a livelihood for the three of them.
As years went by, the teenage Kirana (Annisa Setya) adopts a façade of a rich and haughty high school princess. She turns her bullies into servile followers who she doesn't hesitate to use and abuse as they did to her. Even her vocal tutor, Aira Angelia (Ingrid Saidbun), who originally takes her because of a sense of compassion, is getting tired of her unerring narcissism.
After winning a singing competition, Kirana starts her career as a professional singer. Now an adult, her posse consists of her previous bullies and now supposed besties, Michelle (Kartika), Johnny (Joe Wu), and Jessika (Ilena). As the foursome hangs around at a private room of a club, Kirana goes to use the bathroom while her friends drunkenly bemoan how much they hate Kirana.
When the three falls into a booze-addled stupor, a shady figure (Daniel Ongko) sneaks into the bathroom and cuts Kirana's kidney out. Her friends, not wanting to be in trouble with the police, drop Kirana off at her house. Kirana's mother panics and her father is surprised to see that his henchman brings back a kidney that comes from his own daughter - Kirana's father has been in the organ theft business all along.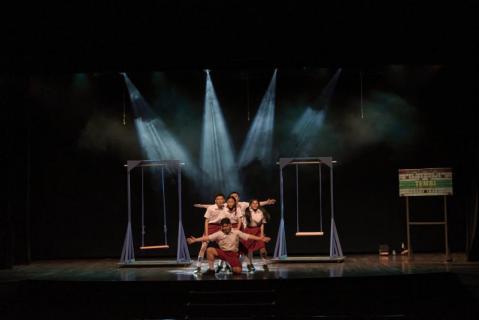 After discovering his implicit hand in hurting their daughter, Kirana's mother attacks her own husband. He fights her back and chokes her unconscious with her own batik. Cornered into desperation, her father hangs himself.
Kirana wakes to find herself in a hospital room. Her assailant, who turns out to be one of her bullies from junior high, Billy, tries to attack her again. Fortuitously, a police officer (Yudis Huang) comes just in time to arrest the henchman and save Kirana. In the end, Kirana and the police officer - who also turns out to be her childhood friend Cakra Gumilar - visit her father's grave to pay their respects and reminisce about the past.
KIRANA's libretto deserves praise for its respect towards the Javanese elements and values it brings to the mix. Often, Indonesian musicals try to earn brownie points by adding traditional elements in a half-hearted manner that doesn't gel together with the overall performance. KIRANA's whole book is infused with a Javanese sentiment. On the other hand, it's still very accessible to modern theatregoers. Although there are bits of dialogue in Javanese, it's balanced with Indonesian dialogue, body language, and other context clues as to avoid confusing the audience.
Furthermore, Kirana is easy and enjoyable to watch. A duo of dalang (word meaning 'puppeteer' for Javanese wayang shows, yet another Javanese influence on the show; played by Gabriela Glennda and Priskila Tesalonika) narrate and comment on the show, sometimes interacting with the characters and often breaking the fourth wall to address the audience. Their playful antics and banters bring a sense of merriment throughout the show.
The show is rife with comedic bits that mostly land their humor; of particular note are Kirana's three friends: Michelle, whose dialogue is a singsong mix of English and Indonesian lament of her bad luck with guys; Johnny, an unabashedly flagrant man with a very striking green-and-pink ensemble and a penchant for sassiness; and Jessika, who plays a mean girl role so effortlessly but never too unlikeable (especially compared to Kirana's queen bee persona). They are crowd pleasers and earn riotous laughs from the audience.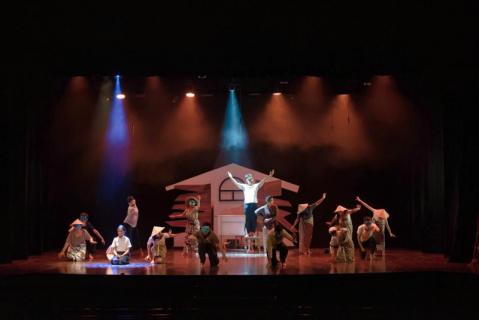 A show is only as strong as its actors. Here, SPOTLIGHT THEATRE's cast and director have proven their worth by a very well-rounded performance. Although the show is larger than life, the acting capability of both the leads and supporting characters make the show believable.
Of particular note are Annisa Setya who makes playing both the mean girl and gentler side of the titular character seem effortless; Hadyus Santoso and Amanda Gondowijoyo, whose dynamics with Kirana and each other are fluid and intimate - particularly towards the end where they struggle with their cracked family; Ingrid Saidbun, who embodies worldly wisdom with an edge; and Joe Wu, who elevates the comic relief of Johnny (later Jenny) with a terrifyingly crushing performance as he talks about his insecurities.
On the music side, the score (by Wishnu Dewanta, Roban Eko, Alessandro Galvani, Regina Santoso, David Karsten, Martini Murti, Jennifer Susanto) are varied and colorful, although there were no particular standouts. Most impressive were the sinden parts, sung lovingly by Amanda, which have a magical quality to them. Annisa also has the vocal chops and stage charisma appropriate for the lead role. The other cast ranges from great to acceptable, but none brought the show down. Ingrid Saidbun is the vocal director for the show, with the help of vocal consultant Sylvia Wiryadi.
The choreography in Kirana is energetic and up to the standard of Indonesian musicals. The show opened with a short but beautiful traditional Javanese dance performance. In the other numbers, choreography usually shows up in ensemble pieces, such as Kirana's childhood playground song or her concert number later in life. The show actually has Martini Murti as the choreographer for traditional dances and Siko Setyanto and Grachiella as contemporary choreographers.
The set design by Lukas Widiyanto and lighting design by Mamed Slasov support the show greatly. Lukas' approach by using several set pieces to indicate location instead of using full backdrop still manages to set the mood effectively. As for the lighting, a standout choice was a scene where stars made out of illumination fill the auditorium, creating a wondrous moment.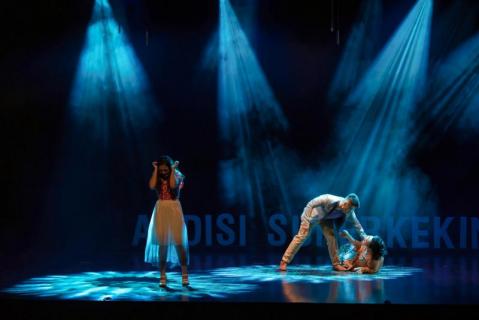 However, as enjoyable as the show may be, it must be noted that KIRANA can feel dangerously bloated with a running time of three and a half hours. KIRANA is an ambitious script with many subplots and messages to deliver, which unfortunately make the focus spread too thin. Some scenes are just a bit superfluous or meandering, showing too much of Kirana's life that can be delivered by other means. Another round or two of editing would have made for a tighter, yet just as impactful show.
And although the book definitely hits its mark in comedy, the drama side can be rather hit or miss. For example, giving Michelle, Johnny, and Jessika extended anguished monologues on their personal problems come out of left field, although the performances themselves were terrific.
Kirana's character arc starts out fine but falters in the end; her agency is diminished as she becomes a passive observer and victim of her father's downfall rather than her own. Thus, she doesn't fall from grace due to forgetting her true self but rather a tragic target of misfortune.
Organ selling and thievery are an unexpected plot element that feels like a strange bit of intentional dark comedy and doesn't really mesh together with the show's mostly down to earth plot. Furthermore, organ thieves being able to just waltz into a club and even a hospital room is downright preposterous.
Despite these minor kinks, KIRANA is still largely an effective show, though its merits as an entertainment overshadow its unsubtle morality trappings. It's also proof positive that local or regional cultures can successfully work in tandem with modern taste without one overpowering the other.
And just like Kirana remembering her true self, SPOTLIGHT THEATRE is a name to be remembered in the local musical scene.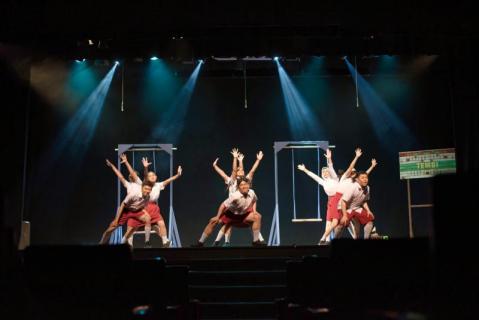 KIRANA is produced by producers Marlinda Xu, Ingrid Saidbun, and Yen Hartanti. In addition to the aforementioned cast members, KIRANA also features Angel as Ainur Rahma, Irvan Richardsone as young Cakra, Charles Murvi Manan as Mr. X, Gradiyanto as Budi, Kevin as Wirya, and Melisa as Ratih, Bahres as Robert, Cynthia Lavenia Yohendra as Okta, Stephanie as Ola, Soniawati Susanto Lioe as Olive, Benny as Billy's Father, Diah Lestari as Billy's Mother, Lisda Hadiani Al Fitri as High School Student 1, Justin Susanto as High School Student 2, Grachiella Angel Siswanto as High School Student 3.
Dancers are composed of Nathania, Jane Elena, Bella Innocentia, Aliya, Grachiella Angel Siswanto, and Septriyanda. Cast for music students are composed of Daniel Aryaka Radian, Patrick Azarie Wijaya, Calvin Ethanael Wijaya, Rena Hong, Kalia, Diandra Ariadne Joanna, and Mira Hong. Opening dancers are composed of Martini Murti, Grachiella Angel Siswanto, Sawitri Kusumawardani, and Ajeng Dinanti. Choir and backup singers are composed of Oktovianus Asten Bere, Carolus Harinowo, Gabriella Hana Putri, Elisabeth Dhewayanti, and Skolastika Andramitha.
Photos: Spotlight Theatre.
Related Articles View More Indonesia

Stories

Shows