BWW Previews: KELOMPOK POJOK to Perform Arifin C. Noer's PADA SUATU HARI on August 16th
South Jakarta-based KELOMPOK POJOK will perform PADA SUATU HARI ('ONE DAY') on Friday, August 16th, 2019 at the Gelanggang Remaja Jakarta Selatan Bulungan auditorium. The show is part of South Jakarta Theater Festival 2019.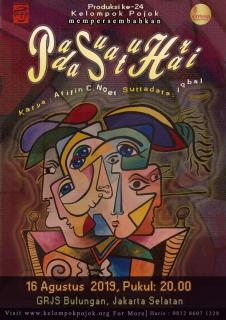 PADA SUATU HARI is a script penned by the celebrated Indonesian poet and playwright Arifin C. Noer. It tells the story of an elderly couple whose lifelong marriage is shaken up when an unwelcome guest intrude into their home. The script is notable for its realistic and heartfelt depiction of domestic drama.
This production will be directed by KELOMPOK POJOK veteran and leader Iqbal Samudra. KELOMPOK POJOK is a community theatre founded by in 2010; their mission is to provide space to those looking to expressing their art. PADA SUATU HARI will mark KELOMPOK POJOK's 24th production.
For more information, including regarding ticket sale and actor reveal, follow KELOMPOK POJOK Instagram, @kelompok_pojok.
Related Articles View More Indonesia

Stories

Shows