BWW Review: NoExit Performance Provides an Immersive Experience in THE MUTILATED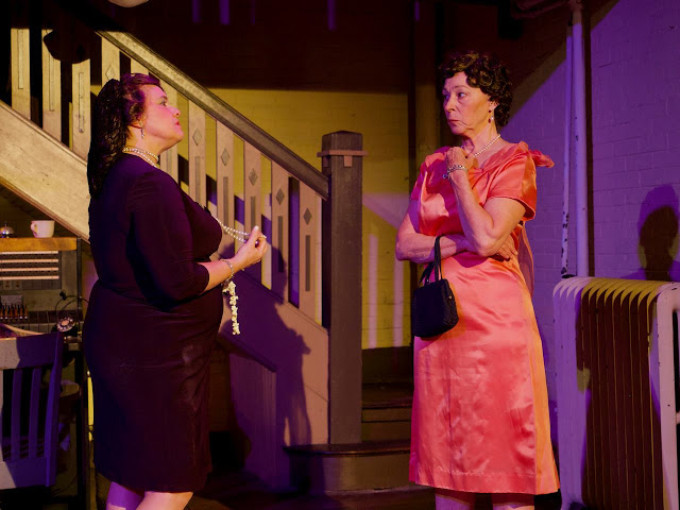 As one might be able to guess from the title, The Mutilated is not a holly jolly Christmas story. The Tennessee Williams play is set in New Orleans and follows two frenemies who cross paths on Christmas Eve. The pair, Trinket and Celeste, are both broken souls with their own secrets. Gigi Jennewein plays Trinket, a wealthy woman with an unknown mutilation. She's fragile and desperate for affection. Celeste is her polar opposite. Played by Beverly Roche, the shoplifting alcoholic is brash and constantly angling to manipulate those around her.
Originally written as a one-act comedy, the show plays more as an ode to loneliness. It's split by a short intermission and the second act wraps up so quickly that it feels a bit abrupt. The characters feel similar to those found in many of Williams' plays, though the plot doesn't pack as big of a punch in comparison. It's fascinating to see the damaged people trying to find a way forward, but I wish I'd had more time to better understand them.
NoExit is a site-specific theatre group and has chosen the Carriage House at the Propylaeum for this production. The building provides a two-story stage where characters can weave in and out on this drunken night. There is a group of carolers that performs original music by Ben Asaykwee between scenes. Their voices are lovely and they feel a bit like an eerie Greek chorus. The setting, the smells, the rattling radiator, it all lends a hand is creating an immersive experience that's more than worth the price of admission.
For more information about NoExit Performances visit www.noexitperformance.org.
Performances: The show runs until Nov. 18 and offers four performances a week; beginning at 8 pm on Thursday, Friday and Saturday and 7 pm on Sunday. The show is being produced at the Indianapolis Propylaeum.
Tickets: To purchase tickets visit https://themutilated.bpt.me/. Prices range from $18 to $20. The play includes adult issues.
Photos Courtesy of Daniel Axler