BWW Review: MAMMA MIA! at Beef & Boards Dinner Theatre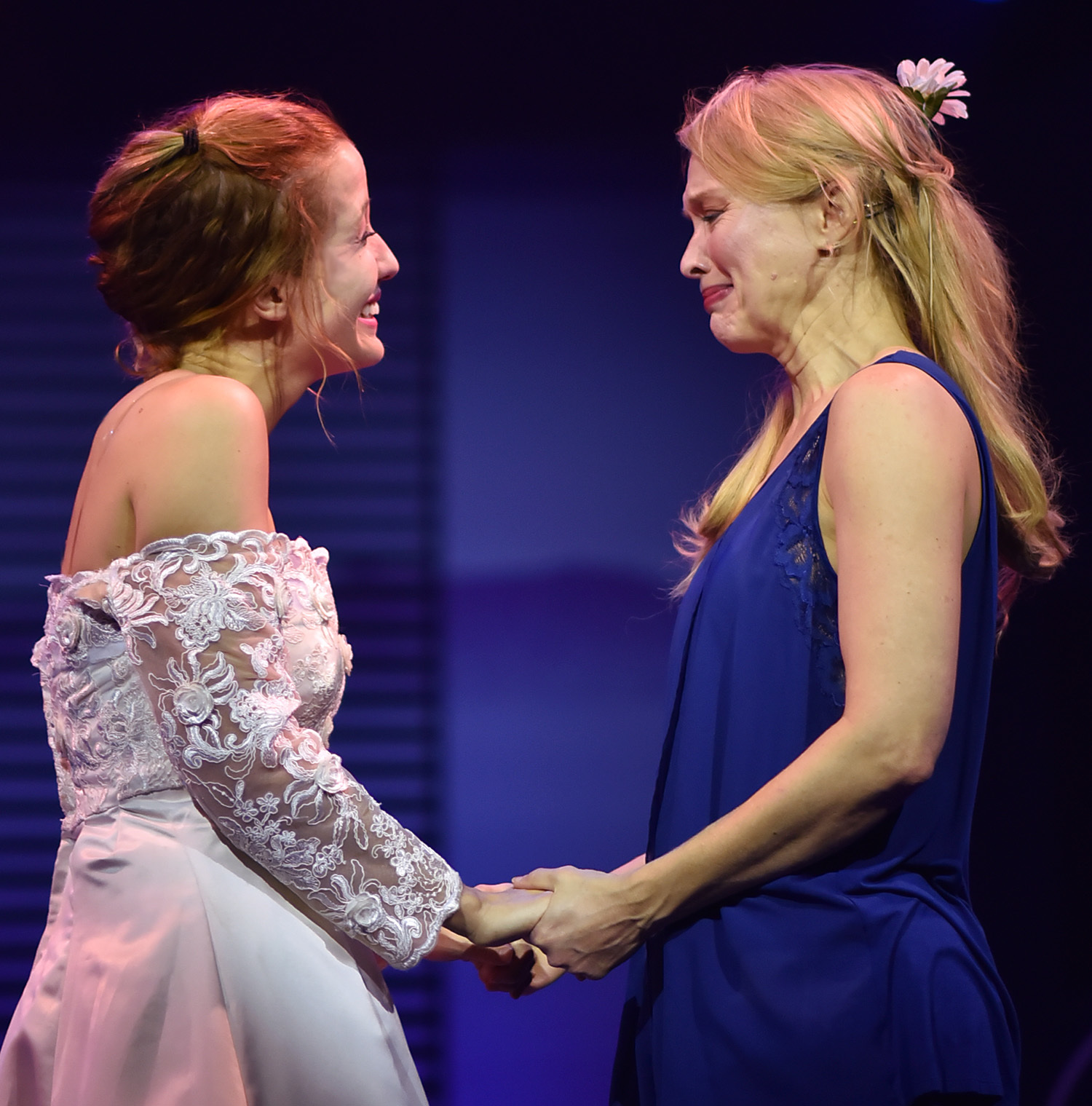 One bride, one mom, and three potential dads all on one Greek island; the premise of Mama Mia! might seem silly, but its playful absurdity provides the right framework for a musical built around ABBA songs. Beef & Board Dinner Theatre's current production captures that spirit and runs with it.
The 2007 Broadway Across America production felt much more like a concert. Beef & Boards' show instead has a more intimate feel and it shines a light on the lovely mother/daughter relationship at the heart of the story. It also emphasizes the message that your identity is not created by your "family", it's something you must discover for yourself.
Both Sophie (Rachelle Rose Clark) and her onstage mother Donna (Amy Bodnar) give enthusiastic performances. Bodnar is a Broadway veteran, who is new to the Beef & Boards stage. Her performance of "The Winner Takes It All" completely knocked it out of the park. Her vocal skills shine in those powerful solo moments.
Tanya played by Jalynn Steele was a particular favorite as well. She brings just the right amount of sass and sexiness to the role as Donna's best friend and backup singer. Her partner in crime, Rosie (Lanene Charters) hams it up, and finds a bit of romance for herself. Mark Epperson, Don Farrell, and Jeff Stockberger do a great job filling the roles as the father candidates as Sam, Harry, and Bill respectively.
Michael Layton's set is wonderfully done. The crisp white lines and shades of blue instantly transport you to Greece. The animated choreography, created by Ron Morgan, conveys the energy of the songs. There are times when it's almost too much, but moments like "Lay All Your Lone On Me" complete with scuba-gear-clad dancers were more than enough to impress.
In the end, the show is definitely entertaining. Get ready to find your inner dancing queen in this hilarious romp.
Don't Miss the Show
Performances: The show runs until April 8. Doors open for evening performances at 6 p.m. Tuesday through Sunday. The buffet is served from 6:30 to 7:30 p.m. and the show begins at 8 p.m. For Wednesday matinees doors open at 11:30 a.m. and the buffet is served from 11:45 a.m. to 12:30 p.m. The show begins at 1 p.m. For Sunday matinees doors open at 12 p.m. and the buffet is served from 12:15 to 1 p.m. The show begins at 1:30 p.m.
Tickets
: To purchase tickets call (317) 872-9664 between 10 a.m. and 7 p.m. Prices range from $44 to $69 and include the show, tax, coffee, tea and the buffet.
Photos courtesy of Beef & Boards
Related Articles View More Indianapolis

Stories

Shows
My name is Melissa Hall and I've been reviewing theater in the Midwest since 2006. I live in Indianapolis, Indiana and enjoy our city's thriving (read more...)