BWW Review: EVERY BRILLIANT THING Is Filled with Beautiful Moments at the Indiana Repertory Theatre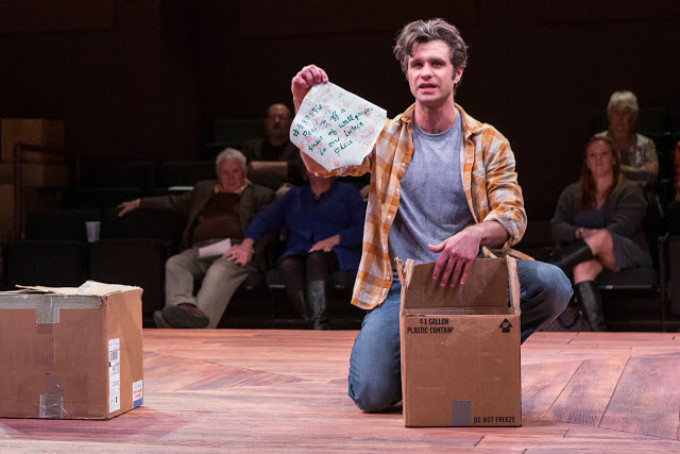 Real life isn't easily split into two categories, comedy and drama. It's a mixture of joy and grief, often at the same time. Every Brilliant Thing captures that perfectly. The one-man show tells the story of an unnamed man whose mother tried to commit suicide multiple times. In an effort to show her all the things she has to live for, he begins a lifelong list of brilliant things when he's only 7 years old.

A one-person show is so dependent on the correct casting and this production couldn't have done better than Marcus Truschinski. He embodies the role with charisma and a generosity that welcomes audience interaction. Under Tim Ocel's excellent direction, Truschinski's warmth engages the audience in each scene. He improvises as the show naturally digresses as audiences members are asked to fill small roles. The inclusions feel natural, not forced, creating a unique show each time.

The set is deceptively simple. Reuben Lucas designed it so the audience is seated on all four sides of an open stage. The design allows Truschinski to move freely. He's in constant motion, heading into the audience to pull people on stage or high five someone. He exudes endless energy, but still manages to convey moments of solemnity with perfect stillness. There are bursts of jubilation followed quickly with quiet scenes of reflection. The effect is mesmerizing.

Music is an integral part of the show. Snippets of songs, descriptions of records, family singalongs, they shape the life of the main character. Though it's fast-paced and flies by at only 1 hour and 15 minutes (no intermission), the show sticks with you. You feel each moment and are left thinking about it long after it ends. This one is not to be missed.

This production contains adult language and adult themes, including references to suicide. The National Suicide Prevention Lifeline is 1-800-273-8255.
Don't Miss the Show
The Indiana Repertory Theatre is located at 140 W. Washington St., Indianapolis, one-half block west of the Circle Center Mall between northbound Illinois St. and southbound Capitol Ave. "Every Brilliant Thing" runs until Feb. 10 on IRT's Upperstage. It is 1 hour 15 minutes, with no intermission. To purchase tickets or find performance times, call (317) 635-5252 or order online at www.irtlive.com.
Related Articles View More Indianapolis

Stories

Shows